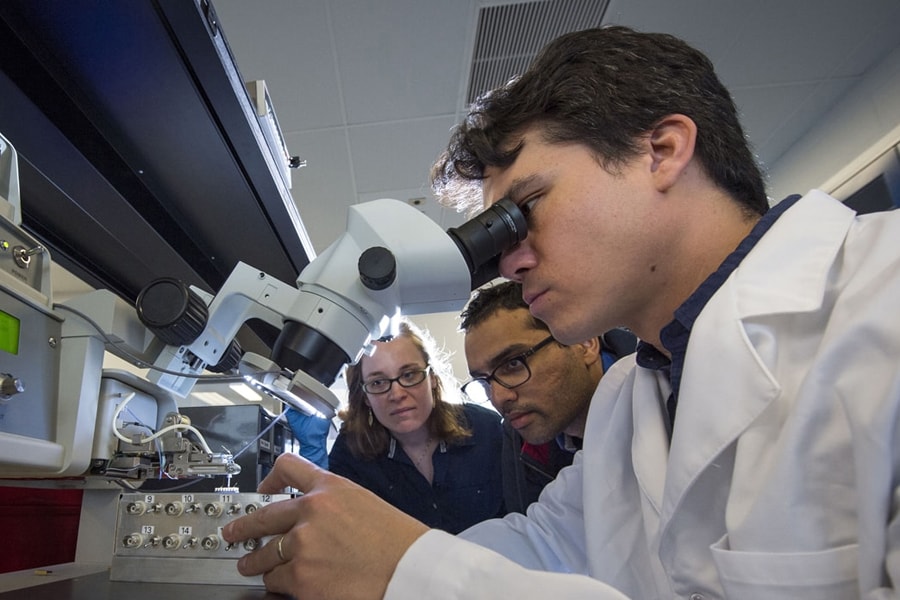 November 01, 2017
Personal Mention

Ben Hunt, an assistant professor of physics, was awarded a five-year Department of Energy (DOE) Early Career Research Award in the area of basic energy sciences. Hunt studies the behavior of electrons in extremely cold temperatures and powerful magnetic fields, where familiar physics fades away and particles are instead governed by a weirder set of laws. There, he hopes to discover new materials that could be building blocks for the quantum computers of the future. One material Hunt studies is graphene, a material made up of a flat honeycomb pattern of carbon atoms that has a number of remarkable properties. DOE Early Career Research awards provide five years of financial support to exceptional researchers in the early years of their career. Hunt is one of 59 recipients from a pool of roughly 700 proposals. He plans to use the grant to fund graduate students and postdoctoral researchers in his lab. Learn more

Maitreyee Joshi, a senior majoring in computer science and chair of the Undergraduate Student Senate, will be one of eight speakers at TEDxPittsburghWomen this Friday at the Ace Hotel in East Liberty. Joshi will be discussing her work in developing an indoor navigation system app for the blind, her work at Microsoft helping the blind track finances and her current studies. Joshi was recently featured in the summer issue of The Link, the School of Computer Science's magazine. The innovative TEDx talks will begin at 6:30 p.m. This year's theme is Bridges.

Beginning this year the Metropolitan Opera National Council's Pittsburgh District Committee will name one of its awards after School of Music faculty member Douglas Ahlstedt. The first Ahltstedt winner will be presented on Dec. 9. The Metropolitan Opera National Council auditions is a program designed to discover promising young opera signers and assist in the development of their careers. The auditions take place in 42 districts and 12 regions throughout the U.S. and Canada. Ahlstedt was a winner of the metropolitan auditions as a young singer and is committed to helping the new generation of artists.

Mathematical sciences sophomore Anne Silbaugh has won the 2017 Mulach Scholarship, which focuses on supporting women in STEM. Managed through the Pittsburgh Foundation, the Joseph F. Mulach, Jr. and Louisa A. Mulach Scholarship Fund was created to provide scholarships to undergraduate and graduate students who are attending Pittsburgh institutions and studying biological sciences, chemistry, mathematics or physics. Silbaugh grew up surrounded by math, which inspired her own interest in joining the field. Her desire to pursue math was solidified when she became a mentor for Carnegie Mellon's chapter of Strong Women, Strong Girls. The program pairs female college students with girls from Pittsburgh elementary and middle schools in after-school mentorship programs. Find out more.