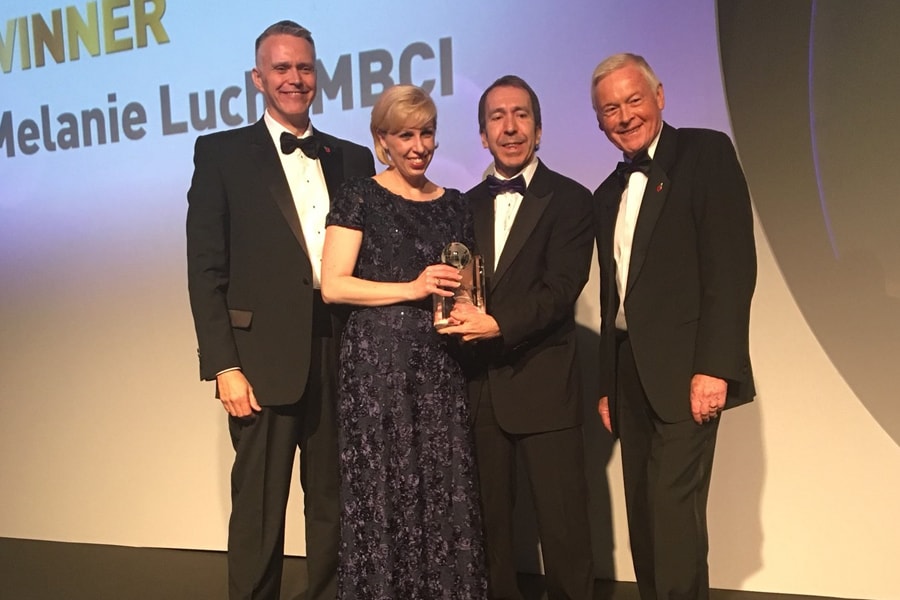 November 15, 2017
Personal Mention

Melanie Lucht, assistant vice president for Enterprise Risk Management in the Operations Division, received the Business Continuity Institute's Global Award in the Continuity and Resilience Professional Private Sector last week at an awards ceremony at the Novotel London West Hotel in Hammersmith, England, near London. The institute's global awards, presented in nine categories, recognizes individuals and organizations who have excelled in the field of business continuity and resilience throughout the year. Lucht won the BCI's Continuity and Resiliency Professional Award in the Private Sector for the Americas this past September. Lucht joined CMU in 2013 to head the university's efforts in disaster recovery and business continuity. She also is currently serving as interim director of Environmental Health and Safety. Founded in 1994 with the aim of promoting a more resilient world, the Business Continuity Institute (BCI) has established itself as the world's leading Institute for business continuity and resilience.

Don Carter, director of CMU's Remaking Cities Institute and an urban design professor, has received the 2017 American Institute of Architects (AIA) Pennsylvania Medal of Distinction for "contributions to architecture that transcend local boundaries and have been the benefit to the profession and citizens of the Commonwealth of Pennsylvania." Carter was president of Urban Design Associates in Pittsburgh for 36 years and led many of the firm's most complex projects. He is a fellow of the AIA, a former president of AIA Pittsburgh and served on the board of AIA Pennsylvania. His recent book, "Remaking Post-Industrial Cities: Lessons from North America and Europe," documents 10 city case studies from the international Remaking Cities Congress that he co-chaired in 2013. Carter earned a bachelor's degree in architecture from Carnegie Mellon and did post-graduate work at the University of Edinburgh, Scotland.

Jodi Forlizzi has been named the new Charles M. Geschke Director of the Human-Computer Interaction Institute (HCII), where she has been a faculty member since 2000. Forlizzi, who earned a self-defined Ph.D. in human-computer interaction and design at CMU, specializes in interaction design and has served on the faculty of CMU's School of Design. She designs and researches systems ranging from peripheral displays to social and assistive robots. Her current research interests include designing educational games that are engaging and effective, designing services that adapt to people's needs and designing for health care. Forlizzi is a member of the Association for Computing Machinery's CHI Academy, a group of researchers who have been judged by their peers as having made significant, cumulative contributions to the development of the HCI field. She has been honored by the Walter Reed Army Medical Center for excellence in human-robot interaction design research. She also has consulted with Disney and General Motors to create innovative product-service systems. Forlizzi earned a bachelor's degree in illustration from the University of the Arts in Philadelphia and a master's degree in interaction design at Carnegie Mellon.

Computer Science Professor Norman Sadeh, co-director of CMU's Privacy Engineering program, was a keynote speaker at a workshop in Brussels last week regarding the European Union's new General Data Protection Regulation (GDPR), which will go into effect in May. The joint EU-US workshop, "Privacy Engineering Research and the GDPR," explored the impact the regulation will have on companies that operate in Europe (including U.S. tech firms) and that collect or process data on EU citizens. Sadeh said the new GDPR includes a number of requirements that are challenging for privacy engineers, including provisions for erasure of data, portability of an individual's data from one provider to another and transparency. Carnegie Mellon was a co-organizer of the event at the University of Leuven.

Heinz College Professor Robert Strauss gave invited testimony yesterday, Nov. 15, before the Pennsylvania House Select Subcommittee on Tax Modernization and Reform in Harrisburg, Pennsylvania. His remarks, "Financing Pennsylvania's Public Sector: Past as Prologue?" provided a history of the evolution of Pennsylvania's state and local tax system from the 1790s to the present, and detailed six key points in Pennsylvania's state and local tax structure. Of note was that foregone revenues, through state tax expenditures, were about the same size as the General Fund, that Pennsylvania's aging population is causing a mismatch between service needs and their contribution to the General Fund, and that the local property tax and assessment system continue to need attention. Strauss' testimony is online.

CMU alumnus Nathan Martin, founder and CEO of the CMU spinoff Deeplocal, was recently named CEO of the Year by the Pittsburgh Tech Council. The awards are an annual celebration recognizing companies at the forefront of innovation and tech in the southwestern Pennsylvania region. Martin spun the marketing innovation studio out of the Frank-Ratchye STUDIO for Creative Inquiry in 2006. Since then he has become a globally recognized leader of innovation in advertising, growing Deeplocal's portfolio to include award-winning work for some of the world's most celebrated brands, such as Lyft, Netflix, Google and National Geographic. Martin graduated from the College of Fine Arts in 1999.