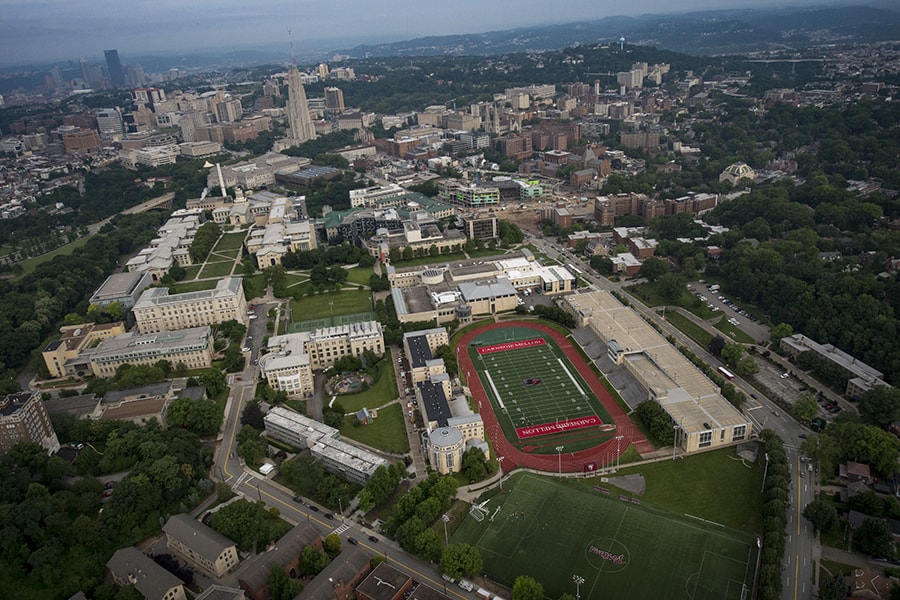 November 15, 2017
News Briefs
New Campus Map Created
A new campus map has been created and is now available.
To address several requests from university partners, a concerted campus-wide effort with representatives from Student Affairs, Campus Design and Facilities Development, Undergraduate Admission, and Marketing and Communications developed a new map style and building naming and number system. This new map will make future updates significantly easier, and will help get people to their destinations.
The new features include:
A grid system for easier building identification;
Color coding by buildings, outdoor space, parking and residence halls; and
A more complete list of campus facilities.
The cmu.edu/visit section of the CMU website also has undergone a facelift, including the addition of a page for maps, direction and parking. The new map can be viewed, downloaded and printed from the "Maps, Parking and Transportation" webpage. The three "You Are Here" maps, located throughout campus, also will be updated in the coming weeks.
Contact Beth Wiser (bwiser@cmu.edu), director of the Visitor Experience, or Brand Manager Sue Layton (suel@andrew.cmu.edu) with any questions.
PSC-Led Flu Vaccine Research Wins International Award
Research on the best strategies for offering flu vaccinations to the public at the Pittsburgh Supercomputing Center (PSC), the University of Pittsburgh and Soongsil University in the Republic of Korea has won a 2017 Innovation Excellence Award from Hyperion Research, the world's most respected high-performance-computing industry analyst group for more than 25 years.
The judges chose the PSC-led project from among 110 submissions from across the globe.
Jay DePasse, director of Public Health Applications at PSC and first author of the study, and his collaborators used PSC's supercomputing systems to find out whether offering different types of vaccination — the familiar injected vaccine or two types of "needle sparing" vaccines — would reduce flu cases and make vaccination more cost effective.
In a report in the American Journal of Epidemiology, they showed that offering vaccine choice reduced flu cases in both adults and children. They also found that the decreased costs due to illness offset the extra expense of offering more vaccines, reducing the overall societal cost of influenza. While offering choice to adults and to children separately helped, choice for both groups provided the best protection and lowest costs.
Each year, influenza hospitalizes about 226,000 Americans and kills an average of 24,000. One study estimated an economic annual cost of flu sickness to be over $85 billion.
Soccer Advances; Football Headed to Bowl Game, Cross-Country to Nationals
Carnegie Mellon's women's soccer team (15-2-2) has advanced to the sectional semi-finals of the NCAA Division III Championships for the fourth time in school history. The Tartans, one of 16 teams remaining, will take on Hardin-Simmons University at 1:30 p.m., Saturday, Nov. 18 at William Smith College in Geneva, New York.
Last weekend the Tartans defeated Farmingdale State 1-0 before beating Arcadia University 1-0 in overtime. Senior forward Haili Adams, the Tartans' leading scorer, scored both goals, while freshman goalkeeper Carolyn Botz posted the shutouts. Find out more.
The Tartans football team (7-3) has earned its third straight trip to the Eastern College Athletic Conference (ECAC) bowl. CMU will be playing Muhlenberg College at 11 a.m., Saturday, Nov. 18 at the University of Delaware. Learn more about CMU football.
The men's and women's cross-country teams will be competing in the NCAA Division III Championships. Led by junior Jared Moore, the men placed second in the Mideast Regional last weekend and will advance to the finals for the fourth straight year and 11th time in the past 12 campaigns. The men's championship will be held at Principia College North Farm Cross Country Course in Elsah, Illinois, at 11 a.m. CT, Saturday, Nov. 18.
The women's cross-country team will be making its first NCAA Championship appearance since 1998. Led by senior Aparna Alavilli, the Tartans finished fourth in the Mideast Regionals last Saturday. The women's championship race follows the men at 12:15 p.m. CT, this Saturday, Nov 18, at Principia College.
Learn more about the men's and women's teams.
Giving Tuesday at CMU is Nov. 28
The campus community has a chance to get into the giving spirit on Giving Tuesday, Nov. 28. Regardless of your passion, there are a number of challenges to rally support across campus and raise funds for student initiatives and Carnegie Mellon on this annual day of giving. The challenges include:
The President's Office will match up to $25,000 in student gifts with a 2:1 dollar match for every gift of $5 or more;
The university will match gifts designated to the Nooks project on a 1:1 basis up to $10,000; and
The university will match up to $20,000 in funds designated to the UPLift project with a 3:1 dollar match.
Last year, 1,430 donors made a gift to the university on Giving Tuesday to mark the most donors in one day in CMU history.
A student party, Plaid Palooza, will kickoff Giving Tuesday at midnight. During the day, tabling events will be held at the Cohon Center and various college sites where individuals can make a gift in person. You also can make a donation online.
Help make a difference at CMU on Giving Tuesday!
Help With Toys for Tots, Thanksgiving Baskets, Clothing
Carnegie Mellon students, faculty, and staff have several opportunities to donate during this season of giving through three initiatives being coordinated by the SLICE Office.
Toys for Tots. This year, CMU's Police Department is teaming up with the SLICE Office to support the U.S. Marine Corps Reserve Toys for Tots Program. The program collects new, unwrapped toys and distributes them as Christmas gifts to less fortunate children in the local area. New unwrapped toys can be dropped off at these following locations from Nov. 20 through Dec. 11.
Carnegie Mellon University Police, 300 South Craig Street, Main Lobby
Software Engineering Institute, Main Lobby
Mellon Institute, 3rd floor Security Desk
UTDC Main Lobby
Morewood Gardens, Residence Life Office
Warner Hall, Enrollment Services
Cohon University Center, SLICE Office
College of Fine Arts, room 104
Pittsburgh Technology Center, Technology Drive, Main Lobby
NREC, 40th Street, Main Lobby
Hunt Library, 1st Main Lobby
Tepper School of Business, 1st Floor Main Lobby
Scaife Hall, Room 110
FMS Service Response Desk
Wean Hall, Room 4212
CIC, 2nd Floor CyLab Office
Money can be donated via the cash box in Entropy in the Cohon University Center. Or, shop the Amazon Wish List and toys you purchase will be delivered directly to the SLICE office. For more information, email the SLICE Office.
Create a Thanksgiving Basket. Baskets holding ingredients for a full Thanksgiving meal will benefit families at Light of Life Rescue Mission, Sojourners House, and Rainbow Kitchen. Download the sign-up sheet and a checklist you can use to track items for the basket. Completed baskets should be delivered to Rangos Hall on Monday, Nov. 13 between 9 a.m. and 4 p.m. Email Kristine Kengor for more information.
FORGE Winter Clothing Drive. FORGE (Facilitating Opportunities for Refugee Growth and Empowerment) is collecting new and gently used winter clothing for refugee families in Pittsburgh. They are in need of hats, gloves, scarves, and winter coats of all sizes. The group also is collecting packages of diapers and wipes for families. Donation boxes are located around campus, or purchase an item from their Amazon Wish List and items will be shipped directly to the Student Life Suite. Email FORGE for more information.
Happy Thanksgiving!
PiperWeekly wishes the Carnegie Mellon community a very Happy Thanksgiving! PiperWeekly will return on Thursday, Nov. 30.