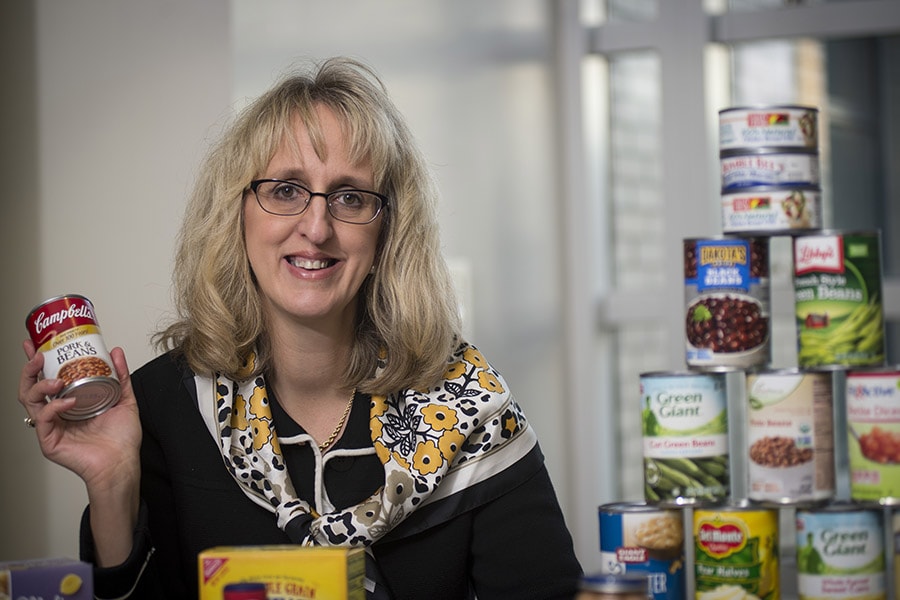 November 08, 2017
Panno Feeds Off Passion for Fundraising
By Kelly Saavedra ksaavedra(through)cmu.edu
A passion for fundraising has driven Carole Panno to support Carnegie Mellon University's mission for more than 24 years — and to help feed the hungry in Pittsburgh.
Panno is an assistant director for development and chair of the university's annual drive for the Greater Pittsburgh Community Food Bank. She earned bachelor's and master's degrees in public policy and management at CMU, but a work-study position in the development office as a student inspired her to become a fundraiser full-time.
"As a kid, I was always the top candy salesperson or the one who raised the most money for the book-a-thon," she said. "I just get a thrill out of setting a goal and achieving it for a cause."
Panno said CMU alumni have a special family bond and are eager to connect with each other. 
"It's just such a unique place," she said. "I've formed these incredible friendships with wonderful people whom I would otherwise never have met. It's truly what I love most about my job."
Prior to becoming chair of the food drive, Panno co-chaired the food drive alongside its founder, Gloria Dadowski. In 23 years, CMU has collected 65 tons of non-perishable food items and nearly $52,000 for the food bank.
This year, CMU and the University of Pittsburgh are engaging in a friendly competition with a goal of collectively raising $10,000 online.
"We have been brainstorming for the past couple of years, wanting to start a multi-university challenge. For CMU, it's a way for us to think bigger," she said. "We are working together to inspire each other. Hopefully, it will result in a lot more contributions."
A longtime dance instructor, Panno is choreographing a performance for her husband's all male a cappella chorus, and any leisure time between now and Christmas will be spent decorating every room in her house, which was built in 1900.
"I love entertaining and spending time with my family and friends, especially at this time of the year," she said.
Have a suggestion for Staff Spotlight? Send it to piperweekly@andrew.cmu.edu.