May 04, 2017
News Briefs
Join the Alumni Association for Pirates Baseball
The Alumni Association has secured 100 tickets to see the Pirates battle the Philadelphia Phillies at 4:05 p.m., Saturday, May 20 at PNC Park. The tickets are on the third-base side in sections 129 ($41 each) and 327 ($21 each). Each person purchasing tickets in the upper deck block will receive a free ball cap, and those in the lower deck will get a $10 food credit.

Following the game you're invited to a 30-minute game of catch on the field, so be sure to bring your glove with you! Specific details about the game of catch on the field will be provided closer to the date.

Order tickets online. Limit 4 tickets per registrant.
 Contact Liang Qian at liangq@gmail.com with questions.
May 7 Concert in Memory of Robert Page
The Pittsburgh Symphony Orchestra and the Mendelssohn Choir will celebrate the life and legacy of the late Carnegie Mellon University Professor and Mendelssohn Choir Director Robert Page with a concert at 7:30 p.m. Sunday, May 7, at Heinz Hall. Page died Aug. 7, 2016, at the age of 89.
Page first joined the Carnegie Mellon School of Music as its head in 1975. He raised the performance standards of the school by laying out an ambitious vision and convincing faculty, students and administrators that it could be achieved. After his stint as head, Page became director of Choral Studies and in 2001 he was named the first Paul Mellon Professor of Music in the College of Fine Arts. Upon his retirement from the School of Music in 2013, Dan Martin, dean of the College of Fine Arts said, "He's a musical giant. That man conducts with an energy and passion that flows from the very soles of his feet to the tip of his baton."
The concert is free, but reservations are required. Tickets can be reserved by phone at 412-392-4900, online at pittsburghsymphony.org (a small service fee will apply) or in person at the Heinz Hall Box Office at 600 Penn Ave., downtown.
Join the Plaid Dog Divers in the Florida Keys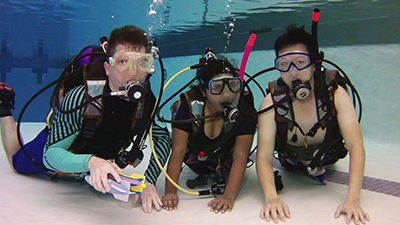 Members of the Plaid Dog Divers, a student club, are headed to the Florida Keys for scuba diving, snorkeling, swimming, camping and sightseeing May 9-16.
All members of the CMU community, divers and non-divers, are invited to come along. For more information, visit the Plaid Dog Divers webpage or contact President James Moses at jmmoses@andrew.cmu.edu.
Steeler, Tepper Student Urges Tartans To Reach Potential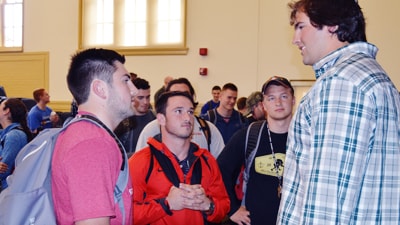 Pittsburgh Steeler Alejandro Villanueva told fellow Carnegie Mellon students they should believe in themselves. "Always bet on yourself," he said.
Villanueva, a former Army Ranger and current graduate student in the Tepper School of Business, delivered the advice during a talk to CMU student-athletes. He spoke about leadership and how his experiences have made him who he is today.
After graduating from the U.S. Military Academy in West Point, N.Y., Villanueva served three highly decorated tours in Afghanistan. As an Army Ranger and captain, he earned several military awards, including the Bronze Star Medal and the Bronze Star Medal of Valor for heroism in combat.
"Alejandro's unflinching fearlessness and confidence in the face of danger and denial was inspiring," said Tartan junior running back Sam Benger. "Often times we have no idea of our true potential until we get out of our comfort zone and push ourselves."
PSC Makes Bridges Available to CMU, Pitt Faculty Free of Charge
Earlier this year Pittsburgh Supercomputing Center (PSC) completed a technical upgrade of Bridges, its unique high-performance computing (HPC) system. Bridges enables applications that have not traditionally used HPC; integrates HPC with Big Data and artificial intelligence; and helps researchers facing challenges in Big Data to work more intuitively.
PSC is now making Bridges available at no charge to CMU and Pitt faculty through a simple, easy process so you can discover how Bridges can facilitate your research.
PSC is a joint effort of Carnegie Mellon University and the University of Pittsburgh. PSC provides university, government and industrial researchers with access to several of the most powerful systems for high-performance computing, communications and data storage available to scientists and engineers nationwide for unclassified research.
Learn more about how Bridges can be a good fit for your research, and how to get started with this exciting new initiative.
Preview a Fun Summer Workshop for Kids
CMU Mechanical Engineering Professor Reeja Jayan is introducing a fun workshop this summer for students between the ages of 9 and 14 to learn engineering through Minecraft. Minecraft is a video game in which players mine and build various types of 3-D blocks in a virtual world of different terrains and habitats. As a preview, you can attend the project presentations created by CMU mechanical engineering students on May 5.

Learn how real engineers build and launch rockets in Minecraft. What about building a Robot in Minecraft? Imagine the strongest material in the universe. Can Minecraft teach you how to build it? Interested in video games? Do you play Monopoly? Learn how to make your own fun and educational game in Minecraft. Do you collects stones? Did you know Minecraft can build and help you learn about precious stones like diamond? Do you want to become an Engineer @ CMU. Come learn how to do this while playing Minecraft! Register now.
Dining Services To Open Allergen-Friendly Kitchen
In fall 2017, Carnegie Mellon Dining Services will open Nourish, an allergen-friendly kitchen, featuring a menu prepared without gluten and the eight major allergen-containing ingredients (wheat, dairy, eggs, soy, tree nuts, fish and shellfish). Meals and grab-and-go items will be available at select locations across campus and may be pre-ordered for pick-up at Nourish using GET food. Nourish will be located on the second floor of the Cohon Center, near Rangos Ballroom.  Visit cmu.edu/dining to learn more.
"Roll Call" Opens Tomorrow
The School of Art will feature the work of 34 graduating students in "Roll Call," the senior art exhibition in CMU's Miller Gallery. The exhibition, which opens with a reception 6 – 8 p.m. Friday, May 5, presents the work of students majoring in art and in the BXA Intercollege Degree programs.
Charlie White, head of the School of Art, said the exhibition "is a testament — a 'Roll Call' — to the vision and voices of those who bear witness to the present and offer us a brief glimpse of tomorrow."
Nominations Being Accepted for University Libraries Excellence Awards
The University Libraries Excellence Awards Committee is accepting nominations for awards from the CMU community through May 26. The annual Excellence Awards recognize library employees for exceptional performance in any of five categories: citizenship, customer satisfaction, innovation, outreach and productivity. Taking the time to nominate a person or team is one of the best ways to recognize superior performance and to thank the individuals or teams whose work you value most. Nominations for Excellence Awards may be submitted by any member of the Carnegie Mellon community, helping to ensure that all who most deserve special recognition are publicly acknowledged. Nominate a University Libraries employee or team.