May 25, 2017
News Briefs
Employee Day at Kennywood Park is June 10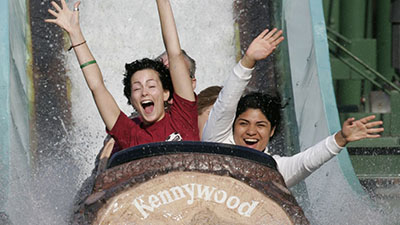 This year's staff picnic at Kennywood Park is Saturday, June 10. Tickets will go on sale beginning Wednesday, May 24. CMU employees can purchase two Funday tickets for $15 each (valid only on June 10) and additional Funday tickets for $23 each. Pavilion 7 will be reserved for the CMU community. The children's (ages 10 & under) prize giveaway and ice cream distribution will be at 1 p.m. at Pavilion 7.
Ticket sale times and dates are as follows:
May 24, Cohon University Center, 11:30 a.m. - 1:30 p.m.
May 31, Cohon University Center, 11:30 a.m. - 1 p.m.
June 1, Cohon University Center, 11:30 a.m. - 1 p.m.
June 2, Cohon University Center, 11:30 a.m - 1 p.m.
June 7, Mellon Institute, 11:30 a.m. - 1 p.m.
June 7, Cohon University Center, 4 p.m. - 5 p.m.
June 8, Cohon University Center, 11:30 a.m. - 1 p.m.
June 9, Cohon University Center, 11:30 a.m. - 1 p.m.
You must have your own CMU ID to purchase tickets. Cash only.
"Tartan Ink" Now Accepting Copy, Print and Ship Orders; Storefront To Open in July

Campus Services is pleased to announce the opening of a new copy, print and ship center "Tartan Ink," located in the basement of the Cohon University Center, down the hall from the Credit Union.
Please note: the storefront will be closed for renovations during the month of June. However, orders for this location are being accepted via email, at the Tepper Copy Center in the basement of Posner Hall, or online.
Also, you can use WebCopy to submit copy and print requests online. WebCopy accepts most standard file formats and sizes up to 100MB. The site is secure, so confidential matter can be safely submitted via Webcopy. If you have hard copy files, you can still go online, fill out the form, and request pick up of your originals.
The Tartan Ink opening marks the beginning of a joint venture between the University Copy Centers and Printing & Mailing Services under the leadership of Pat Herbster and Dan Tyson. With their vision of serving the campus community, they have revitalized the services offered and expanded services to include UPS shipping once the new storefront opens.
Stay tuned for more details on Tartan Ink's grand opening in early July. Please direct questions or concerns to James Ward at jward1@andrew.cmu.edu.
Staff Council Elects New Officers for 2017-18
Staff Council held its annual elections this month, and the new officers for the 2017-18 academic year are Jessica Owens, vice chair; Becky Finkel, secretary; and Kaycee Palko, treasurer. Tim Leonard, vice chair in 2016-17, automatically moves into the Staff Council Chair position.
This year marks the first time several Staff Council members were recognized for making a substantial impact within council. Those honored as Rookies of the Year and Unsung Heroes were nominated by Staff Council committee chairs.
Bryce Beeghley, Kathy Bogacki and Terri Mohler won Rookie of the Year awards.
Unsung Hero awards went to Bryce Beeghley, George Cann, Attila Csokai, Becky Finkel, Shane McGraw, Dave Reinoehl, Ron Ripper, Kim Sestilli and Pattye Stragar.
Dining Services Partners with 412 Food Rescue To Reduce Waste
Dining Services is expanding its efforts to reduce food waste through a new partnership with 412 Food Rescue, a local food recovery organization founded by CMU alumna Leah Lizarondo, a 2003 graduate of the Heinz College.
The mission of 412 Food Rescue is to prevent perfectly good food from entering the waste stream by directly distributing donated and collected food to organizations that serve communities in need.
The rescue model is simple. On-campus dining vendors are able to donate excess food produced on campus by notifying 412 Food Rescue. A rescue alert is sent out via the Food Rescue app, and Food Rescue picks up the food at the Cohon University Center and takes it to an organization in need.
Warner Hall Elevator Out-of-Service Through Early July
The elevator machinery and controls for Warner Hall are over 50 years old – well past their expected useful life — so to ensure safety and reduce risk of an unplanned interruption, the university will fully overhaul the elevator this summer, beginning close of business on Monday, May 22. Unfortunately, as a result, the elevator must be out-of-service during this seven-week project. It is expected the elevator will be up and running by Monday, July 9.
The work will create hardship for building occupants and campus visitors. Special arrangements and alternate work locations are being developed for those who require them during this period. There will be a receptionist and signage located on the first floor of Warner Hall to assist building occupants and campus visitors.
Nominations Now Open for the Andy Awards
Nominations are now being accepted through July 6 for the 2017 Andy Awards, the university-wide staff recognition program that honors staff for their outstanding performance and significant impact on the university.
Awards are given in five categories: Commitment to Excellence, Commitment to Students, Innovative and Creative Contributions, Spirit and Teamwork, and Collaboration.
The nomination process has been streamlined this year making it easier for you to nominate deserving recipients.
Learn more about the Andy Awards and nomination process.
Tepper Quad Project To Cause Lot Closure, Lane Restriction
As work for the Tepper Quad project progresses, the next phase of construction will cause the Morewood parking lot and the inbound curb lane of Forbes Avenue, between Morewood Avenue and the traffic light at Hamburg Hall, to close, beginning Thursday, May 25. Permit holders for the Morewood parking lot may park in the East Campus Garage.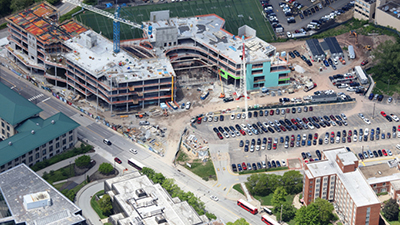 The lot closure and lane restriction, which is expected to continue into August, will have several implications, including:
The inbound bus stop on Forbes, just west of Morewood will close. The inbound bus stop in front of Hamburg Hall will remain open. (In early July, the Hamburg Hall stop will be permanently eliminated and the Morewood stop will re-open.)
The sidewalk adjacent to the inbound curb lane will be closed between Morewood and Hamburg Hall.
Vehicular access to the Morewood parking lot will be from Morewood Drive between Morewood Gardens and Stever House. The drive will only be open to vehicles traveling to University Health Services, Counseling and Psychological Services, the Cyert Center for Early Education, Housing Services, FMS and Morewood Gardens (deliveries only).
The Morewood parking lot is expected to re-open in August when work will shift to the west, causing the inbound curb lane to close between Morewood Avenue and the bridge over South Neville Street.

For more news and updates, visit the Campus Design and Facility Development website.
Athletics Offers Summer Exercise, Weight Training Camps
The Department of Athletics is hosting two, two-week weight training and exercise camps for faculty and staff, led by Alan DeGennaro, CMU's strength and conditioning coach.
Beginner Weight Training & Fitness Camp is June 5-9 and June 12-15 in the Cohon Fitness Center and outdoors. Sessions, limited to 15 people, will be held from noon to 1 p.m. Participants will learn proper technique using machines, free weight exercises, full body workouts and individualized training programs.
Exercise Without the Gym is June 19-22 and June 26-29. Sessions, limited to 15 people, will be held outside from noon to 1 p.m. Training will include outdoor and home-based strength training options, and calisthenics and body-weight exercises.
The cost of each camp is $150. Registration forms are available at the equipment desk and fitness desk in the Cohon Center. The registration deadline is May 26. Questions should be directed to DeGennaro at adegenna@andrew.cmu.edu or 412-268-1517.