May 18, 2017
News Briefs
Employee Day at Kennywood Park is June 10
This year's staff picnic at Kennywood Park is Saturday, June 10. Tickets will go on sale beginning Wednesday, May 24. CMU employees can purchase two Funday tickets for $15 each (valid only on June 10) and additional Funday tickets for $23 each. Pavilion 7 will be reserved for the CMU community. The children's (ages 10 & under) prize giveaway and ice cream distribution will be at 1 p.m. at Pavilion 7.
Ticket sale times and dates are as follows:
May 24, Cohon University Center, 11:30 a.m. - 1:30 p.m.
May 31, Cohon University Center, 11:30 a.m. - 1 p.m.
June 1, Cohon University Center, 11:30 a.m. - 1 p.m.
June 2, Cohon University Center, 11:30 a.m - 1 p.m.
June 7, Mellon Institute, 11:30 a.m. - 1 p.m.
June 7, Cohon University Center, 4 p.m. - 5 p.m.
June 8, Cohon University Center, 11:30 a.m. - 1 p.m.
June 9, Cohon University Center, 11:30 a.m. - 1 p.m.
You must have your own CMU ID to purchase tickets. Cash only.
Warner Hall Elevator Out-of-Service Through Early July
The elevator machinery and controls for Warner Hall are over 50 years old – well past their expected useful life — so to ensure safety and reduce risk of an unplanned interruption, the university will fully overhaul the elevator this summer, beginning close of business on Monday, May 22. Unfortunately, as a result, the elevator must be out-of-service during this seven-week project. It is expected the elevator will be up and running by Monday, July 9.
The work will create hardship for building occupants and campus visitors. Special arrangements and alternate work locations are being developed for those who require them during this period. There will be a receptionist and signage located on the first floor of Warner Hall to assist building occupants and campus visitors.
Hebi's Six-legged Daisy Joins "Robot Revolution" Exhibit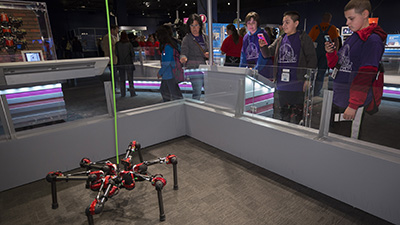 Daisy, a six-legged robot built by a Robotics Institute spinoff company, is one of several new robots featured in "Robot Revolution," an exhibit at Chicago's Museum of Science and Industry that runs through Feb. 4, 2018.
Daisy is a hexapod robot that moves with a spider-like gait over rough terrain. It was created by Hebi Robotics, a company founded by Howie Choset, professor of robotics, and some former members of his Biorobotics Lab. Hebi produces modular robotic components that make it possible to create custom robots quickly. It builds on the Biorobotics Lab's expertise in modular snake-like robots.
Robot Revolution explores how robots will ultimately be our companions and colleagues, changing how we play, live and work together. Daisy provides an example of the various ways that robots move and of how robots can access areas that humans can't.
"Robotics is one of the most fascinating areas of science today because scientists and engineers are constantly pushing the boundaries of possibility," said David Mosena, the museum's president and CEO. "We hope that the opportunity to interact with such a wide range of robots will help people understand how robots become an integral part in helping to improve our world and inspire the next generation of innovators."
Nominations Now Open for the Andy Awards
Nominations are now being accepted through July 6 for the 2017 Andy Awards, the university-wide staff recognition program that honors staff for their outstanding performance and significant impact on the university.
Awards are given in five categories: Commitment to Excellence, Commitment to Students, Innovative and Creative Contributions, Spirit and Teamwork, and Collaboration.
The nomination process has been streamlined this year making it easier for you to nominate deserving recipients.

Learn more about the Andy Awards and nomination process.
You're Invited to the CMU Community Picnic, May 24
This year's Community Picnic, hosted by Human Resources and Staff Council, will be 11:30 a.m. – 1:30 p.m. Wednesday, May 24, in the Cohon University Center's Wiegand Gym, Rangos Ballroom and Merson Courtyard. The annual picnic honors the important contributions that staff members make to Carnegie Mellon.

Join your colleagues to enjoy good food, fun activities and entertainment. The picnic features a Pittsburgh-themed menu with allergen-free options. Guests can expect a live band performance, photo booths, giveaways, and plenty of raffle baskets. Transportation will be provided.

For more information about the event and shuttles to campus, please visit the Staff Council website.
Who Would You Like To Hear Speak at CMU?
The University Lecture Series invites faculty, staff and students to submit ideas for engaging and inspiring speakers to bring to campus.
 
As the current semester is drawing to a close, the ULS would like you to take a moment to think about the issues and ideas you would like to see as a part of the intellectual experience on campus next year.
 
Please share your nominations for speakers or performers to visit CMU as part of the University Lecture Series by Friday, May 19. These figures can be thought-leaders in academic fields, industry icons, visionary artists, or prominent voices on topics of concern to the campus community and society as a whole. The ULS is aiming to bring four premier names to campus, so don't be afraid to think big! Suggestions are welcome from individuals as well as departments, student groups and organizations.
 
A committee of students, faculty and staff will review the nominations and ultimately recommend a slate of speakers for the coming year, to be announced prior to the start of the fall semester.
Tepper Quad Project To Cause Lot Closure, Lane Restriction
As work for the Tepper Quad project progresses, the next phase of construction will cause the Morewood parking lot and the inbound curb lane of Forbes Avenue, between Morewood Avenue and the traffic light at Hamburg Hall, to close, beginning Thursday, May 25. Permit holders for the Morewood parking lot may park in the East Campus Garage.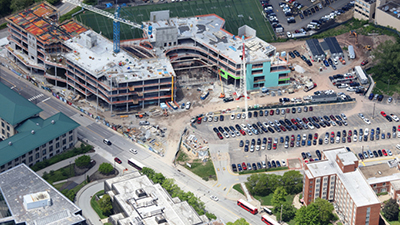 The lot closure and lane restriction, which is expected to continue into August, will have several implications, including:
The inbound bus stop on Forbes, just west of Morewood will close. The inbound bus stop in front of Hamburg Hall will remain open. (In early July, the Hamburg Hall stop will be permanently eliminated and the Morewood stop will re-open.)
The sidewalk adjacent to the inbound curb lane will be closed between Morewood and Hamburg Hall.
Vehicular access to the Morewood parking lot will be from Morewood Drive between Morewood Gardens and Stever House. The drive will only be open to vehicles traveling to University Health Services, Counseling and Psychological Services, the Cyert Center for Early Education, Housing Services, FMS and Morewood Gardens (deliveries only).
The Morewood parking lot is expected to re-open in August when work will shift to the west, causing the inbound curb lane to close between Morewood Avenue and the bridge over South Neville Street.

For more news and updates, visit the Campus Design and Facility Development website.
Athletics Offers Summer Exercise, Weight Training Camps
The Department of Athletics is hosting two, two-week weight training and exercise camps for faculty and staff, led by Alan DeGennaro, CMU's strength and conditioning coach.
Beginner Weight Training & Fitness Camp is June 5-9 and June 12-15 in the Cohon Fitness Center and outdoors. Sessions, limited to 15 people, will be held from noon to 1 p.m. Participants will learn proper technique using machines, free weight exercises, full body workouts and individualized training programs.
Exercise Without the Gym is June 19-22 and June 26-29. Sessions, limited to 15 people, will be held outside from noon to 1 p.m. Training will include outdoor and home-based strength training options, and calisthenics and body-weight exercises.
The cost of each camp is $150. Registration forms are available at the equipment desk and fitness desk in the Cohon Center. The registration deadline is May 26. Questions should be directed to DeGennaro at adegenna@andrew.cmu.edu or 412-268-1517.
Join the Alumni Association for Pirates Baseball
The Alumni Association has secured 100 tickets to see the Pirates battle the Philadelphia Phillies at 4:05 p.m., Saturday, May 20 at PNC Park. The tickets are on the third-base side in sections 129 ($41 each) and 327 ($21 each). Each person purchasing tickets in the upper deck block will receive a free ball cap, and those in the lower deck will get a $10 food credit.

Following the game you're invited to a 30-minute game of catch on the field, so be sure to bring your glove with you! Specific details about the game of catch on the field will be provided closer to the date.

Order tickets online. Limit 4 tickets per registrant.
 Contact Liang Qian at liangq@gmail.com with questions.