May 24, 2017
Nock's Interest in TV Crime Dramas Led Her to Police Career
By
Bruce Gerson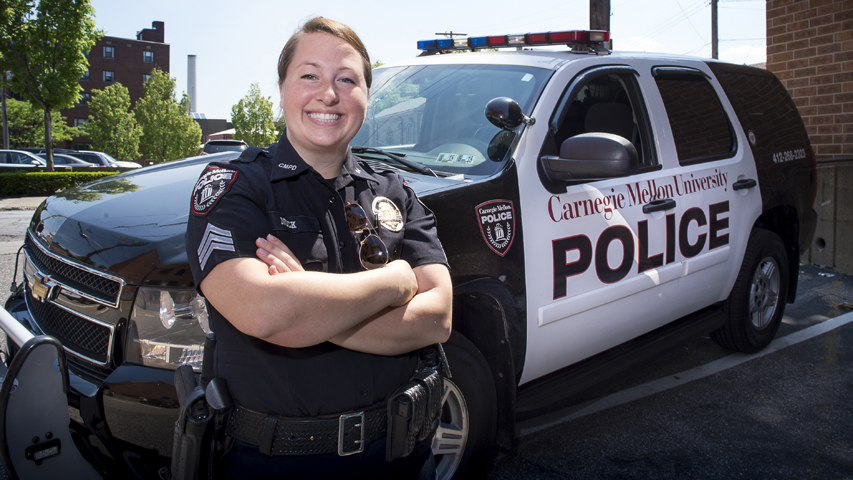 Growing up, Leah Nock enjoyed watching the television series "Unsolved Mysteries" and "Forensic Files." Today, she plays a major part in a real-life police experience as a sergeant in the Carnegie Mellon University Police Department.
"I don't have anyone in my family who was a police officer, but since I was little I was always into the crime TV shows and mystery novels. That's pretty much why I decided upon this path," said Nock, who earned an associate degree in criminology before graduating from the Indiana University of Pennsylvania Police Academy.
A week after earning her police certification in 2012, Nock joined the CMU force as a security officer. A year later, she was promoted to police officer and in January 2016, she became a detective. Last September she was elevated to sergeant.
"Things have moved pretty quickly," Nock said.
As a sergeant, Nock supervises an eight-hour shift beginning with roll call, when she delivers a daily briefing to her crew of about 15 police officers and security guards, depending on the shift. After some paperwork, she hits the streets.
"I'm out and about. I'm not in any one spot," Nock said. "I like interacting with people and driving up Forbes Avenue and waving to the people I know.
"I love it here. I like the crowd of students, and I think our department works well with everyone on the academic and administrative sides of the university. We've developed a great relationship with Student Life and everyone in Warner Hall," she said.
In addition to her police duties, Nock is an instructor in the Rape Aggression Defense (RAD) program and teaches a self-defense class for members of the CMU community. She gives crime prevention and safety presentations to fraternities and sororities and other student groups on campus.
"We do a lot more than city, borough or township police departments. We do all they do plus a lot of service-related things, such as unlocking doors for students and transporting students to the hospital if they need medical attention. There's a lot going on," she said.
As range master for the department, Nock is in charge of firearms training for the police officers.  Each officer needs to pass a state-mandated test every year.
"It's something we hope to never have to use, but it's something you have to be prepared for," she said.