May 17, 2017
Ditmore Loves Role in School of Design
By
Kelly Saavedra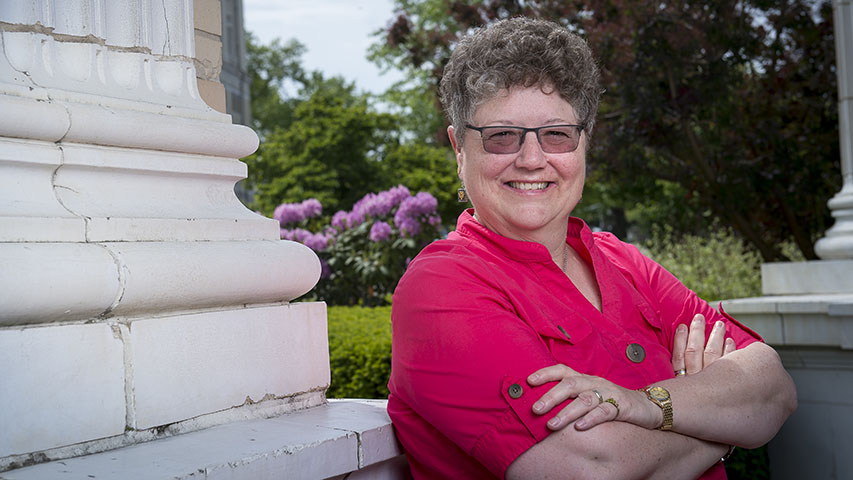 Jane Ditmore first applied to work at Carnegie Mellon 35 years ago, but she never imagined working as the receptionist in the School of Design.
"My background was in tailoring and dressmaking. I applied to work in the Margaret Morrison Plaza Cleaner-Laundry, but the facility was still being built," Ditmore said.
Not one to sit around and wait, Ditmore took an open position in Vending Services, where she became the first woman to work for the crew that filled, schlepped and repaired vending machines all across campus.
"Crackers, sodas, chips, cookies, you name it. When people would lose money in the machines, I would deliver their refunds to them. I learned my way around campus quickly," she said.
When the cleaner-laundry finally opened, she worked there for a few years until a need arose at what many remember as the university's Co-Op store, and later, Entropy.
"The Co-Op was like Entropy, but with a deli," said Ditmore, who still knows how to make the Carnegie Club sandwich, piled high with roast beef, ham, turkey and Swiss cheese.
After 25 years in the hustle and bustle of retail sales at the university, she was ready for a change when the School of Design offered her the receptionist position, which she has held for the past eight years.
"The School of Design really took me under their wing. This is a different side of things, working with the faculty, but I landed in the right place. The faculty are just wonderful," she said. "Working in retail, I really had never gotten on a computer. My age group had never learned any of that. But they showed me what to do, and everything worked out fine. I love it here!"
When her children were younger, Ditmore brought them many times to campus activities, including Take Your Sons and Daughters to Work Day. Now she serves as a volunteer for the program.
Ditmore said her favorite thing about CMU is the people.
"I feel very lucky to have stayed somewhere this long. I don't think it's the norm these days," Ditmore said. "Change gets harder as you get older, but I've grown even when I thought I couldn't grow anymore. Here in design, they've been so willing to teach me new things. It's a good feeling to not stop learning."