May 10, 2017
Stanton Has Called CMU Home for Nearly Four Decades
By
Bruce Gerson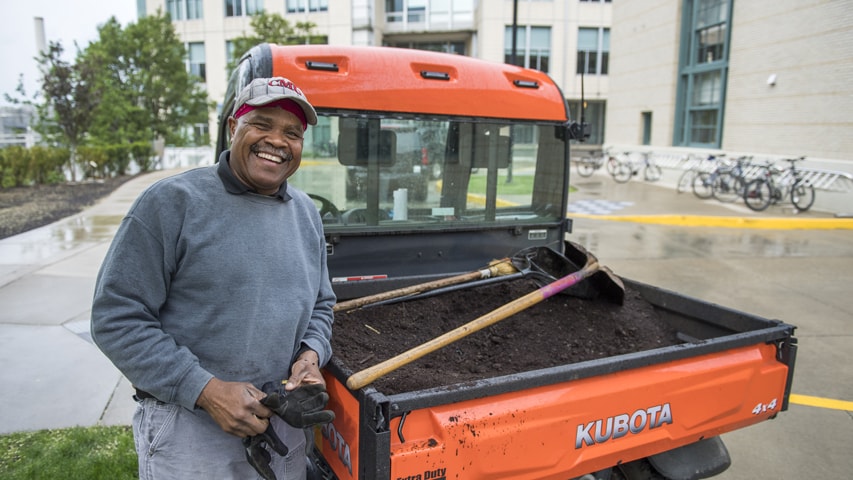 From the kitchen to the garden, Frank Stanton has called Carnegie Mellon University home for nearly four decades.
Stanton started working at Carnegie Mellon in 1979 in the cafeteria kitchen in Skibo Hall, which was the student center. "I was everything there. I cooked, I cleaned, I prepped, I did the dishes," he said.
In 1982, Stanton joined Facilities Management Services (FMS) as a custodian and worked in Baker and Porter halls, Hunt Library, the College of Fine Arts and Skibo Gym. In 2007, he moved on to work with FMS plumbers, electricians and carpenters as a craftsman's helper until a job opening for a gardener caught his eye.
"I've always had a fascination with growing things," he said. "I used to have a garden, and I had a side business cutting grass."
Stanton got the job and attended the Community College of Allegheny County to obtain a gardening certificate. Through the program, he learned about different plants and trees, how to take care of them and how to design garden beds.
Stanton takes care of the campus grounds along Forbes Avenue from Cyert Hall to the pedestrian bridge just west of Hamburg Hall. He also handles the landscaping duties from Hamburg Hall south to Wean Hall.
He cuts grass, trims hedges, plants flowers, prunes trees, fertilizes and makes sure the grounds are clear of debris. He primarily works with maple trees, tulips, daffodils, hyacinths, hostas and boxwoods.
In the winter, his focus shifts to snow removal. He shovels and salts the entranceways, and plows and salts the sidewalks and walkways aboard his utility vehicle, "which fortunately has heat," Stanton said.
"I like being outside. I like seeing the results of my work. When people walk past they say, 'That looks great.' I like that people appreciate what I do. In fact, ever since I've been here people have been pretty appreciative of what I do. It makes me want to continue to work here," he said.
Stanton met Theresa, his wife of 30 years, in the Skibo Hall cafeteria soon after he joined CMU. "She was a cashier in the dining area. I met her in 1980, we got together in 1982, and we've been together ever since."
They have three children, a daughter and two sons.