May 02, 2017
Wojciechowski's Career Suits Him to a Tee
By
Kelly Saavedra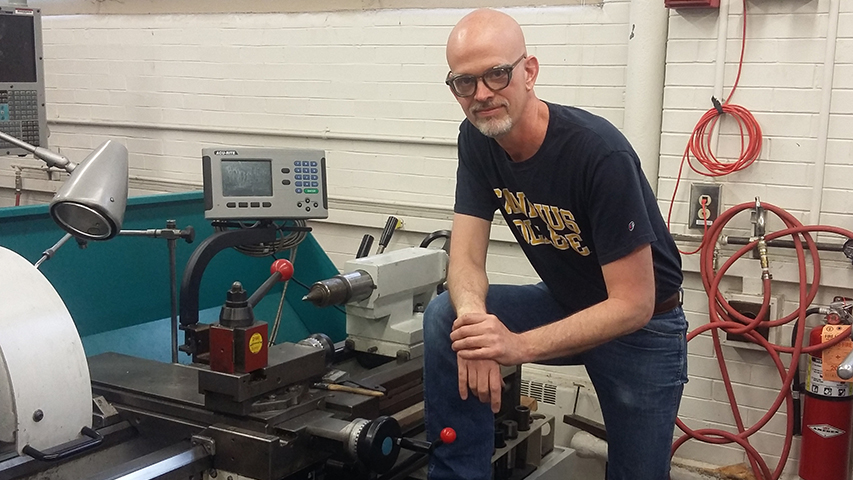 Ed Wojciechowski has manufactured a career that suits him to a tee.
A machinist by trade, Wojciechowski has for the past 16 years taught mechanical engineering students how to fabricate their designs in a machine shop in Hamerschlag Hall.
Wojciechowski introduces students to the drill press, manual milling machines and lathes. He shares an office with his colleague Jim Dillinger, who teaches students how to set up and run the computer numerically controlled (CNC) machines.
"We teach the students some basic machining skills. We're not trying to make them machinists in any way, but we want them to know how to use the equipment safely and how to make their own parts for their own projects," Wojciechowski said. "If the part is a little too complicated for them, they know they can come to us for some guidance on how to achieve their goal."
What he hopes the students take away from their shop experience is an understanding that the fabrication process factors into their design ideas.
"When they go to design things, we hope they will keep in mind how those parts have to be made. They can go crazy with their designs, but they also have to be somewhat realistic," he said.
The machine shop is scheduled for an extreme makeover soon. Its brick walls will be replaced with glass so passersby can view the work happening in the new maker space, said Wojciechowski, who likes to camp, hike and fish in his spare time.
Wojciechowski said that while the shop will change, the things that he loves most about his job will never change.
"They're young adults when they come in here, but they're still learning," he said of students he assists. "From the time they come in as freshmen to when they graduate as seniors, it's a total turnaround. They're so much more confident. They're able to go out into the world and do what they need to do as mechanical engineers with confidence."
Have a suggestion for the Staff Spotlight? Send it to piperweekly@andrew.cmu.edu.