May 03, 2017
Program Gives Staff Different View of CMU
By
Bruce Gerson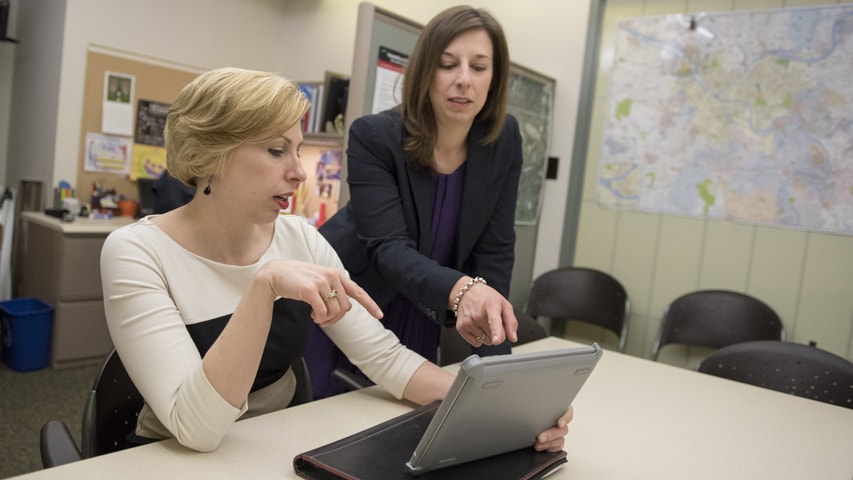 Melanie Lucht (left) and Rebecca Cicco partcipated in "A Day in the Life," a new job-shadowing program for staff.

Staff members had the opportunity to see Carnegie Mellon University through a different lens this semester as part of "A Day in the Life," a pilot job-shadowing program sponsored by Staff Council and Professional Development Services. For some, the experience was an eye-opener.
Associate Director of Athletics Patrick Sterk was one of 36 staff members — 18 hosts and 18 shadowers — who participated in the program. Sterk said he wanted to learn more about information technology and the School of Computer Science, "the best in the world for computer science and robotics." He was paired with Tom Wilk, information technology manager for SCS.
"I've seen the machine rooms and the servers that are powering all the research in SCS, and the efforts that go into maintaining all the giant computer systems in the school. It's pretty impressive to see all of it firsthand," said Sterk, who aims to bring some of that IT knowledge to the Athletics Department.
"The demand for video content is only going to grow so we'd be foolish not to learn from our partners on campus about what they are doing in regard to information storage, content and computers. We'll never need the computing power that SCS has, but that doesn't mean some of the things they're doing wouldn't benefit us on a smaller scale," he said.
Wilk said the partnership was beneficial to him as well.
"I actually learned more about athletics than just the athletics side," said Wilk, who joined the program to learn about other departments and meet other people at the university. "I learned about some of the neat things they're thinking about in regard to technology to help enhance the sports program."
Rebecca Cicco, workplace safety manager for Environmental Health and Safety (EH&S), wanted to expand her overall knowledge of the many areas of the university. She said she wanted to "dig in and learn more." Her host, Melanie Lucht, senior manager of Disaster Recovery and Business Continuity Services, gave her what she was looking for.
"Melanie interacts with all departments. She gave me an overall picture of the departments' inner workings and their priorities," Cicco said. "This information helps determine where they're going to place emphasis as far as business continuity and disaster recovery are concerned. Her wealth of knowledge has really been helpful."
Lucht, who recently was appointed interim director of EH&S ahead of Madelyn Miller's retirement from the position later this year, said she has learned a great deal from Cicco.
"She's one smart lady. I learned so much from her about the workplace safety program and how she goes about building relationships at the university," Lucht said. "We're in a unique situation. There's a lot of synergy with what I do and what she does. We've been able to build a network of people that we work together with frequently."
EH&S Chemical Safety Specialist Jeffrey Harris shadowed Joel Tachoir, director of technology for Student Affairs. Harris attended several of Tachoir's team meetings in which he learned about the IT tools and systems used in Student Affairs, and the variety and scale of work involved in supporting 16 different departments, from housing and dining to health services.
Harris saidthe team meetings were informative and that he was surprised by the vast amount of information mined by the Student Affairs IT group.
"I would recommend the program wholeheartedly to people to better understand what our colleagues do," Harris said.
Staff members interested in participating in the next installment of "A Day in the Life" should send email to ADayintheLife@andrew.cmu.edu.