March 03, 2017
Startup 101 Brings STEM Learning to Life
By
Adam Dove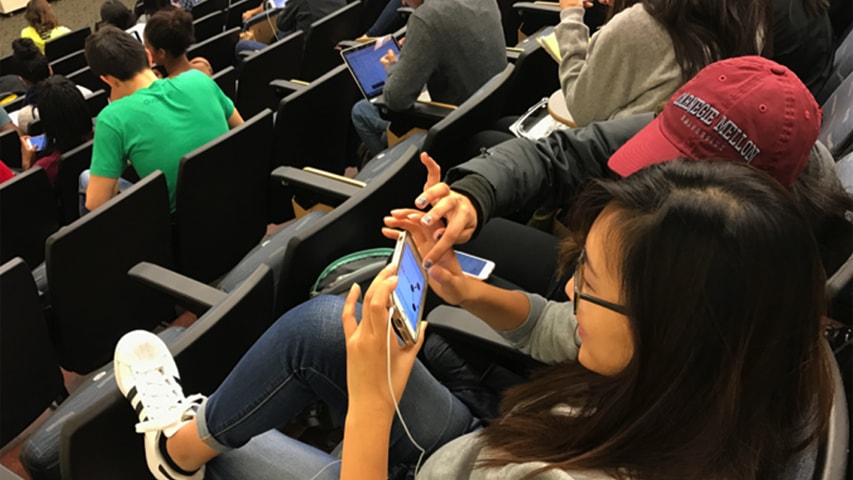 Justin Weinberg is making it his business to improve teaching and learning in science, technology, engineering and math (STEM) fields.
The Carnegie Mellon University chemical engineering Ph.D. student co-founded a tech startup called 101 that enables professors to engage students in active learning exercises during their traditional classroom lectures.
Weinberg and his former classmate, Igor Belyayev, created an app that professors can use to send problems to students' mobile devices.
"What we're trying to do with 101 is take college STEM out of the dark ages of passive learning and usher in the new age of active learning," Weinberg said.
Weinberg met Belyayev while studying at the Cooper Union for the Advancement of Science and Art in New York City. There, they created Chem Pro, an app that features video lessons to help students learn chemistry. When the app was downloaded half a million times by U.S. students, they realized the need for enhanced teaching tools.
101 recently introduced its first classroom tool for chemistry students. Chem101 focuses on the teaching of Lewis structures, a core part of early chemistry education. Using Chem101, professors can assign a Lewis structure problem during their lecture by sending it directly to students' mobile devices.
Students respond using an intuitive drawing tool to build out the structure, then send answers back to the professor. Instructors can observe and address student mistakes in real-time.
"This is the first subject-specific response tool, which makes it very attractive to professors," Weinberg said. "Clickers and other digital response tools only allow students to answer generic questions like multiple choice. Chem101 actually helps students learn the subject matter because they can visualize concepts like molecular geometry and obtain feedback on their answers they would otherwise never get."
About 2,000 students in nine elite universities, community colleges and high schools have used Chem101 and the feedback has been positive. More than 75 percent said they preferred it to other existing courseware and 40 percent said it increased their interest in chemistry after using it for a couple weeks.
In one case study, students using Chem101 experienced a 200 percent improvement in learning versus students who did not use it, based on pre- and post-semester exams.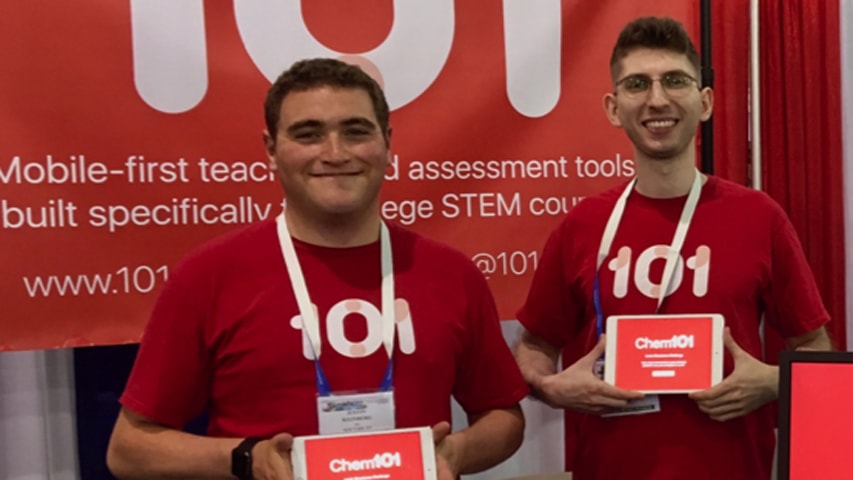 Justin Weinberg (left) and Igor Belyayev debuted Chem101 during the American Chemical Society national meeting in 2016.
"For the chemical structure drawing aspect of Chem101, I have experienced nothing as interactive, easy to use and versatile in providing detailed applicable structural information," said Leonard Vuocolo, assistant teaching professor of chemistry at CMU.
Vuocolo said he is willing to make Chem101 a course requirement for students to learn to draw Lewis structures.
"This app is a terrific tool for students and it would be great if it could be expanded to also cover other topics in chemistry," said Daniele Ramella, an assistant professor of chemistry at Temple University.
Zack Masciopinto, a sophomore mechanical engineering major, also gave it high marks.
"Compared to other websites ... Chem101 was simpler to navigate, easier to complete specific activities ... and overall a better experience for learning," he said.
Duquesne University student Garrett Craig said it was the best app he has ever used in school.
"It was clear and explained things very well when answering questions. Using the app in class made learning chemistry fun and easy," Craig said.
Weinberg said he and his co-founder are working to add more to the app to support more chemistry courses.
"From here we want to explore opportunities to break into more STEM subjects, like math, physics and biology," Weinberg said.
The startup has received support from CMU's Swartz Center for Entrepreneurship and Project Olympus.