March 13, 2017
Students Honored for "Incredible Service and Leadership"
Angela Ng and Joshua Zak have been selected to receive Student Service awards from Carnegie Mellon University's Alumni Association for their outstanding contributions to the university, student body and community. They will be honored during the annual Alumni Awards ceremony, Friday, May 19, as part of commencement weekend.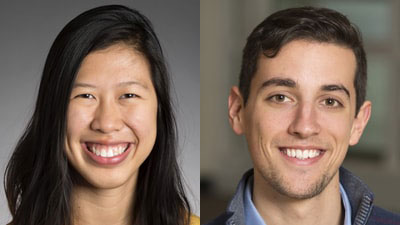 Angela Ng and Joshua Zak
"Joshua and Angela stand out for their incredible breadth of service and leadership across the university community," said alumna Rebecca Albrecht Allison, immediate past president of the Alumni Association Board and co-chair of the Alumni Awards Committee.
"Both of them have engaged in many service opportunities on campus, locally and globally, and have done so with passion and dedication, and while maintaining strong academic records. The impact of their leadership and initiatives will certainly be felt by current and future generations of students," Allison said.
Ng, a fifth-year scholar who earned her bachelor's degree in civil and biomedical engineering with university and college honors, has traveled around the world as a volunteer for several service programs, such as Alternative Break; International Volunteer HQ; Technology Consulting in the Global Community; IMPAQT, a relationship-building program with students on CMU's Qatar campus; Habitat for Humanity; and Folia Water, an effort that provides clean water to people in developing countries.
On campus, Ng founded the Mindfulness Room, a room of relaxation and rejuvenation; and Paws to Relax, a therapy dog program that includes pet-friendly housing. She has been a resident assistant and community adviser and has been an active member of the Delta Delta Delta sorority, participating in booth and buggy for Spring Carnival and Greek Sing.
She plans to attend graduate school for public health.
Zak, a member of the Science and Humanities Scholars program, will earn his bachelor's degree this May with a major in materials chemistry and a minor in Japanese studies. He has been extremely active on campus, serving as head orientation counselor, head of booth for Spring Carnival, social chair and booth chair for the student organization Fringe, a member of Phi Kappa Phi fraternity and a three-year member of the Carnegie Mellon UNICEF executive board. In 2016, he participated in the IMPAQT program and traveled to CMU's Qatar campus in Doha.
Zak was president of Carnegie Mellon's Mortar Board, was selected as an Andrew Carnegie Society Scholar and spent three years as an undergraduate researcher in Chemistry Professor Stefan Bernhard's Lab.
Following commencement, Zak plans to enter the Ph.D. program in materials chemistry.
Joining Ng and Zak at the Alumni Awards ceremony May 19 will be 13 alumni who will be recognized for their professional achievements, distinguished service and impact. See who they are.