March 08, 2017
Play an Active Role in the Staff Experience
By
Becky Finkel
and
Tim Leonard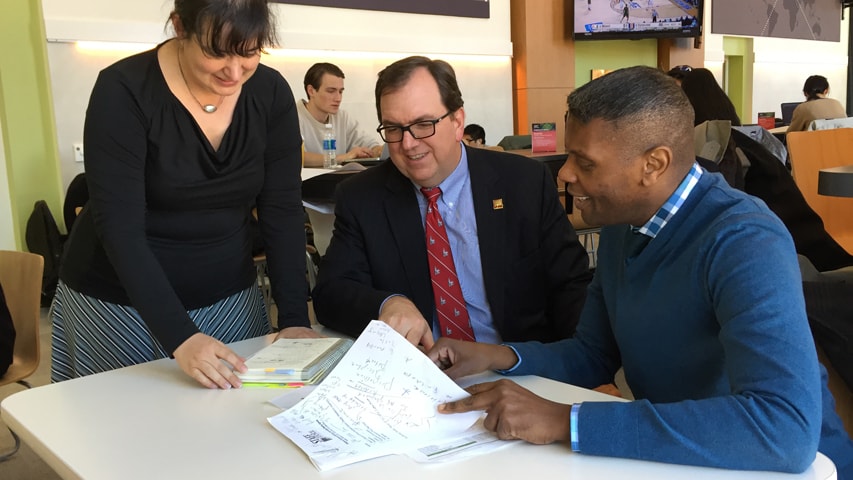 Nicole Reading, Matt D'Emilio and Sebastian Lacy (l-r) at a recent Staff Council committee meeting.

Now is the time to stand up and be counted. Let your voice be heard.
That's the message from Staff Council, an elected body of 60 representatives from across campus that helps shape and enhance the Carnegie Mellon University staff experience.
Nominations for a seat on Staff Council are now open through March 17. All staff neither represented by a collective bargaining unit nor holding a faculty designation can be nominated, and individuals can nominate themselves.
"The talented and hardworking staff at CMU provide the critical support for our amazing students and faculty in their campus life and academic work," said President Subra Suresh. "Through their passion, commitment and dedication to CMU, members of the Staff Council contribute significantly to the outstanding achievements of this great university."
Staff Council representatives attend monthly general body and committee meetings and help to organize various university-wide events that benefit staff, such as the annual Benefits Open Forum and the Benefits and Fitness Fair. Members also have the opportunity to provide input and feedback to CMU's senior administration on issues, such as the university's strategic plan, professional development opportunities, health care and tuition benefits, and parental leave.
"Staff Council is a great way to be engaged in campus activities, committees and decision-making across campus, and you meet great people, too," said Margaret Cox, assistant director of the Miller Gallery.
Each member of Staff Council is required to participate in one of several committees. Three of the committees, the Relations Grievance Advisory Committee, the Strategic Plan Alignment Committee and the Benefits Committee, are directly involved with supporting staff.
The Relations Grievance Advisory Committee is available for all staff who may be seeking information or guidance regarding workplace issues. The Strategic Plan Alignment Committee ensures that Staff Council activities align with the university's priorities in respect to the CMU Experience for staff. The Benefits Committee works with Human Resources to enhance staff benefits.
"CMU is similar to a small city that operates 24 hours a day, every day," said Rodney McClendon, vice president of operations. "Every day, the extraordinary CMU staff, in partnership with the faculty and administration, work to ensure service excellence in support of the academic, research and creative missions of this great university. Much of that service excellence is inspired and coordinated by the exceptional work of Staff Council."
In addition to the important work being done, Staff Council members also get the opportunity to have fun and meet other staff on campus. Staff Council sponsors the ice cream social, the staff appreciation picnic and the staff picnic at Kennywood Park each year.
"It is incredible to see how many people are working hard to ensure that the voices of staff members on our campus are being heard," said Bryan Koval, assistant director of Residential Education and a current Staff Council member.
Tom Wilk, information technology manager for the School of Computer Science, joined Staff Council because he wanted to meet people outside of his "small Computing Services world."
"I felt it could help me meet more people, maybe expand my career opportunities, and show me what goes on at this university beside my daily grind," Wilk said. "And you know what? Just about everything on that 'bucket list' did happen."
To nominate yourself or a colleague, complete the nomination form online. Individuals may nominate up to five people for the 2017-2019 term. Nominations close at 5 p.m., Friday, March 17.
Visit Staff Council for more information.