March 01, 2017
Piper Spotlight: Scott Kurdilla
By
Kelly Saavedra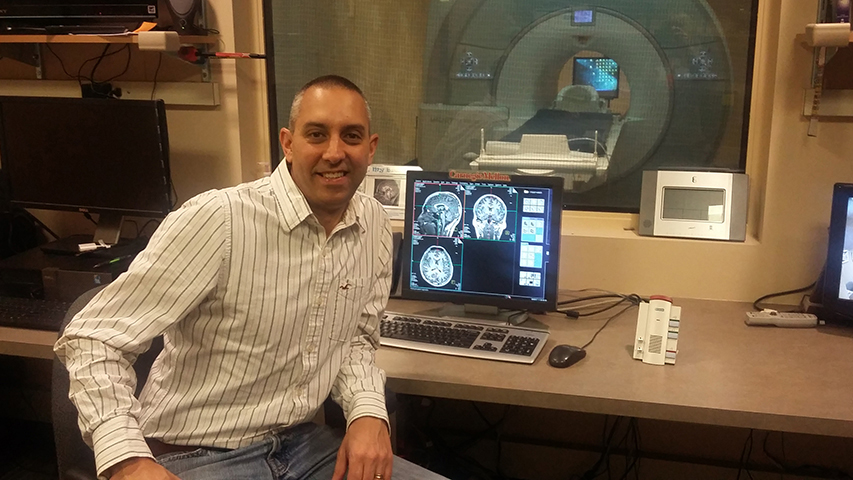 Scott Kurdilla can see what is on your mind.
As a functional magnetic resonance imaging (fMRI) research technologist and MRI safety officer, Kurdilla manages day-to-day operations at the Scientific Imaging and Brain Research (SIBR) Center in CMU's Psychology Department.  His responsibilities range from safety training and scheduling to scanner maintenance, quality assurance and metal screening.
"Whenever we use our brains, neurons and supporting structures require oxygen and nutrients to provide energy for optimal brain function. Blood flow changes are linked with brain activation and can be measured using special MRI techniques," Kurdilla explained.
Functional MRI is a process by which images of the brain are obtained while the participant is engaged in some task. The process is "functional" because the images show which areas of the brain are working the hardest during various tasks.
The SIBR center is used by researchers at CMU, the University of Pittsburgh and Duquesne University. Kurdilla works with many different lab groups that perform fMRI scans to study new ways to understand addiction, lie detection, stress levels, sports concussions, autism and schizophrenia, to name a few.
Kurdilla has scanned the brains of a number of celebrities including many professional sports players, and TV and movie stars. Alan Alda, Barbara Walters, Temple Grandin and Jenna Bush Hager have recently had fMRI scans performed at the SIBR.
But he enjoys working with the autism groups the most.
"The subjects diagnosed with autism try so hard, from holding still in the MRI scanner so the pictures are clear to doing the best they can at the functional task. They are such inspirations," he said.
Kurdilla, who has been at CMU for seven years, has a degree in radiologic imaging and has been working in the field for the past two decades. When he is not scanning brains, he enjoys spending time with his family and German shepherd.
"My wife, Renee, and my son, Hunter, mean everything to me," he said. "Renee teaches me every day how to be a better person."