March 08, 2017
President's Annual Update: "No Better Time To Be at CMU"
By
Bruce Gerson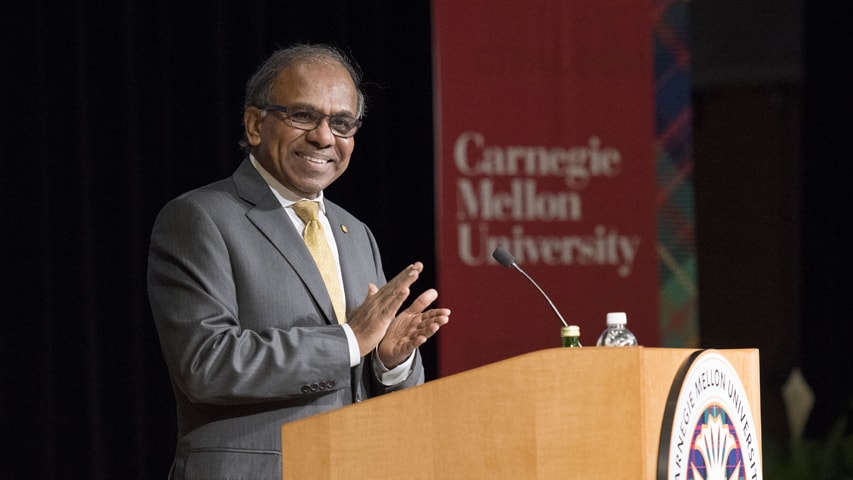 In his annual update to the Carnegie Mellon University community last week, President Subra Suresh reported progress on top strategic priorities, and laid out the extraordinary opportunities that lie ahead for the university.
"There's no better time to be at Carnegie Mellon University," he said.
Noting CMU's pioneering global excellence in robotics and artificial intelligence, data science, the internet of things, technology connecting with humanity, autonomous systems, and ethics and policy — the pillars of the Fourth Industrial Revolution — Suresh said, "I strongly believe … that Carnegie Mellon is uniquely positioned to impact the global society more so than at any other point in our long and distinguished history."
Strategic Priorities:
Attracting and Retaining Outstanding and Diverse Talent
"Attracting and retaining outstanding and diverse talent necessarily requires building a healthy and growing endowment, and since I spoke to you in the fall, we as a community have made great strides," said Suresh, who noted that for the first time in history, the total of endowed funds that benefit CMU has surpassed $2 billion, increasing by nearly 60 percent over the last three and one-half years.
The Presidential Fellowships and Scholarships program, created to attract and retain the best and brightest undergraduate and graduate students, is now supporting 255 students and has grown to $285 million in endowed funds with the help of 450 donors. The most recent contribution was a $10 million gift last month from CMU Trustee Frank Brunckhorst to support Presidential Scholarships.
Funds also have been raised to support several professorships across the university's seven schools and colleges. A recent $5 million gift from two regional foundations will endow the Jack G. Buncher Chair for the head of the School of Music. The gift is the largest in the history of the school.
President Suresh said CMU continues to form mutually beneficial partnerships with government and industry. He cited several recent developments, including the $10 million gift from K&L Gates to study the policy and practical ethics of artificial intelligence, a gift of up to $31 million from PwC US to form the new Risk and Regulatory Services Innovation Center, and CMU's key role in the formation of the Advanced Robotics Manufacturing Institute, which will receive $250 million from the Department of Defense and partner organizations.
Enhancing the CMU Experience
On the heels of a university-wide email, titled "Delivering on the CMU Experience," Suresh reaffirmed his commitment to providing the most secure, supportive and nurturing environment possible for students, faculty, staff and alumni.
"I see the CMU experience as having two distinct but interrelated dimensions: the personal dimension in environment and infrastructure that allows each of us to live healthy, fulfilling lives; and a community dimension that creates a united sense of spirit and purpose, or a dimension that many of us would like to call 'One CMU,'" Suresh said.
He said the university will work to implement tactics that address three areas of focus identified by the newly convened President's Advisory Board for the CMU Experience. They are: change the stress culture; define and deliver the CMU Experience; and create a "One CMU" Experience.
Suresh commended the new host family program for international students as a creative way the university can promote greater community. He also discussed progress by the Task Force on the CMU Experience, led by Provost Farnam Jahanian, on improving academic and advising infrastructure and policies in an effort to improve course management for students.
The president touched on some of the historic infrastructure improvements underway, such as the Tepper Quad, the TCS Building, Ansys Hall and the recently completed Scott Hall. He applauded the transformative renovation of the Sorrells Engineering and Science Library in Wean Hall, and the upcoming new health and wellness center, authorized by trustees last month, that will more than double the size of CMU's health and counseling facilities, while allowing the university to adopt a new, more proactive approach to wellness for all students.
"This is a major investment that will put CMU at the forefront of student support in the years to come," Suresh said of the new health and wellness center.
Building Excellence Across Carnegie Mellon
By adding outstanding talent and improving the quality of the CMU experience, Suresh said Carnegie Mellon is poised to build excellence across the university.
"At CMU, that excellence will be built on our historic commitment to science. This foundation, combined with technology, business, policy, design, fine arts, social sciences, architecture, entrepreneurship and humanities, makes this a great research university, well-positioned to have a powerful impact on the 21st century human condition," Suresh said.
He said faculty are actively encouraging students to expand studies outside their colleges.
Suresh said CMU's scholarly excellence across disciplines is made evident by prestigious accolades earned by faculty. He noted recent awards won by professors David Creswell, who won the American Psychosomatic Society's 2017 Herbert Weiner Early Career Award; Andrzej Strojwas, who earned the 2016 Phil Kaufman Award for Distinguished Contributions to Electronic System Design; and Takeo Kanade, the first Carnegie Mellon professor to receive the IEEE Founder's Medal. The autonomous driving technology startup ARGO AI, founded by former CMU staff and students, recently received a $1 billion investment from Ford, and several alumni were involved in creating the scenes for the Oscar nominated film "Fences."
Commitment to Diversity
President Suresh concluded his update by reiterating his commitment to diversity and inclusion. As a recent example, he cited CMU's participation with other top U.S. research universities in an amicus brief opposing the presidential executive order banning travel to select nations. Student leaders also hosted an open forum to oppose the executive order and discuss possible developments.
"On a personal note, this issue is of paramount importance to me, as my personal and professional journey over the past 40 years were made possible by the historically welcoming immigration policies of this country," Suresh said.
The president's update was broadcast on Facebook Live and the web. Watch the update in its entirety.