March 30, 2017
News Briefs
Exercise System for Astronauts Is Finalist in Competition
Vote Daily To Get the Team to Florida
A team of CMU students from Mechanical Engineering, Biomedical Engineering and the School of Architecture made it to the final round of the HP and Intel Design Challenge: Life in Space. Through the challenge, HP and Intel invited eight schools to create a product to improve life in space and help shape the future of space innovation.
The CMU team designed a wearable, resistance exercise system to reduce the amount of daily exercises astronauts are required to do to combat the bone and muscle waste resulting from long stints in micro-gravity. Their proposed system consists of wearable components that offer resistance to limb movements, simulating a one Earth gravity workload for astronauts in space.
The CMU team's design could help astronauts in space and people on Earth with medical issues.
There is less than one week for public voting to pick the winning team. You can vote daily through April 3 for the CMU team. The CMU team consists of Eugene Yu, Deepshikha Acharya, Vishaal Dhamotharan, Cecilia Ferrando and Kevin Wang, with Diane Turnshek serving as faculty adviser.
The students won the HP ZBook Studio Mobile Workstations they were given to create their design, and now they are hoping for the top prize, a trip to Cape Canaveral and Epcot Center in Florida. Find out more about the challenge and vote for the CMU team through April 3. Watch the video to learn more about the team's design.
RoBotany, Inventory Connection Win McGinnis Venture Competition
Startups RoBotany and Inventory Connection took the top spots in the 2017 McGinnis Venture Competition among student entrepreneurs last week.

RoBotany, a company creating robotic indoor vertical farming using automated robotics and software analytics to transform modern agriculture, took the first prize of $25,000 in investments in the graduate student category. Austin Webb, a second-year MBA student, presented on behalf of the team, which also includes second-year MBA student Daniel Seim.

"RoBotany has been very fortunate to have the opportunity to plug into Carnegie Mellon and the Tepper School's entrepreneurial ecosystem," Webb said. "I have been able to marry my education at the Tepper School with the growth and progress of RoBotany, allowing for immediate application of my learning in an experiential learning setting, as well as obtain free help for RoBotany from my classmates, who are all first-rate all-stars."

Inventory Connection, which provides sales representatives with real-time inventory and point of sale data allowing them to stock their supermarket's shelves better, won the undergraduate division first-place prize of $4,000. The startup is led by Kerolos Mikaeil, a senior majoring in electrical and computer engineering and engineering and public policy.

Find out more about the competition.
Celebrating Graduate and Professional Students, April 3-7
Carnegie Mellon's annual Graduate and Professional Student Appreciation Week is April 3-7. The week recognizes the contributions, impact and value graduate students have at CMU and features a variety of opportunities and events for graduate students.
 
A highlight of the week is the graduate interdisciplinary exhibition, Innovation with Impact, from 4 – 6 p.m., Thursday, April 6 in the Cohon University Center's Rangos Ballroom. More than 170 graduate students from all disciplines will present their work through posters, displays and performances. The winners of the Graduate Student Service Award and Graduate Student Teaching Award will be honored, along with recognition of the Three Minute Thesis Award Winner.
 
Find out more about the week's events.
Field Day Is a Sellout!
More than 100 children between the ages of 6 and 12 will be participating in Carnegie Mellon's 7th Annual Field Day from noon – 3 p.m., Sunday, April 2 in Wiegand Gym and Gesling Stadium. Sponsored by the Student Athlete Advisory Council, Field Day gives children the opportunity to participate in games with Carnegie Mellon student-athletes. These games include track and field, football, soccer, volleyball and basketball.

Due to an overwhelming response, registration for this year's event has been closed.
Paws To Relax Leads to Therapets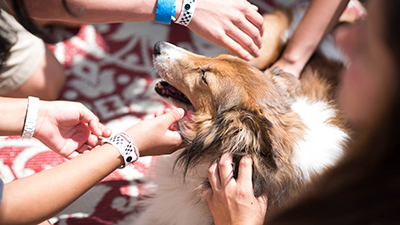 Given the popularity of CMU's Paws to Relax program, Student Affairs Wellness Initiatives has teamed up with Animal Friends to sponsor a Therapets training program on campus. This will afford interested faculty and staff the opportunity to get their dogs trained as Therapets, support our Paws to Relax initiative, and increase student, faculty and staff connections.

Training will take place during summer session I, from 7 - 8 on Wednesday evenings from May 24 through July 6, with testing at 10 a.m., Saturday  July 8. Training costs will be subsidized, so interested participants will pay only half of the cost associated with the certification. An initial screening for interested handlers/dogs will be held on April 13 on campus. Please visit the following links for more information or contact Angie Lusk, program director for Student Affairs Wellness Initiatives, at alusk@andrew.cmu.edu.
 
Learn more about the Therapets program and sign up to receive more information or register your pet for the training.
Volunteers Needed for Take Our Sons and Daughters to Work
Take Our Sons and Daughters to Work day is April 27, and volunteers are needed to assist in a number of roles:
Registration volunteers are needed from 10:45 a.m. through about 12:15 p.m. 
Lunch aides are needed from 11:45 a.m. through 1 p.m. 
Guides are needed from 1 p.m. – 3:30 p.m.
Session Presenters are needed from 1 –  3:30 p.m.
Monitors at Pick-Up from 3 – 4:00 p.m.
Learn more about each of the volunteer positions. If you are interested in being a volunteer, contact Cindy Vicker at cp32@andrew.cmu.edu or Gloria Gruber at ggruber@andrew.cmu.edu.
Fellowships in Digital Health Available
The Center for Machine Learning and Health is seeking applications for graduate student Fellowships in Digital Health.
Each fellowship provides full support for one year for a graduate student at Carnegie Mellon who is pursuing cutting-edge research that advances digital health, broadly defined.
Who is eligible:   
Full-time Ph.D. or master's degree students at Carnegie Mellon University.
Master's degree students must be enrolled for research for at least 24 credits or writing a thesis must be part of their degree requirements. Students are encouraged to inquire to see whether they are eligible before they submit their applications.
Students should have a primary research project related to digital health. Applications are welcome that involve diverse approaches and disciplines that apply to health care, including machine learning, computer science, robotics, language technology, computational biology, electrical and computer engineering, economics, psychology, sociology, public policy, business administration, law, and human-computer interaction.
Students must be enrolled in the Ph.D. or research-based master's degree program for a full academic year for the duration of the fellowship.
Projects at any stages, both initial and mature, are welcome.
For full details of the fellowship opportunities, visit the Center for Machine Learning and Health web page. All questions should be directed to cmlh.fellowship@gmail.com.
Looking for a Ride to Work from the North?
A group of faculty and staff from Carnegie Mellon and the University of Pittsburgh are forming a vanpool that will commute to Oakland from the Cranberry and Evans City area. The van will arrive in Oakland by 8 a.m. and leave by 4:45 p.m. Interested? Call 1-888-819-6110 (reference the ride by using V219) or email Chris Blakesley at cblakesl@andrew.cmu.edu.