March 16, 2017
News Briefs
Cohon Center Addition Wins Building Excellence Award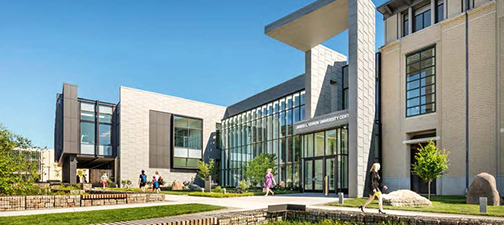 The Cohon University Center addition has won a Master Builders' Association 2016 Building Excellence Award.
Presented annually, the building excellence awards are the highest and most sought-after commercial construction awards in western Pennsylvania. The Cohon Center project, managed by Mosites Construction and designed by CannonDesign, took top honors in the New Construction Between $10 and $25 Million category.
The multipurpose 62,000 square-foot addition houses new athletic facilities, including a weight room and cardio fitness area, locker rooms, a cycling studio and two group exercise rooms. It also includes a spectator balcony above the swimming pool, a studio theater for student performance groups, a renovated dining area and new office space and conference rooms.
The construction also gave the Cohon Center a new glass-enclosed lobby facing Forbes Avenue, turning the former loading dock into a stunning new entrance to the building that some have called a new "front door" to the university. Read more.
Aspiring Entrepreneurs Compete for $60K in Investments, March 21
Come watch the final round teams compete in the CMU Swartz Center's annual McGinnis Venture Competition, a platform exclusively for CMU's community of student entrepreneurs. Eight graduate and four undergraduate teams will give their final presentations between 1 and 5 p.m., Tuesday, March 21. An award ceremony and networking reception will follow from 5:30-7 p.m. All are welcome.
The McGinnis Venture Competition brings together Carnegie Mellon's best and brightest student entrepreneurs to compete for $60K in investments. All participants receive crucial interaction with alumni entrepreneurs and venture capitalists, an opportunity to raise capital and valuable feedback about ventures. Find out more.
Students Vie for Campus Superstar Title, March 26
Four School of Drama students will compete to be this year's Campus Superstar at 7 p.m. Sunday, March 26, at Carnegie Music Hall in Oakland.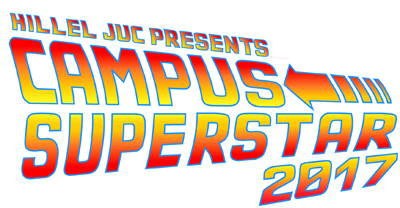 Campus Superstar is an American Idol-like singing competition featuring Pittsburgh area college students. Over 150 students auditioned in the fall, and 10 finalists were selected following a semi-final round in November. Campus Superstar is a professionally produced musical spectacular, in which performers are accompanied by a full band, with all of the "glitz" that one would expect from a concert or Broadway show.
Competing from CMU will be seniors Hanna Berggren and Daryl Paris Bright and sophomores Gena Sims and Ramsey Pack.  Learn more about the students.

Student tickets are free with a valid school ID. Faculty and staff can purchase tickets starting at $36. Staff should use the faculty order form.  Campus Superstar is presented by The Edward and Rose Berman Hillel Jewish University Center of Pittsburgh. Find out more about the competition.
Parking & Transportation Services Open House Tuesday
Parking & Transportation Services is hosting an open house to celebrate its new office on the first floor of the East Campus Garage, Tuesday, March 21. Stop by the new parking office, adjacent to the Cohon University Center, from 11 a.m. – 1 p.m. and enjoy some light refreshments on the first day of spring! Plenty of parking available! ;-)
Office of International Education Joins Enrollment Services
Provost Farnam Jahanian and Vice President for Student Affairs and Dean of Students Gina Casalegno have announced that the Office of International Education (OIE) has been incorporated into the Division of Enrollment Services (ES) as of March 15.
Previously housed in the Division of Student Affairs, the OIE will now report to Lisa Krieg, associate vice president and director of Enrollment Services. OIE Director Linda Gentile will join the Enrollment Services leadership team.
"Bringing OIE and Enrollment Services together works to strengthen and enhance the already strong alignment between these two units. In addition to their high-volume transactional activities and specialized advising on the Pittsburgh campus, both OIE and Enrollment Services routinely work with students, faculty and staff in locations outside of Pittsburgh and manage process-driven work that is regulatory in nature," wrote Jahanian and Casalegno in an email to senior administrators and units that work directly with the OIE and Enrollment Services.
Jahanian and Casalegno said they are grateful for Krieg and Gentile's exemplary leadership and are confident they will continue to lead their staffs in maintaining the same exceptional service throughout the transition.
ProSEED/Crosswalk Seed Grant Proposals Due March 22
The application period for the Spring 2017 ProSEED/Crosswalk grants closes March 22.
Funds, typically ranging from $500 - $2,500, may be requested by any member of the CMU community to support the development of new initiatives in areas such as quality of life, service learning, student competitions, development of new courses, entrepreneurial activities and pilot projects.
Complete details can be found at the ProSEED website. Email questions to proseed@andrew.cmu.edu.
Fellowships in Digital Health Available
The Center for Machine Learning and Health is seeking applications for graduate student Fellowships in Digital Health.
Each fellowship provides full support for one year for a graduate student at Carnegie Mellon who is pursuing cutting-edge research that advances digital health, broadly defined.
Who is eligible:   
Full-time Ph.D. or master's degree students at Carnegie Mellon University.
Master's degree students must be enrolled for research for at least 24 credits or writing a thesis must be part of their degree requirements. Students are encouraged to inquire to see whether they are eligible before they submit their applications.
Students should have a primary research project related to digital health. Applications are welcome that involve diverse approaches and disciplines that apply to health care, including machine learning, computer science, robotics, language technology, computational biology, electrical and computer engineering, economics, psychology, sociology, public policy, business administration, law, and human-computer interaction.
Students must be enrolled in the Ph.D. or research-based master's degree program for a full academic year for the duration of the fellowship.
Projects at any stages, both initial and mature, are welcome.
For full details of the fellowship opportunities, visit the Center for Machine Learning and Health web page. All questions should be directed to cmlh.fellowship@gmail.com.
CMU Launches Diversity & Inclusion Website 
Carnegie Mellon has launched its first university-wide Diversity & Inclusion website to clearly articulate the university's commitment to diversity and inclusion, and to provide a single point of entry where members of the university community and the public can find information about the people, programs, organizations and events that support this core university value.
 
The interactive website also includes news stories, statistics, a historical timeline, a list of university advocates and quick links to Disability Resources, LGBTQ+ Resources, Office of Title IX Initiatives, SafeZone and Veterans and Military Resources.
 
The site encourages your contributions and suggestions. A feedback link gives visitors a venue to submit suggestions.
TEDxCMU Set for April 1

This year's TEDxCMU event will be held Saturday, April 1 in the Cohon University Center's McConomy Auditorium. The theme for 2017 is Pivot, representing Carnegie Mellon's ability to innovate and move forward.

CMU's talented students, professors and industry leaders will talk about their groundbreaking research and work. The lineup of speakers includes:
Subra Suresh, CMU president;
Raffi Krikorian, director of Uber's Advanced Technology Center;
Charlie White, head of the School of Art;
Steve Chase, assistant professor, Center for the Neural Basis of Cognition and Biomedical Engineering Department;
Amy Blankson, co-founder of GoodThink;
Eric Cyphers, renowned cellist and sophomore double majoring in neuroscience and chemistry;
Molly Wright Steenson, associate professor at CMU's School of Design;
Rebecca Nugent, teaching professor and director of Undergraduate Studies in CMU's Department of Statistics; and
Michael Senatore, who started a craze with his viral video of flipping a water bottle at his school talent show.