March 07, 2017
Piper Spotlight: Julia Corrin
By
Bruce Gerson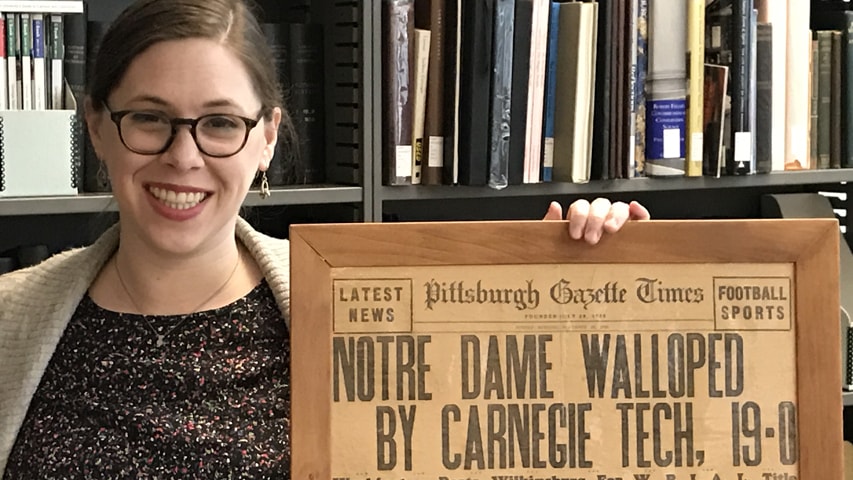 Julia Corrin is preserving Carnegie Mellon University's history.
In her third year as CMU's archivist, Corrin said she was drawn to the profession by her love for storytelling.
"I love the idea of how we tell stories and what we use to tell them," she said. "I love being able to reach across time, whether it's across five years or 100 years, to touch another person and to touch another time. It's amazing what even a memo from a dean to a president, or from a dean to a professor can tell you."
Corrin's workspace in Hunt Library is part office, part storage facility, filled with thousands of boxes and filing cabinets that house a myriad of stories, from the late Herb Simon and Allen Newell's academic papers on artificial intelligence to Margaret Morrison Carnegie College cookbooks, to "dinks" or beanies that first-year students wore on campus in the '50s and '60s, to the original album for "Pippin Pippin," the award-winning musical Stephen Schwartz wrote as a CMU undergraduate.
There are invitations, tickets and posters from past Beaux Arts balls in the College of Fine Arts, newspaper reports of Carnegie Tech's incredible victory over Notre Dame in 1926, and more than 100 boxes of film negatives and photographs.
"We have student life, we have academic life, we have minutia of campus policies and all these pieces come together to form a whole that is greater than the sum of its parts," said Corrin, who earned her master's degree in information science at the University of Michigan. "No matter what you're looking for about the university's history, we probably have something about it."
One of her favorite items in the archives is the School of Drama Prompt Book Collection, books from the 1920s through the '80s that senior drama students compiled to document their stage productions.
"They are the photographs, costume designs, lighting props and invitations to all the shows. They're lovely artifacts that tell you a lot about what student life was like when they were being made. The ones from the earlier years are most exciting," she said.
Corrin also has photos from modern-day alumni stars, such as Holly Hunter, Ted Danson and Blair Underwood. "You name them, we got them," she said.
Another one of her favorites is a 1940s scrapbook from Margaret Morrison Carnegie College.
"It tells the story of a group of students that took over a house for their senior project. It opens the biggest window into that time period," she said.
Corrin is always on the hunt for new material and is reaching out to departments in an effort to help them preserve their history.
As Carnegie Mellon University's 50th anniversary approaches, she said the archive is a resource for people who are telling the university's stories.
"The archives are magical. It gives you a sense of discovery in finding that gem of a document, photograph or artifact. You never know what you're going to find," she said.