March 20, 2017
Piper Spotlight: Bonnie Schultz
By
Bruce Gerson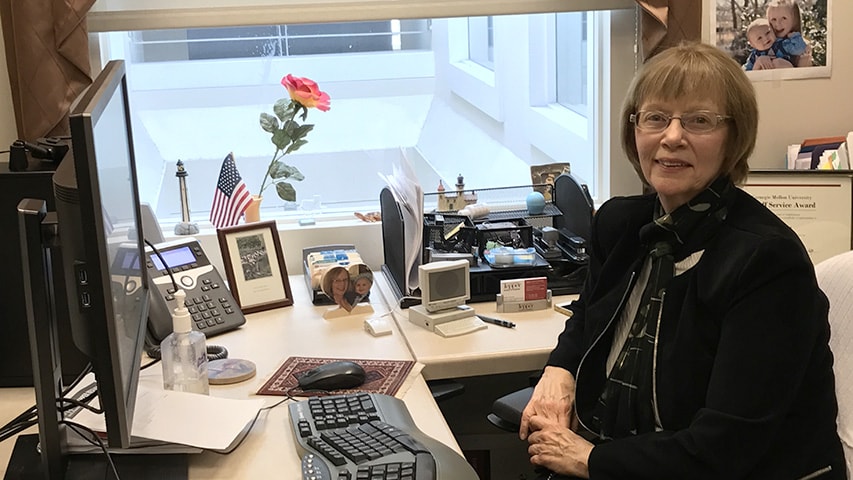 Bonnie Schultz is director of Tepper Academic Services.
Tepper School faculty know where to go for help. They turn to Bonnie Schultz and her team at Tepper Academic Services.
Schultz directs the one-stop support shop for just about everything, from coordinating conferences and seminars, processing expense reports and making travel arrangements, to preparing course packets, entering grades, making web updates, and creating PowerPoint presentations and electronic invitations. Developing and conducting surveys using the Qualtrics software will soon be added to its long list of services.
"We're unique. We're the only department like this on campus," said Schultz, who began her 31-year tenure at the Tepper School as a coordinator in its Word Processing Center.
"There were three of us then," she said. "We did straight typing of math equations, hundreds of handwritten pages. It was on a big processor. We had workstations and at the end of the day we downloaded it to a big CPU (central processing unit).
"We've come a long way. We have a team of seven now and we're into graphics, web design, e-vites, conferences, you name it. If the faculty want something done, they come to us," she said.
Schultz, whose workday begins at 7 a.m. and extends into the evening, said serving about 145 faculty members and completing thousands of jobs each year is very demanding and rewarding.
"The faculty expect perfection. They depend on us to make everything work well and that's a challenge, but when you meet those challenges, it's very rewarding," she said.
Schultz's efforts have been lauded with two Tepper School Staff Excellence awards and her team has been recognized twice as well.
"I have been so lucky to be surrounded by such good people that have the same kind of work ethic that I do," she said of her team. "I'm very proud that many of the coordinators here have gone on to pretty high-capacity jobs across the university. I try to do what it takes to help them grow."
Professors Linda Argote and Rosalind Chow praised Schultz's managerial skills.
"She has a great eye for talent and has brought together a tremendous team in Tepper Academic Services," said Argote, the D.B. Kirr Professor of Organization. "Due to her dedication and multi-tasking ability, Bonnie is able to 'keep more balls in the air' than anyone I know. We are very fortunate to have Bonnie as a colleague at Tepper."
"Bonnie runs one of the tightest ships around, which is a sign of an excellent manager," said Chow, associate professor of organizational behavior. "Everything gets done, either by Bonnie or someone else, in a quick and efficient manner. It's such a relief as a faculty member to know that once a request is sent to Bonnie, I can depend on it getting done."
Sunder Kekre, professor of operations management, said Schultz and her team help faculty deliver the quality of services that students expect from Carnegie Mellon.
"Bonnie and her team provide us in the faculty with on-demand high quality service — whether it is preparation of course packets or taking care of logistics for our industry partners for project courses," Kekre said. "She has made our academic tasks easy by anticipating our needs and we surely count on her every day for her invaluable support."
Associate Professor of Marketing Jeff Galak said his requests of Tepper Academic Services have never been denied.
"Without TAS, I can safely say that my life as a faculty member would be significantly more difficult," he said.
Schultz is thankful for the opportunities Carnegie Mellon has provided her. She said she feels privileged to work with the Tepper School faculty who are leaders in their fields, and has made lasting friendships with faculty, staff and students.
Up until a few years ago, Schultz hired and supervised the work-study students for the Tepper School.
"The work-study students were awesome. They keep in contact with me. They ask me to do recommendation letters for them. They tell me it was the best job they had and what a wonderful experience it was for them," she said.
Schultz also is very thankful to the university for two of her grandchildren. Her son met his wife on an information systems course project team at CMU.
"They met, fell in love, were married and now have two children. Thank you, CMU," she said.