March 29, 2017
Piper Spotlight: Bill Francis
By
Kelly Saavedra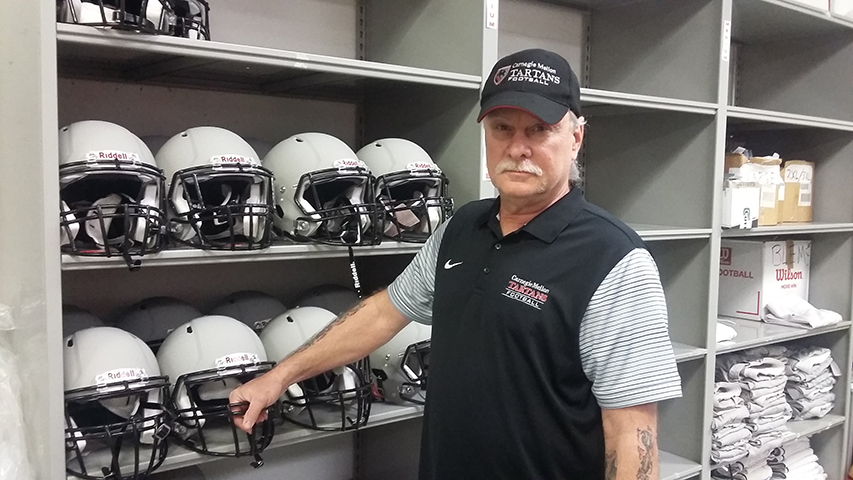 Bill Francis is a family man with a big heart who looks out for his "kids" — more than 100 of them.
As equipment manager and storage clerk for Carnegie Mellon University's Athletics Department, Francis ensures the student-athletes on the Tartans football team are safely "suited up" on the field, and the coaches have everything they need on game day.
"The Athletics Department and the university are very family friendly. That's what got me here and has kept me here for so long," said Francis, who has been part of the CMU community for 26 years.
Prior to serving the football program, Francis maintained CMU's swimming pools and spas in Skibo Gym before the new aquatics facility opened in the Cohon University Center.
Francis is a veteran of the U.S. Marine Corps and a talented musician. He likes listening to '70s music and has played drums, piano and guitar with various bands in "every nice venue in Western Pennsylvania," including KeyBank Pavilion in Burgettstown, Pennsylvania's biggest outdoor amphitheater. He also has played at the Allegheny and Westmoreland County fairs and opened for country music stars George Jones, Vince Gill and Tracy Lawrence.
Francis is the father of two sons, Donovan and Dylan. Donovan will graduate high school this year and pursue a degree at Tidewater College in Virginia. Dylan plans to follow in his father's footsteps and become a U.S. Marine.
Have a suggestion for the Piper Spotlight? Send it to piperweekly@andrew.cmu.edu.