June 01, 2017
Ron Ripper Keeps Research Running Smoothly
By
Kelly Saavedra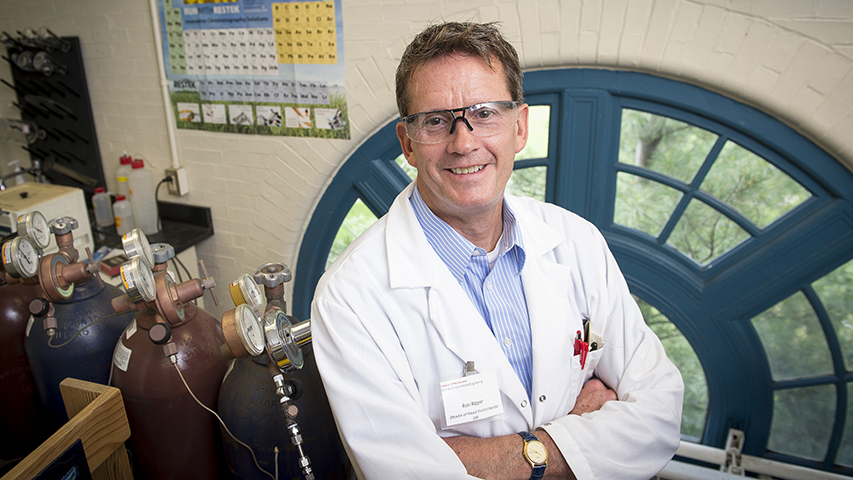 As the director of laboratories and facilities in the Civil and Environmental Engineering Department, Ron Ripper's responsibilities include instituting and ensuring adherence to lab safety policies, maintaining equipment and assisting with purchasing new equipment.
"Overall, I help Ph.D. students keep their research running smoothly in the lab," Ripper said.
Ripper is also responsible for the appearance and maintenance of the department's offices, classrooms, meeting areas and common areas.
"The best thing about this job is the constant exposure to new and exciting ideas and people," Ripper said.  "I enjoy working with faculty and staff to implement policies and changes that will enhance the their experience, working with students who are intelligent and engaged, and seeing research that could impact the public and the environment."
His work also provides opportunities to work with Carnegie Mellon's experts in green practices and sustainability.
"I have learned so many things with regard to respecting and protecting the earth and our environment," he said. "There are things that we all can do that do not require much effort. I appreciate CMU's commitment."
Ripper is a member of the University Lab Safety Committee, Radiation Safety Committee and the Biological Safety Committee. He became a member of the Staff Council two years ago and serves on the Benefits and Sustainability committees. He recently received the council's "Unsung Hero" award.
Have a suggestion for the Staff Spotlight? Send it to piperweekly@andrew.cmu.edu.