June 29, 2017
Personal Mention


Bob Dammon, dean of the Tepper School of Business, and Andrew Moore, dean of the School of Computer Science, will discuss the new Master of Science in Product Management program at The Hive in Palo Alto, Calif., on Thursday, July 6.  The new 12-month master's degree program aims to help fill the need for product managers by teaching computer scientists and engineers how to become expert product managers. Launching in January 2018 at CMU's Pittsburgh campus, the program will provide both the technical skills and business acumen students need to be successful in this high-demand area, including a required internship and capstone project to inject the practical skills needed.  Learn more about the discussion. And find out more about the new program.

Shawn Litster, associate professor of mechanical engineering, has been selected to receive $2 million from the Department of Energy for his research project, "Advanced PGM-free Cathode Engineering for Higher Power Density and Durability." The project aims to develop catalysts and electrodes from materials other than platinum grade metals. Litster's research was one of 30 projects selected by the DoE that are working toward the discovery and development of innovative, low-cost materials needed for hydrogen production and storage and for automotive fuel cells. "In our project, we are taking a comprehensive approach to dramatically reducing fuel cell costs by combining advanced high activity, stable catalysts with novel electrode designs to increase the power output and efficiency," Litster said. "In my view, fuel cell vehicles are critical to achieving large reductions in petroleum consumption for transportation and the associated benefits to mobility and the environment with vehicle electrification. Fuel cells are a key way to electrify larger, longer range vehicles, such as light duty trucks and buses, where the cost and weight of batteries are prohibitive," he said. Learn more.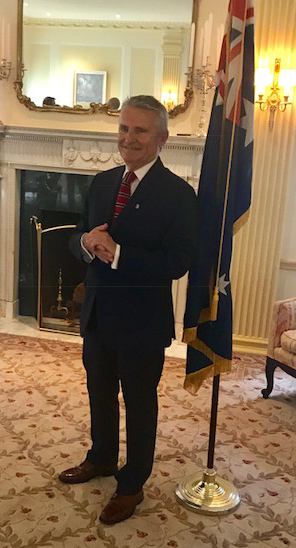 Earlier this month, Peter Cooke attended his investiture ceremony as a Member of the Order of Australia at the Washington, D.C., home of Joe Hockey, Australian Ambassador to the United States. Cooke received the high honor this past January "for significant service to the performing arts, and to education, as an academic and administrator, particularly to theatre and dance." The ceremony included presenting Cooke with a gold medal featuring the insignia of the Order of Australia attached to a blue and gold ribbon, as well as listing his myriad accomplishments. The ceremony was followed by a champagne toast from the Ambassador.

Provost Farnam Jahanian was a keynote speaker earlier this week at the 47th IEEE/IFIP International Conference on Dependable Systems and Networks in Denver, Colo.  In Jahanian's talk, titled "The Cybersecurity Imperative," he reflected on the evolution of internet threats by exploring how attackers' changing technological means have intertwined with their shifting social, behavioral and economic motives to create today's diverse range of threats. He also focused on the emerging trends that are shaping the future landscape for cybersecurity and privacy, and called for a robust R&D innovation ecosystem to bridge the gap between research and practice and accelerate the adoption of new technologies.

Allen Robinson and his research team have found that while newer gasoline vehicles emit less particulate matter, the vapors in the "cleaner" exhaust form particulate matter in the atmosphere long after exiting the tailpipe. And these secondary particles (or secondary organic aerosol) can be just as harmful to human health. The findings were published in the Proceedings of the National Academy of Sciences. "Overall, we found that new and stricter regulations for gasoline vehicle tailpipe emissions will not be that effective at reducing human exposure to secondary organic aerosol because of changing nitrous oxide levels," said Robinsion, head of the Mechanical Engineering Department. "This feedback illustrates the complex coupling between different pollutants, which must be accounted for in models used to develop control strategies." Find out more.

CMU-Africa has announced the passing of Syed Zain Khan, professor of the practice. He was described by his students as a father figure, mentor and devout educator, and was known among his colleagues for his enthusiasm and zest for life. Khan was managing consultant and president of Alliances Consulting Group Inc. of Canada and a certified management consultant through the Canadian Association of Management Consultants. He had more than 30 years of experience in the information and communication technology (ICT) sector. Khan conducted strategic consulting engagements and capacity building workshops for government and the private sector in Africa. In Rwanda, specifically, he worked with the Ministry of Youth and ICT and was a guest lecturer at CMU-Rwanda.