June 29, 2017
News Briefs
CMU Delegation at World Economic Forum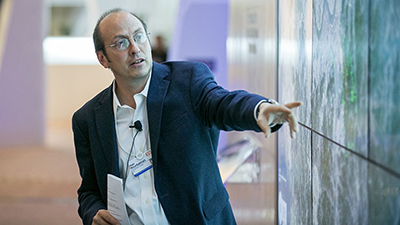 Carnegie Mellon researchers and scientists are playing an important role in global discussions at the World Economic Forum's Annual Meeting of the New Champions in Dalian, China.

Often called "Summer Davos" to differentiate it from the forum's annual winter meeting in Switzerland, the meeting brings together world leaders in business science, technology, innovation and politics. This year's theme is "Achieving Inclusive Growth in the Fourth Industrial Revolution."

Since 2011, CMU experts have led conversations at the forum in fields ranging from robotics to artificial intelligence. CMU scientists often lead discussions, give talks, demonstrate technology and provide their distinctive expertise.

This year's CMU delegation includes:
    Erica Fuchs, professor of engineering and public policy;
    Madeline Gannon, a research fellow with the Frank-Ratchye STUDIO for Creative Inquiry;
    James McCann, assistant professor in the Robotics Institute;
    Tom Mitchell, the E. Fredkin University Professor in the Machine Learning Department;
    Illah Nourbakhsh, professor of robotics; and
    Gabriel O'Donnell, principal research programmer and analyst in the Robotics Institute.


Andy Award Nominations Due July 6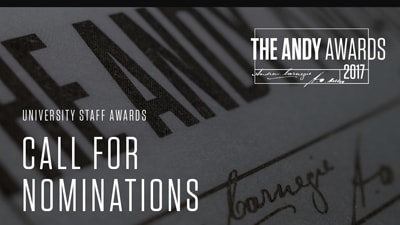 Nominations are now being accepted through July 6 for the 2017 Andy Awards, the university-wide staff recognition program that honors staff for their outstanding performance and significant impact on the university.
Awards are given in five categories: Commitment to Excellence, Commitment to Students, Innovative and Creative Contributions, Spirit and Teamwork, and Collaboration.
The nomination process has been streamlined this year making it easier for you to nominate deserving recipients.
Learn more about the Andy Awards and nomination process.
CMU Hosts Conference on Belief-Based Utility
Carnegie Mellon welcomed Nobel-prize winning economist Jean Tirole, John Bates Clark medal winner Matthew Rabin, New York University economist Andrew Caplin and other attendees to The Conference on Belief-Based Utility earlier this month. Hosted by the Department of Social and Decision Sciences, the two-day event attracted top minds from leading institutions worldwide to discuss moral influence, self-image and sense-making and their implications for economics.
"Many great economists and psychologists are recognizing that people care about and derive utility from their beliefs. We brought them together and initiated a highly stimulating conversation by organizing open discussions along with traditional presentations," said Russell Golman, assistant professor of social and decision sciences and co-organizer of the conference. "Research in belief-based utility could have incredible implications in the Information Age."
George Loewenstein, a co-founder of the behavioral economics field and the Herbert A. Simon University Professor of Economics and Psychology, co-organized the conference with Golman and said, "Phenomena like social media, belief polarization and fake news all call for new thinking about how people take in and process information and form beliefs."
Silvia Saccardo, assistant professor of social and decision sciences, also helped organize the conference. Find out more.
Weight Watchers at Work Begins July 12
Carnegie Mellon's next Weight Watchers at Work session begins July 12 and runs through Nov. 1. The cost for the 17-week session is $158.10 ($9.30 per week). Anyone interested should contact group leader Rae-Gayle Pakler at raegayle.pakler@weightwatchers.com.
"Tartan Ink" Now Accepting Orders; Storefront To Open in July

Campus Services is pleased to announce the opening of a new copy, print and ship center "Tartan Ink," located in the basement of the Cohon University Center, down the hall from the Credit Union.
Please note: the storefront will be closed for renovations during the month of June. However, orders for this location are being accepted via email, at the Tepper Copy Center in the basement of Posner Hall, or online.
Also, you can use WebCopy to submit copy and print requests online. WebCopy accepts most standard file formats and sizes up to 100MB. The site is secure, so confidential matter can be safely submitted via Webcopy. If you have hard copy files, you can still go online, fill out the form, and request pick up of your originals.
The Tartan Ink opening marks the beginning of a joint venture between the University Copy Centers and Printing & Mailing Services under the leadership of Pat Herbster and Dan Tyson. With their vision of serving the campus community, they have revitalized the services offered and expanded services to include UPS shipping once the new storefront opens.
Stay tuned for more details on Tartan Ink's grand opening in early July. Please direct questions or concerns to James Ward at jward1@andrew.cmu.edu.
Tennis Anyone?
Mike Belmonte, the associate head tennis coach at Carnegie Mellon, is offering private tennis lessons this summer through Aug. 1. One-hour lessons are $60. Interested parties should contact Belmonte at mgbelmon@andrew.cmu.edu or 412-370-7268.