June 14, 2017
Jill Simmons Is a Fundraiser by Day, Singer by Night
By
Bruce Gerson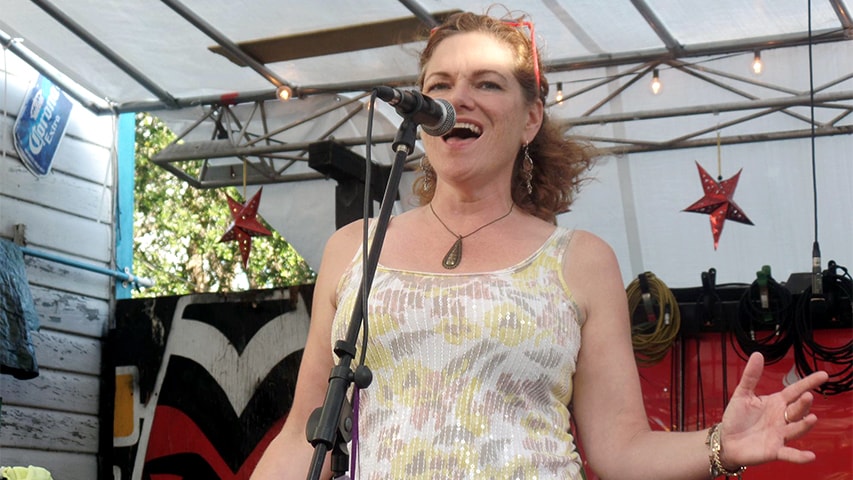 Jill Simmons is a fundraiser by day and singer by night.
Her vocation at Carnegie Mellon University is a director of development for university initiatives. Her avocation is singing for theCAUSE, a five-piece rock 'n' roll cover band that plays hits from the Grateful Dead, the Beatles and Phish, and original tunes.
In her CMU role, Simmons often travels to see alumni and other donors in New York, New Jersey, Connecticut and Florida. Her night gig has her studying a playlist of more than 200 tunes and performing several times a month at local clubs, including Moondogs in Blawnox, the Squirrel Hill Sports Bar, Thunderbird in Lawrenceville, and Rex on the South Side.
"It's the perfect balance," said Simmons, who has risen through the development ranks at CMU for the past 10 years and was recently elected president of the local chapter of the Association of Fundraising Professionals.
"I'm so grateful for the life I have," she said. "CMU people are smart and have this shared sense of excitement about learning and what we can do to change the world. And the jam band crowd has this sense, too, because we share a love of music and music can change lives. It's pretty special."
Simmons started singing as a youngster with a group called "Children in Song." In her first musical, she played Liesl in "The Sound of Music" and in high school she sang the national anthem at every home football game.
On July 14, Simmons will be performing with theCAUSE during the first Grateful Dead Night at PNC Park, where the Pirates will play the St. Louis Cardinals. She will sing the national anthem before the game. It will be her 15th time singing the "Star Spangled Banner" at PNC Park.
"I sent the Pirates a recording on a CD back in the day," she said. "They called a few people in and had us sing inside the park. I was chosen that first year, and I've done it every year since."
Of her anthem singing style, she said, "I try to be pretty traditional with my own little soul."
Have a suggestion for the Staff Spotlight? Send it to piperweekly@andrew.cmu.edu.