June 20, 2017
Jessica Tones Counsels Campus Community on Healthy Eating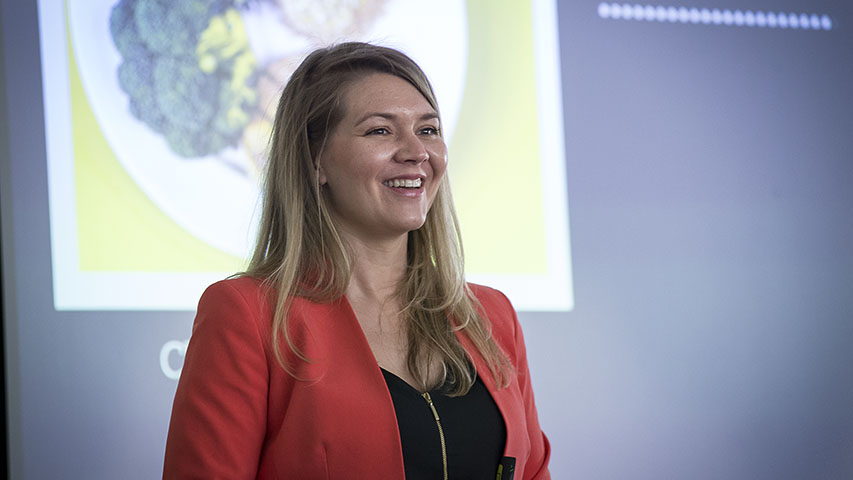 Jessica Tones joined Carnegie Mellon University last year as a dietitian and nutrition expert. She collaborates with University Health Services and dining vendors to counsel students and the campus community on healthy eating.
"I am a resource for anything related to dining. I help students identify foods on campus that fit their health and nutrition goals, whether it be related to a food allergy, identifying vegetarian and vegan options around campus, or fueling for athletic events," she said.
Prior to joining CMU, Tones worked for Giant Eagle, Inc. as a regional dietitian specialist and wellness coach. She graduated from San Diego State University with a bachelor's degree in foods and nutrition and completed her dietetic internship at UPMC Shadyside Hospital.
If she could offer one primary piece of nutritional advice to the campus community, Tones would remind everyone, "Don't forget to eat."
"Food is fuel, for both your body and your mind," Tones said. "You can't perform at your best when you are running on empty."
Tones encourages people to think about the day and where to fit food into it. This may mean packing snacks or grabbing a yogurt or piece of fruit, if there is no time for lunch. Filling half of the plate with vegetables and fruits at mealtime helps maintain a balanced diet.
Her favorite dish to prepare and serve is pozole verde, a hominy-based soup.
"Nutrition is not one-size-fits-all. Nutrition is about nourishing the body through food, and I love helping people figure out what that means for them," Tones said. "My goal is to help others hash out nutrition fact from fiction and to provide clear, food-based solutions that inspire people to develop healthier food habits."
Have a suggestion for the Staff Spotlight? Send it to piperweekly@andrew.cmu.edu.