June 26, 2017
Second Verse: Jones Plays On After Teaching
By
Bruce Gerson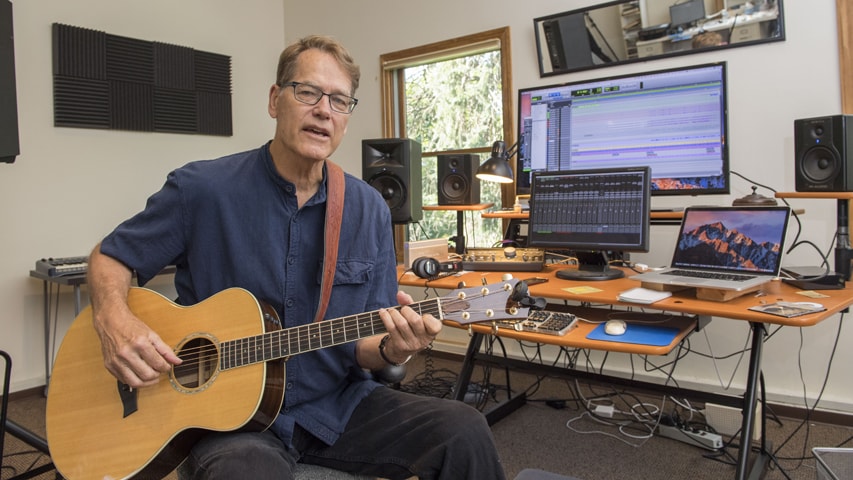 Chris Jones in his backyard recording studio.
French Teaching Professor Christopher Jones is retiring June 30 to spend more time at home pursuing his other profession. He will continue writing, playing, producing and marketing his own music in his soundproof, fully equipped recording studio in his backyard.
"It is a far cry from French literature, but over the last six or seven years I published a lot of articles on French popular music. I was studying songs in French in Quebec and in France and I eventually wrote three songs in French, one with a French poet in Montreal. So, there is a kind of melding of both fields," said Jones, who served as interim head of the Department of Modern Languages this past year.
For the award-winning Carnegie Mellon University professor, who plays electric and acoustic guitar, bass, keyboards and "some drums," music brings together two of his passions.
"I wrote my thesis on Boris Vian. He was a songwriter, jazz musician, playwright, novelist and jazz promoter, a real renaissance man. It's all kind of the same ballpark," he said.
Jones has published five CDs — four since 2010 — and performs at local clubs, theaters and coffeehouses.
His music career began before he arrived at CMU 25 years ago. A professional basketball player in Portugal, Jones spent time off the court writing and performing folk music in the British Isles, Holland, Denmark and Germany. He made his first album, "No More Range to Roam," before starting a family and moving to Boston, where he earned his master's degree at Boston College and Ph.D. in French literature at the University of Massachusetts, Amherst. In Boston, he transitioned to a different musical genre.
"I had an electric band for three or four years then. That was much more funk and rhythm and blues, but it was our original music," Jones said.
Today, Jones is digitally writing music in his studio, a double garage that he has equipped with a piano, electronic keyboards, microphones and a mixing table. He uses his digital sounds as a guide to record with his four-piece band, "The Roots Ensemble."
"I'm a sound engineer so I can put together a mock-up on my laptop, but I believe in humans," Jones said.
Mame-Fatou Niang, an assistant professor of French at CMU, has seen Jones perform multiple times. She said his songs are powerful, yet very tender, and some are "super funny."
"Chris is a modern-day troubadour, an impeccable storyteller who will get you enraptured by his voice and the quality of lyrics. Songs will make you travel from London to Paris, from Montreal to Mt. Lebanon," she said.
Brian Junker, a CMU statistics professor and fellow musician, said Jones' latest CD, "Incantations," is filled with the things that make Jones a Pittsburgh pleasure. He called the songs "comfortable" and "tight" and described Jones' voice "as husky and warm as carded wool."
Larry Berger, founder and executive director of the Saturday Light Brigade Radio Productions, said the CD features captivating lyrics, wide-ranging textures and exquisite instrumentation.
"The tracks incorporate talented accompanists that, like the mix itself, add layers and depth to the recording while allowing Christopher's voice, lyrics and intricate guitar playing to shine through," said Berger, a CMU alumnus.
Earlier this month, Jones traveled to France with colleagues to continue development of the French Online course for which he won a Carnegie Mellon Teaching Innovation Award in 2016. He will be implementing online course modules in Lyon, France, Guadeloupe in the Caribbean, and Montreal, Canada.
Jones' upcoming appearances include a performance Friday, Aug. 18, at the Orbis Caffe in Mt. Lebanon and Saturday, Sept. 9, at the SouthSide Works.