June 28, 2017
Bruce Grafton Ensures Campus Stays Cool in the Summer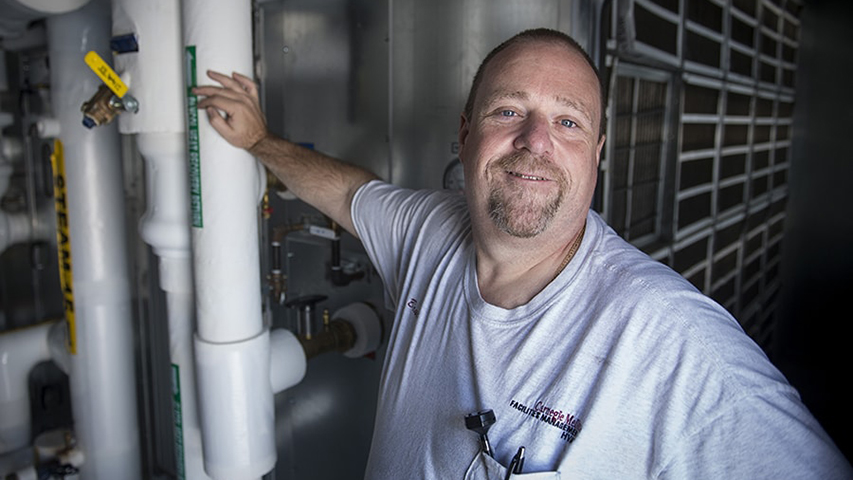 In the summer, Bruce Grafton ensures faculty, staff and students stay cool.
Grafton has been a heating, ventilation and air conditioning (HVAC) technician at CMU for 25 years, servicing primarily Wean, Doherty, Scaife, Hamerschlag, Roberts and Scott halls.
"I'm not one to sit in an office all day. I like moving around, working on something new every day, a new challenge," Grafton said. "At the same time, I wanted a stable job. I wanted to be able to come to the same location every day. That's not always a possibility for people who work in this field."
He was encouraged to enter the field by his father and his brother, Brent, who also works as an HVAC technician at CMU.
"We handle maintenance of the systems, fix problems with heating and air conditioning, and some of the lab equipment and exhaust fans. We do a little bit of refrigeration. We're on call constantly for any type of emergency," Grafton said.
Navigating through the various digital control systems can be a challenge, but he said he enjoys meeting people in different departments and seeing what they do behind the scenes.
"It's very interesting, a lot of the stuff they do around here. And a lot of people will take the time to explain what they're working on," Grafton said. "Responding to emergencies, I get to meet a lot of different people. I like interacting with them and solving their problems."
In his leisure time, Grafton enjoys camping with his family as well as bow hunting and fishing with his sons.
Have a suggestion for the Staff Spotlight? Send it to piperweekly@andrew.cmu.edu.