July 27, 2017
News Briefs
ETC Student Projects Win International Play Awards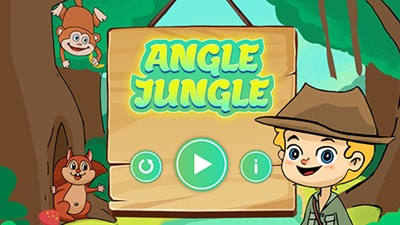 Two Entertainment Technology Center (ETC) student projects have won awards at the 2017 International Serious Play Awards.
Angle Jungle, created during the spring 2017 semester for the Allegheny County Intermediate Unit and the Colonial School, won a gold medal. The iPad app, a puzzle-solving game for 4th- to 6th-grade students reinforces basic concepts of angles through a fun experience. The free app is currently available in the app store. The "Tiny" project team included Jibran Khan, game designer; Yonglin (Carl) Zhang, programmer; Jun Wang, co-producer and UI/UX designer; and Xueyang (Lena) Wang, co-producer and 2-D/3-D artist. The team instructors were Scott Stevens and Ricardo Washington. Learn more about the team. See Angle Jungle's iTunes preview. 
Smash, created during the spring 2016 semester for the Colonial School, won a silver medal. The student project team, "Athena," created an iPad game geared toward 8-11 year-old boys with social and emotional challenges. The Athena team included Kanishk Chhibber, Ruchi Dangwal, Elaine Fath, Milind Nilekani and Luna (Luqing) Zhang. The project instructor for the team was Shirley Saldamarco. Learn more about the team.
The Conference on Serious Games was held July 18-20 at the George Mason University Science and Technology Campus. Serious Play is a gathering where creators and learning professionals can have critical conversations about game design requirements and share their knowledge with peers. The focus of the conference is exploring opportunities, challenges and the potential of game-based learning.
New York Times Tells How SCS Remade Pittsburgh
What do Pittsburgh's "food boom," the establishment of Uber's Advanced Technologies Center and the return of Jean Yang to her hometown have in common? The School of Computer Science (SCS), says writer Steven Kurutz in the July 23 edition of The New York Times.
Kurutz' Style section article, "Pittsburgh Gets a Tech Makeover," explains how SCS has helped change not only the economy of Pittsburgh, but also its culture — making the city more attractive to young, single people.
"While young, cool Pittsburgh may be a recent development, the research at Carnegie Mellon in the field of artificial intelligence has a long history," Kurutz writes.
"Put simply, where the tech world is going — self-driving cars; personal A.I. concierges; robot workers — is where Carnegie Mellon's faculty and students have been for decades."