July 20, 2017
News Briefs
Movie Filming in Gates Hillman
Annapurna Pictures is filming scenes for an upcoming major motion picture in the Gates and Hillman centers today and Aug. 10-11. "Where'd You Go Bernadette?" is being filmed in various locations throughout the buildings. Wiegand Gym in the Cohon University Center will be used for catering on filming days.
CMU is working closely with the production company to ensure the university, its students, faculty and staff will benefit from the movie-making experience with minimal disruptions to normal operations. It is expected that references to CMU will be made in the movie and opportunities will be afforded to students while the movie is filming in Pittsburgh this fall.
The movie, based on the novel by Maria Semple, revolves around 15-year-old Bee, who discovers her mother's troubled past in her efforts to find her after she disappears.
Steinberg Estate Makes $1M Donation
Four prominent Pittsburgh nonprofits received a generous bequest from the Estate of Erwin R. and Beverly Steinberg. The beloved couple, who passed away in October 2012 and November 2016 respectively, planned to leave one last gift, naming the Carnegie Library of Pittsburgh, Carnegie Mellon University, the Greater Pittsburgh Community Food Bank and WQED as recipients of a $1 million dollar donation to be split among the organizations.
Erwin Steinberg joined Carnegie Mellon in 1946 and remained in the English Department for 60 years as a professor, dean and vice provost. He played a critical role in implementing several programs for the school's English Department, including the Bachelor of Science Degree Program in Technical Writing and Editing, the Master of Arts in Professional Writing Program and the Ph.D. in Rhetoric.
His wife, Beverly Steinberg, shared a similar passion for education, focusing on a younger group of learners. After serving 21 years as an early childhood educator, she retired from Carnegie Mellon's Children's School. The Steinbergs made it their life's work to mentor, inspire, challenge and to invest their time and energy into each of their students.  Learn more.
Oakland Restaurant Week Returns July 24 – 29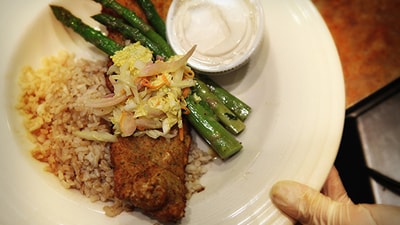 Twenty-two eateries in Oakland have teamed up to provide $6 lunches for six days, July 24-29. Diners also can enter to win free lunch for one month along with other great prizes from participating Oakland retail businesses.
Patrons can enjoy a Meatless Monday option thanks to the Sustainable Pittsburgh Restaurants Program — the Oakland Business Improvement District's way of helping to reduce the impact on the environment.
Oakland Restaurant Week features the following restaurants:
Chick "N" Grille - 121 Oakland Ave.
Fuel & Fuddle - 212 Oakland Ave.
Golden Palace Buffet - 3607 Forbes Ave.
Hello Bistro - 3605 Forbes Ave.
Lotsa Stone Fired Pizza - 3621 Forbes Ave.
Nellie's Sandwiches - 3524 Fifth Ave.
Noodles and Company - 3805 Forbes Ave.
Original Milano Pizza - 3606 Fifth Ave.
Pamela's Diner - 3703 Forbes Ave.
Peter's Pub - 116 Oakland Ave.
Primanti Bros. - 3803 Forbes Ave.
Prince of India - 3614 Fifth Ave.
Red Oak Cafe - 3610 Forbes Ave.
Sciulli's Pizza - 3404 Fifth Ave.
Sincerely Yogurt - 3400 Fifth Ave.
Sorrento's Pizza - 233 Atwood St.
Stack'd Oakland - 3716 Forbes Ave.
Sushi Fuku - 120 Oakland Ave.
The Garden Grille and Bar - 3454 Forbes Ave.
The Palace Bar and Grill - 226 Meyran Ave.
Thirsty Scholar - 3610 Fifth Ave.
Top Shabu-Shabu & Lounge - 114 Atwood St.
For more information regarding Oakland Restaurant Week, including the $6 menu options, visit www.OnlyinOakland.org.