July 07, 2017
Jim McNeil Gives the Campus Community a Lift
By Bruce Gerson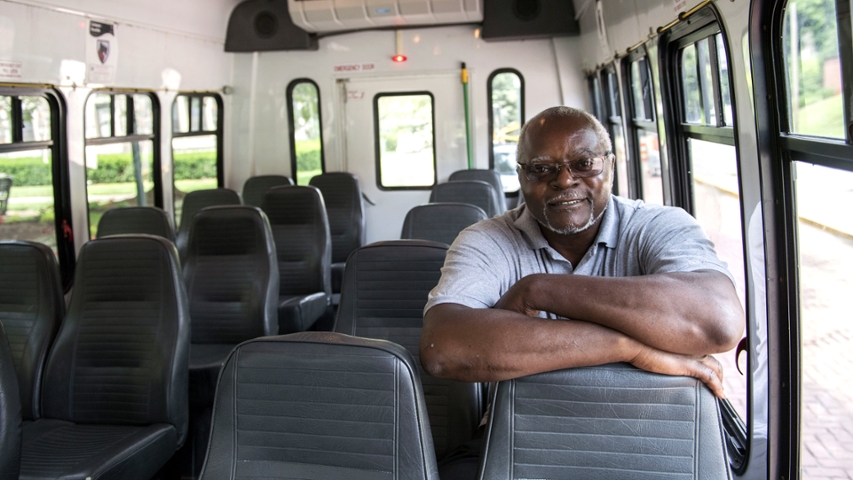 For nearly three decades, Jim McNeil has been giving the Carnegie Mellon University community a lift.
Since 1990, McNeil has been a shuttle and escort driver for students, faculty and staff, providing round-trip transportation from campus to Oakland, Shadyside, Squirrel Hill, the Pittsburgh Technology Center and Bakery Square.
"I used to drive a school bus, so I always liked driving. It's just my thing. It's relaxing," he said.
McNeil usually works the 7 a.m. – 3 p.m. shift and drives the "B" route, one of five designated CMU shuttle routes. He makes 25 stops along the four-mile stretch through Shadyside and East Liberty, and completes about 16 round trips per day, beginning and ending at the Morewood Gardens turnaround.
"I like my job. I like the people I work with. My coworkers are good people. And the students are great. They always say, 'Good morning! How are you doing? Have a nice day!' I look forward to going to work," he said.
The busiest time of the year for McNeil and his fellow shuttle drivers is during the school year, when there are more passengers and traffic, and occasional traffic bottlenecks.
"You just deal with it. It's part of driving," he said of the traffic congestion. "I don't get stressed."
When he is not driving, McNeil likes to watch sports on television, work around the house and cook on the grill during the summer.
"I'm living a dream," he said.
Have a suggestion for the Staff Spotlight? Send it to piperweekly@andrew.cmu.edu.