January 16, 2017
Art on the Run: Student Sketches Capture CMU, Pittsburgh
By
Julianne Mattera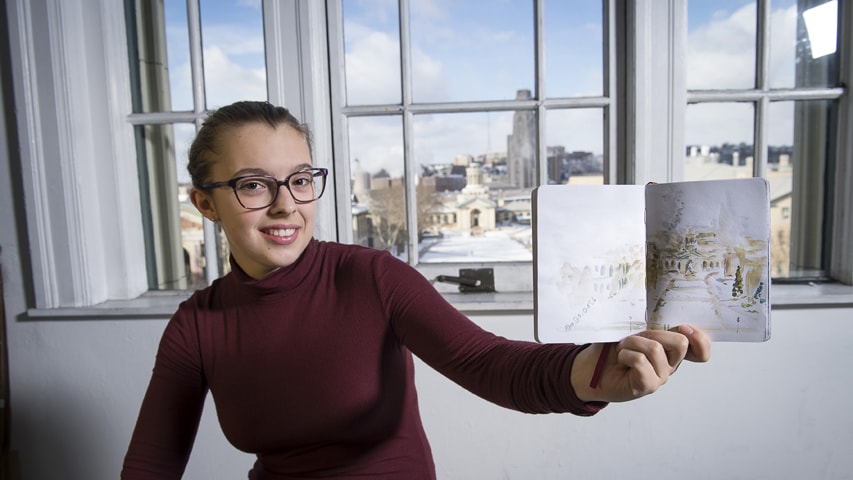 Lumi Barron likes to make art on the run.
The first-year College of Fine Arts student has been regularly painting and sketching the places she visits since she was in high school, and she continued the practice when she came to Carnegie Mellon University this fall.
Barron's drawings and watercolors take from five to 90 minutes to complete. When something catches her eye, she'll break out her sketchbook, pen and watercolors to create a new piece.
While waiting to meet with a professor one snowy morning, Barron painted the view of the campus lawn from the third floor of the CFA building. She has sketched Pittsburgh row homes in a handful of minutes while waiting for a bus. Hamerschlag Hall and a view of campus from Schenley Drive have made it into her portfolio.
Barron said the personal project is her way of recording where she has been and the experiences she has had.
"[They're] little snapshots of just that moment," she said.
Barron came to CMU's School of Art with an interest in studying animation. She was drawn in by the variety of artistic opportunities at the university, including its emphasis the intersection between art and technology.
"When visiting CMU and seeing the work students were creating, and speaking with various people about the art and technology integration opportunities, I felt that I could go into the program interested in animation and graduate with a good degree in exactly that, but could equally well end up focusing on something entirely different and unknown," Barron said. "It was that element of flexibility in combination with cross-disciplinary opportunity, that upon seeing, I realized was exactly what I was looking for."