January 04, 2017
Program Primes Pump for Pittsburgh Tech Talent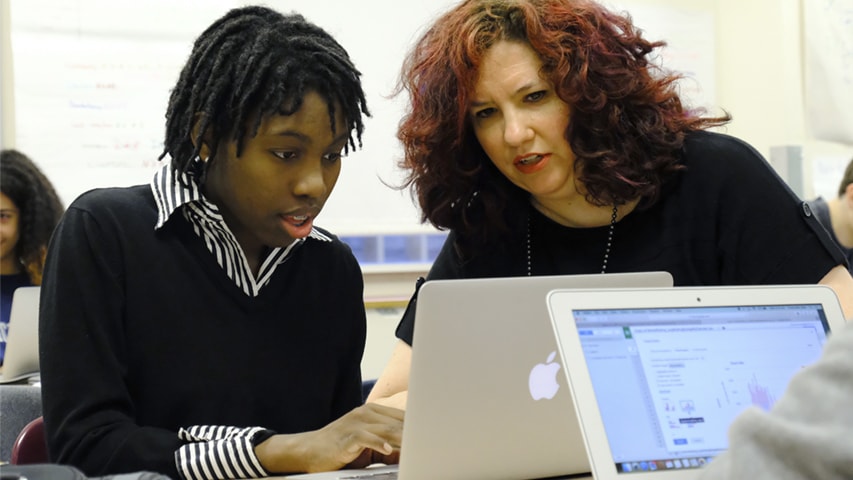 June Beighley, right, is a 1991 graduate of CMU's Mellon College of Science, and co-teaches AP computer science at Pittsburgh's Creative and Performing Arts High School. Photo by Brian Cohen.
Carnegie Mellon University has teamed up with Microsoft to enlarge Pittsburgh's pipeline for computer scientists.
The Technology Education and Literacy in Schools (TEALS) program in the Pittsburgh Public Schools pairs computer science professionals with educators to teach computer science to high school students.
"We recognized that the earlier you can expose people to the discipline, the more likely they are to have an interest," said Mark Stehlik, assistant dean for outreach in CMU's School of Computer Science.
The program also benefits high school teachers and computer science professionals. Teachers learn the fundamentals of computer science and computer scientists learn classroom management.
Microsoft launched TEALS in the Pacific Northwest before expanding across the U.S. Approached about establishing a program in Pittsburgh, Stehlik reached out to CMU alumni, including Spencer Whitman, who jumped at the chance to volunteer.
Whitman, who earned his bachelor's degree in computer science in 2007 and his master's degree in electrical and computer engineering in 2012, founded the Pittsburgh startup App Certain before moving on to Google and Rent Jungle, a website that consolidates U.S. rental listings.
"I became very passionate about seeing Pittsburgh grow its technical capability and watching the number of startups grow and flourish," Whitman said. "I have a chip on my shoulder that Pittsburgh should be more of a tech community than it is today, and a big part of that is starting computer science education earlier.
"When the TEALS opportunity came along, it totally aligned with my feelings," he said.
Five public Pittsburgh high schools — Allderdice, Brashear, Creative and Performing Arts (CAPA), Carrick, and the Science and Technology Academy — now offer one of three classes: introduction to computer science, computer science principles or AP computer science.
Whitman co-teaches AP computer science at CAPA with University of Pittsburgh alumna Jessica Nebgen and math teacher June Beighley, a 1991 graduate of CMU's Mellon College of Science.
"I haven't taught computer science for a long time, maybe 12 years. I wanted to teach the course, and while I thought I would be able to figure out the programming, I was really nervous about the computer science principles," Beighley said. "It's wonderful to have the support in the classroom."
By introducing students to computer science professionals — people who program, build robots and design apps — TEALS helps students gain a true understanding of what it takes to build technology.
"We are a bridge between industry and education," said Nathaniel Granor, lead program manager of the TEALS East region, who, along with Pittsburgh TEALS manager Courtney Hodge, worked with CMU and the Pittsburgh Public Schools to launch the program. "The need here is really great. Tech companies are eager to fund pipeline initiatives and are looking for ways to grow more talent.
"We also believe that computer science is a foundational skill set, just like reading, and for the 21st century for whatever industry or role you are in, there is potential for you to use computer science and critical thinking," Granor said.
That philosophy reflects President Obama's Computer Science for All initiative, which aims to empower all American students to learn computer science and have the computational thinking skills they need to be creators in the digital economy, and to be active citizens in a technology-driven world.
Stehlik hopes TEALS will bring that kind of computational thinking to groups that remain underrepresented in computer science. Improving access to computer science at the high school level helps schools like CMU and its peers recruit more diverse students, which remains essential for the future of the industry.
"The more our workforce mirrors the customer base, the more successful the products are," Stehlik said. "We get better results with more viewpoints at the table."