January 12, 2017
News Briefs
Tepper Online Hybrid MBA Ranked #2 by U.S. News & World Report
U.S. News & World Report has ranked the Tepper School's Online Hybrid MBA at #2 in its list of Best Online MBA Programs. The ranking is four places higher than last year's position. Though relatively new in its fourth year, the Tepper School's Online Hybrid MBA has been capturing national attention since its inception.
The online MBA features the same coursework, professors, admissions and graduation requirements as the Full-Time and Part-Time On-Campus programs. This flexible option — the Part-Time Online MBA — provides working professionals with the advantage of a top-ranked program delivered via small classes, and a flexible format that emphasizes rigorous curriculum, team-based projects and exceptional career preparation. The program combines online learning and technology with on-campus, immersive Access Weekends. Find out more
Swartz Center's Spring CONNECTS Seminar Series Starts Jan. 19
The Swartz Center for Entrepreneurship's CONNECTS seminar series beginning January 19 enhances the experiential education of any individual interested in innovation and entrepreneurship. Tailored mainly for students to help take their ideas from conception to commercialization, the workshops run throughout the academic year. Teams looking for talent and talent looking for teams can CONNECT at these events.
Visit the website to see the schedule and register for a seminar.
Students Present Urban Development Solutions to Pittsburgh City Council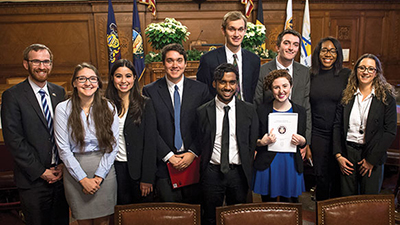 Media outlets continue to honor Pittsburgh as being a "most livable" city, and Carnegie Mellon University students have equipped city officials with a tool and research to build on this reputation by tapping into the potential of empty city lots.
Eight Dietrich College of Humanities and Social Sciences seniors—Joe Cossins, Emmett Eldred, Ariel Hoffmaier, Dhruva Krishna, Karyn Michela, Uzoma Nwanko, Alex Pasch and Cullen Wells—offered Pittsburgh City Council a report on anti-poverty research and a decision tree they devised as a planning tool for vacant land. The presentation concluded their capstone project for the Ethics, History and Public Policy (EHPP) major.
The resulting report, "Placemaking in Pittsburgh: Uses and Considerations Regarding Vacant Land," targets the city's 27,000 lots of vacant land, which became the focus after the team researched how similar cities addressed pocket areas of poverty. Portland used vacant lots for affordable housing, and Cleveland cleaned up lots to increase the value of surrounding property. Read more
Athletics Department Offers Golf Lessons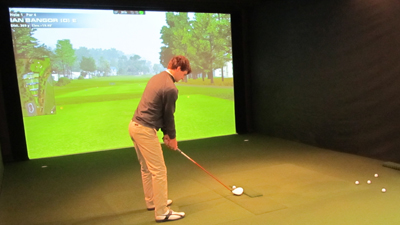 CMU Head Golf Coach and PGA professional Dan Rodgers is offering personalized golf lessons for students, faculty and staff beginning Monday, Jan. 9. All lessons will be conducted in Skibo Gymnasium using the golf program's state-of-the-art golf simulator.
Lessons are by appointment only and can be made by contacting Rodgers at rodgersd@andrew.cmu.edu. The cost is 40 FitBucks per half hour. For more information on FitBucks, visit the FitBucks website.
ProSEED/Simon Initiative Proposals Due Feb. 10
Proposals for the next round of ProSEED/Simon Initiative seed grants are due Feb. 10. ProSEED/Simon Initiative seed grants (up to $15,000 and 30 days of technical support) are available to enable CMU faculty to pursue learning research or educational practice projects aimed at improving student learning outcomes at CMU and beyond. More information about ProSEED grants can be found at the ProSEED website (www.cmu.edu/proseed). Questions may be directed to proseed@andrew.cmu.edu.

Drop-in Consultation Sessions:
All those considering a TEL proposal are strongly encouraged to discuss their ideas at a drop-in individual consultation session from 10 a.m. - 2 p.m. on Jan. 23 and Feb. 2 in Cyert Hall A-70, or by requesting a one-on-one consultation by emailing eberly-ctr@andrew.cmu.edu. These consultations are designed to enhance a proposal's fit to the evaluation criteria. Consultations can address a variety of needs and interests, including refining a pedagogical idea or strategy and its implementation, identifying, matching or designing educational technologies to meet pedagogical needs, and/or developing a study design and identifying relevant learning data to assess impacts of the proposed project.
Please note,  colleagues are welcome to discuss ideas at any level of development. In addition, if you wish to review some materials on technology matching and data collection/assessment before meeting with Eberly Center colleagues, please visit www.cmu.edu/teaching/proseed.
Help Those Who Need it Most — Give to the United Way
Please consider helping those in our community who need it most by making a tax-deductible gift to the United Way of Allegheny County. Your support will provide meals for the hungry, beds for the homeless, care for young children, and new health care options for the sick and uninsured.
 
The United Way of Allegheny County addresses the most critical human needs in the region through its support of health and human service organizations and activities. That focus is one of the many reasons the Carnegie Mellon University community annually participates in the United Way Campaign.
 
CMU's annual campaign will continue through spring 2017, but please consider making your gift today!