February 16, 2017
Students Take West Coast "Business" Trip
 By
Katelyn Howard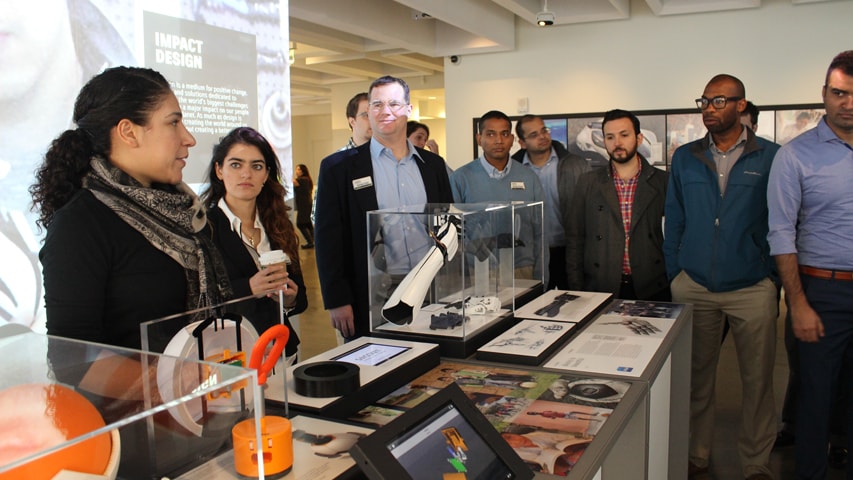 Students visited Autodesk, a Silicon Valley firm that creates software for the architecture, engineering, construction, manufacturing, media and entertainment industries.
Carnegie Mellon University MBA students recently took a trip to the West Coast to see what Silicon Valley has to offer. They were not disappointed.
"I enjoyed learning from legendary investors like James Swartz and Doug Leone, listening to what they look for in budding entrepreneurs, and hearing what they think the next big trends will be in the tech industry," said Nathan Pitzer, president of the Graduate Entrepreneurship Club (GEC) and member of the James Swartz Entrepreneurial Fellows program.
Swartz, a 1966 Tepper School graduate and veteran host of student visits, gave $31 million to the university in 2015 to establish the Swartz Center for Entrepreneurship at Carnegie Mellon. The new center was inaugurated in October 2016 and will be housed in the Tepper Quad, set to open in 2018.
Pitzer said he also enjoyed visiting prominent venture capital firms like Sequoia Capital and Accel Partners.
The annual "tech trek" to the San Francisco Bay Area for Tepper School students is organized by the MBA Business and Technology Club (B&T Club) and the Career Opportunities Center. This year two groups made the trip, students in the B&T Club and Graduate Entrepreneurship Club (GEC). The trip features visits to top technology companies and investment firms, and alumni networking.
"I first heard about the trek during Diversity Weekend, and it really cemented the fact that Tepper has a great connection to Silicon Valley, which is an advantage to anyone who's interested in tech," said Shweta Aladi, a first-year MBA student in the B&T Club who helped organize the trip. "My favorite visit was to Uber. It was easy to see the passion of the employees for their roles and the company's vision."
In addition to Uber, students in the B&T Club visited Cisco, Paypal, Google, Intuit, Veritas, Jupiter Networks, Walmart eCommerce, VMware, Salesforce, Autodesk and Intel.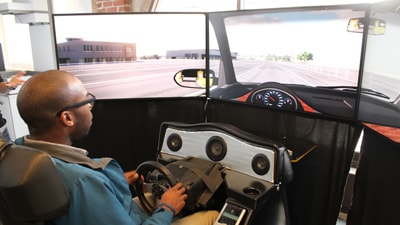 MBA student Jassum Gloster tries out a driving simulator at Autodesk.
Students in the GEC visited company accelerators Y Combinator and Hax, and startups like Harmless Harvest, Prenav, BrightEdge, Heroku and Modsy.
"The trek set me up with a network of key individuals that I can leverage to build more opportunities within the entrepreneurship community," said GEC member Andrew Ellerhorst. "It also provided me with exposure to businesses in the various stages of development."
"Incoming students look forward to our technology treks from the time they arrive on campus, and for good reason," said Scott Scheible, associate director of the Career Opportunities Center. "Attendees come away with a wealth of new knowledge about the tech industry and a much greater sense of what it takes to succeed in major tech hubs like Silicon Valley, Seattle, Austin, etc. They're also able to forge dozens of new connections with company representatives and Tepper MBA alumni currently working in those areas."
The trip featured a networking reception for students on the VMware campus, where local alumni shared their experiences in the Bay Area tech culture
"It was a great way to meet alumni who have been through the same recruiting process, and were able to offer insights and guidance to current students. It was easy to imagine what life could be like if I was to move there for my internship," Aladi said.