February 10, 2017
Tayur Elected to Prestigious National Academy of Engineering
By Mara Falk and Katelyn Howard             
Sridhar R. Tayur, the Ford Distinguished Research Chair and professor of operations management at the Tepper School of Business at Carnegie Mellon University, has been elected to the National Academy of Engineering (NAE), one of the highest professional distinctions an engineer can receive.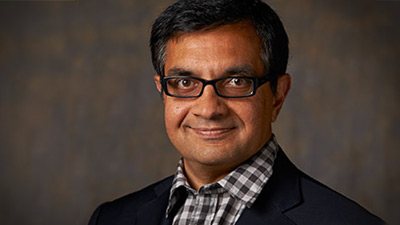 Tayur has been recognized by the NAE "for developing and commercializing innovative methods to optimize supply chain systems." His academic research spans topics such as supply chain management, enterprise analytics and software, private equity and lean operations, entrepreneurship and social enterprises, and health care operations.
"We are very pleased by Sridhar's election to the National Academy of Engineering," said CMU President Subra Suresh, who was elected to NAE in 2002. "This is yet another honor in recognition of the excellence of our faculty, whose work not only has an impact far beyond Carnegie Mellon but also provides our students with educational opportunities that are second to none."
Tayur is also the founder (and served as CEO) of SmartOps, an inventory and service-level optimization software company (acquired by SAP in 2013) that created the market for Enterprise Inventory Optimization (EIO) software, commercializing his supply chain research. Beyond SmartOps, he is also a highly sought-after supply chain and optimization consultant for leading companies including GE, Deere, Microsoft and Caterpillar, and he serves on the advisory boards of several startups.
"I am excited to be elected to the National Academy of Engineering," Tayur said. "Operations management is central to engineering and business practices, and this recognition by the NAE for both my supply chain research and its commercialization is particularly satisfying to me. To be a scientist-entrepreneur, or more broadly to be an Academic Capitalist, is very important to me professionally."
Tayur joined the Tepper School faculty in 1991 and has been recognized with the Gerald L. Thompson Teaching Award in the Undergraduate Business Administration Program, as well as the George Leland Bach Excellence in Teaching Award given by the MBA program. He has also won the INFORMS Teaching Case Award, and his Ph.D. students have gone on to have wonderful careers in academia and industry.
Beyond supply chain, in the area of health care operations he won the Healthcare Best Paper Award from the Production and Operations Management Society (POMS) in 2012 and the Pierskalla Award from the Institute for Operations Research and the Management Sciences (INFORMS) in 2015 for his research on OrganJet, a social-enterprise he founded to help provide smart and affordable  multiple listing for kidney transplant patients. Both SmartOps and OrganJet are subjects of MBA cases distributed by Harvard Business School. He was also elected a Fellow of INFORMS in 2012 and made a Distinguished Fellow of Manufacturing and Service Operations Management (MSOM) Society in 2017.
"This honor is well deserved and illustrates both the practical and powerful impact of Sridhar's work and research," said Tepper School Dean Robert Dammon. "This prestigious recognition highlights the lasting legacy of his work to the field of operations management."
Tayur earned his bachelor's degree in mechanical engineering from the Indian Institute of Technology at Madras, and holds both a master's degree and a Ph.D. from Cornell University.
NAE membership honors those who have made outstanding contributions to "engineering research, practice, or education, including, where appropriate, significant contributions to the engineering literature," and to "the pioneering of new and developing fields of technology, making major advancements in traditional fields of engineering, or developing/implementing innovative approaches to engineering education."
Tayur will officially be inducted into the NAE in October at an event in Washington, D.C. He will join two other NAE elected fellows from the Tepper School of Business: Gérard Cornuéjols, the IBM University Professor of Operations Research, who joined the fellows group in 2016, and Egon Balas, the Thomas Lord Professor of Operations Research and University Professor of Industrial Administration and Applied Mathematics, who was elected in 2006. With Tayur's election, Carnegie Mellon has been home to 55 NAE members.