February 14, 2017
Robot's Personality Comes to Life in Museum Exhibit
By
Thomas Hughes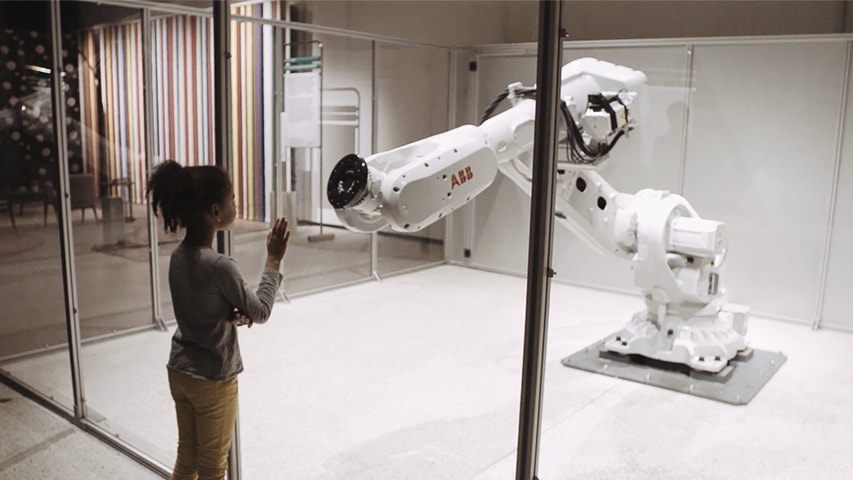 Teaching a robot to complete complex manufacturing tasks can showcase its efficiency and precision. Highlighting its spontaneity, curiosity or playfulness brings out its personality.
With her latest robotics project, "Mimus," Madeline Gannon, a Ph.D. candidate in computational design at Carnegie Mellon University's School of Architecture, is bringing museum visitors face-to-face with a curious 1200 kg industrial robot at the Design Museum London's exhibition "Fear and Love: Reactions to a Complex World." The exhibition runs through April 23.
Mimus is an ABB IRB 6700 industrial robot that would normally be found completing repetitive tasks on a car assembly line. But, today it serves as the museum's latest "living" resident. In its large glass enclosure, Mimus engages visitors like a curious animal at the zoo.
She said she hopes to reinforce the message that robots can be seen as creatures, and not just things.
"Creating new ways to communicate with machines is my passion, and I'm so excited to share this experience with others through Mimus," Gannon said. "When something responds to us with lifelike movements — even when it is clearly an inanimate object — we, as humans, cannot help but project our emotions onto it."
Gannon named her creation Mimus after the Latin root of "mimic" and a genus of the mockingbird family. A number of CMU students and alumni had a hand in bringing Mimus to life, including Kevyn McPhail, Ben Snell and Dan Moore. She developed the project at the Frank-Ratchye STUDIO for Creative Inquiry and during a sponsored residency at Autodesk's new Boston BUILD Space.
"The big void in robotics is being able to communicate with the hardware in a way that allows them to be dynamic and adaptable. Currently, these huge machines do the same thing their entire lives," said Amar Hanspal, senior vice president of Autodesk. "In the future, robots will be more entrenched in our daily lives as designers, builders and engineers. ... Madeline and Mimus highlight how that new relationship can emerge."
Her goal for Mimus was to embed ways for the robot to sense and respond to human interaction in a life-like way, without any pre-planned movement. Its movements and behaviors rely on a combination of depth sensors, simulation algorithms and custom gesture-based software. As Mimus explores its surroundings, the layers of hardware and software culminate into movement that can often give visitors a sense of empathy and compassion for this piece of industrial machinery.
A continuation of her work as the "Robot Whisperer," Gannon hopes that "Mimus" can aid in refashioning the perception of robots as primarily replacements for human labor.
"What's fascinating is the way Madeline has subverted the robot by reprogramming it, taking something designed for industrial repetition and making it seem alive and spontaneous. One starts to get the sense of how robots may behave in the future," said Justin McGuirk, chief curator of the Design Museum.
"Mimus" is one of 11 installations in the first exhibit at the Design Museum since opening in a new space. Since 1989, the museum has been dedicated to promoting contemporary design in many forms including architecture, fashion, graphics, product and industrial design.