February 07, 2017
Piper Spotlight: Pattye Stragar
By
Bruce Gerson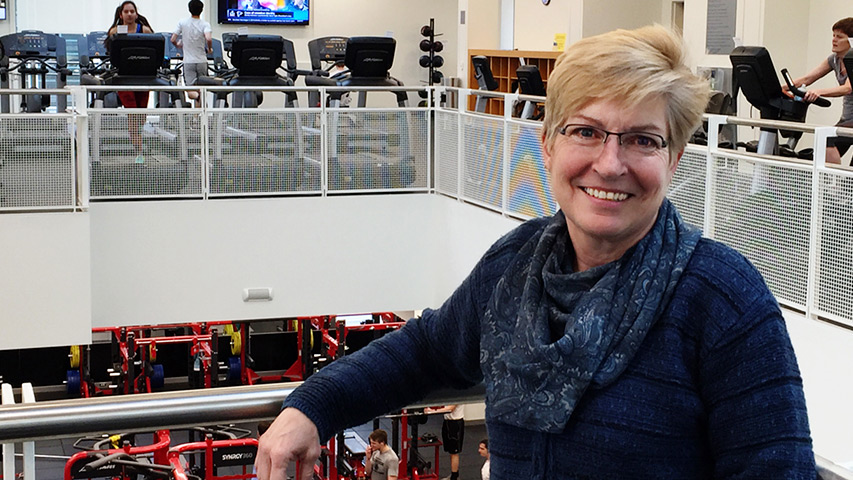 Pattye Stragar wants you to "get moving."
"Exercise is good for you physically and mentally. It reduces stress, improves your memory and makes you sleep better," said Stragar, Carnegie Mellon University's fitness operations manager. "I don't care if it's just standing up and sitting down at your desk. I just want you to do something."
Stragar manages CMU's Group X-ercise program, which offers 75 classes per week, from ballroom dancing, kickboxing and Pilates to indoor cycling, yoga and Zumba. She oversees a staff of 38 instructors and seven personal trainers.
She also plans, develops and implements special programs, like Walking Wednesdays and this month's Come Out & Play, in which members of the community are invited each Wednesday from noon – 1 p.m. to play games, such as badminton, volleyball and corn hole, in Wiegand Gym. The program concludes Feb. 22 with a pool party.
A 15-year member of the CMU community, Stragar credits the university's leadership, including Mary Suresh, for a greater emphasis on health and wellness over the last several years.
"Mrs. Suresh was very instrumental in kicking off the health and wellness initiative when she came to campus. She tries to participate whenever she's in town," Stragar said.
Stragar added that the recent Cohon University Center fitness addition, the expanded group exercise classes, which are free for students, and technology are catalysts for the increased enthusiasm for fitness.
"We're so technology-driven, and fitness and technology have really merged," she said. "We now use online scheduling, we check people into class on an iPad, and the indoor virtual cycling has been game-changing. You get an email after class with your stats," she said.
Stragar practices what she preaches. An avid runner who ran the Pittsburgh Marathon in 2009, she teaches swimming at the Jewish Community Center in Squirrel Hill and free fitness classes for faculty and staff Wednesday and Thursday evenings. She often runs the Schenley Park trails and in the summer she manages the pool at the Edgewood Country Club.
Her two sons, J.R. and David, say she is the fittest mom they know.
On Sundays, Stragar serves as a Eucharistic minister at Assumption Church in Bellevue, Pa. 
Stragar came to Pittsburgh from Northwestern University, where she was the Wildcats' gymnastics coach. She was a national-qualifying gymnast at Kent State University. There, a broken foot led to a meeting with the student athletic trainer, Gary, who is now her husband.
"We met in the whirlpool," she said.
Have a suggestion for the Piper Spotlight? Send it to piperweekly@andrew.cmu.edu.