February 08, 2017
Good Vibrations: CMU Professor's Work Could Help Improve Elder Care
Noh Wins NSF CAREER Grant To Study Sensors in Smart Buildings
By Adam Dove
Carnegie Mellon University Civil and Environmental Engineering Assistant Professor Hae Young Noh can tell a lot about a person by their walk.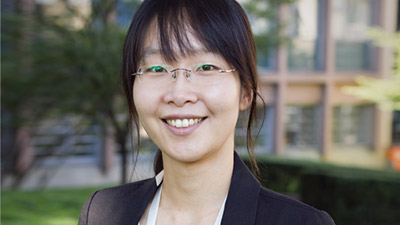 "When people walk around we can find out who you are, where you are and what you are doing," Noh said. "Just like a fingerprint, everyone's footprint has a different signature."
Noh is developing ways to record and track people's footsteps. For example, high heels produce higher frequency vibration waves than tennis shoes. When a person is turning, they place more weight on one foot, producing a footstep wave that is noticeably higher than the others.
The National Science Foundation (NSF) has awarded Noh a $500,000 Faculty Early Career Development Program (CAREER) grant to study how sensor technology can be used to enable "smart buildings" to locate and identify people and what they are doing through the vibrations of their movements.
The project, titled "Structures as sensors: elder activity level monitoring through structural vibrations," aims to use buildings as sensors to pick up vibration waves that pass through the floor when someone takes a step. By examining these waves, Noh said she can figure out how fast someone is moving, how much they weigh and their shoe type. The project focuses primarily on the application of this technology in elder care.
"Existing solutions to monitor occupants, such as vision, acoustic, motion and force sensors and mobile devices, have strict installation requirements," Noh wrote in the award's abstract. "These requirements lead to intrusive and dense deployment or require active user involvements."
Noh will install vibration sensors in three facilities. Through big data analysis, she is aiming to identify individuals by the footsteps in a way that will allow facilities to monitor patients' health and activity through simple sensors, as well as identify portions of a building that may provide unsafe footing for occupants.
The system also has other potential applications, such as helping dispatchers track first responders and people in distress during emergencies.