February 01, 2017
Piper Spotlight: Matt D'Emilio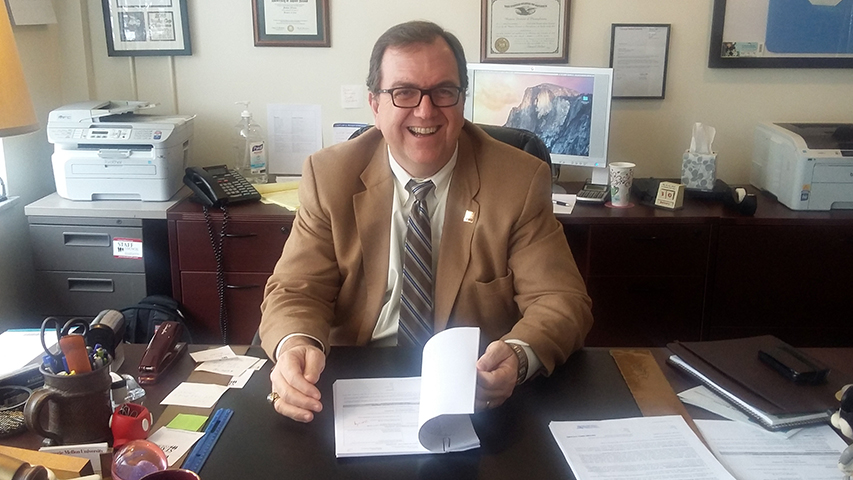 His signature may be among the most recognized at Carnegie Mellon University.
As director of the University Contracts Office, Matt D'Emilio reviews all purchasing agreements related to services, software, equipment and more. The office's inbox receives about 14,000 inquiries that generate roughly 7,000 agreements per year.
A lawyer by trade, D'Emilio earned his law degree at Duquesne University. As a six-year member of the CMU community, he said he enjoys meeting the people who benefit from the contracts he signs.
"The best part of what I do is the interaction I have with all members of the CMU community — faculty, staff and students," said D'Emilio, who also is a past chair of Staff Council. "I really enjoy meeting and talking with folks about their issues related to the contracting process."
D'Emilio said his legal experience has always benefited him in any setting he finds himself, whether it is co-chairing the Staff Experience working group in the University Strategic Planning process, serving on a review committee for the Middle States Accreditation process, or presenting to new employees and leading them on campus tours during their orientation program.
"I gave campus tours always with the general disclaimer, since my office is about one mile from campus, that I really don't have the expertise of the students who give tours or the staff that work on campus," he said. "As a result, my tours were filled with rumor and urban legend. The greatest part was when a new hire was also an alum. They would either confirm or add even more legend."
When he is not at CMU, he spends time with his "bride of 32 years," visits his two children in the Midwest and plays golf, but "not necessarily in that order," he said.
Have a suggestion for the Piper Spotlight? Send it to piperweekly@andrew.cmu.edu.