February 06, 2017
From Underprivileged to Entrepreneurial: Maha Excites High School Students About Business
By Andrea James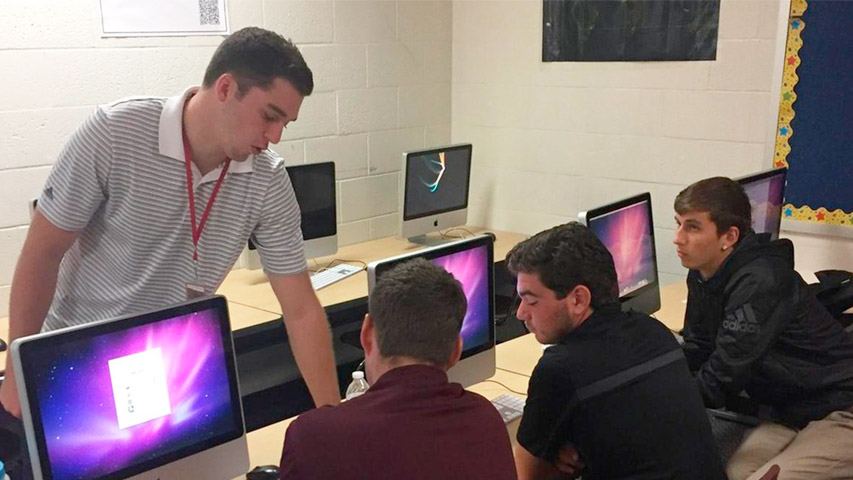 Ryan Maha is teaching high school students about customer acquisition, target markets, monetization methods and distribution models.
Junior sharp-shooting guard Ryan Maha is making his biggest impact off the court. The Tartans' leading three-point shooter is helping underprivileged high school students to become entrepreneurs.
Maha, a native of West Mifflin, Pa., southeast of Pittsburgh, and former Carnegie Mellon University teammate Blake Chasen have developed a program, "Empowering Entrepreneurs," to excite and inform students about the possibilities of starting their own businesses.
"At CMU, I'm attending classes with some of the most elite students in the world," said Maha, a public policy and management major with a business minor. "I met Blake who is just as passionate about entrepreneurship and giving back to the community. I'm not sure I would have found that somewhere else, and I certainly wouldn't have had the community connections I have here in Pittsburgh."
Those connections are what helped Maha and Chasen take their idea into local Pittsburgh schools.
Maha and Chasen were granted permission to teach lessons in entrepreneurship to students at Maha's alma mater, West Mifflin Area High School, once every few weeks. Other school districts heard about the program and reached out to learn more.
A few Power Point presentations quickly morphed into a full curriculum with an event at the end of the semester similar to the ABC television show "Shark Tank."
Chasen, who founded the startup flagtag, is familiar with pitching a new idea.
"Blake and his company went through an accelerator program at AlphaLab in Pittsburgh and were part of a demo day where they gave a five-minute pitch to a room of investors and thousands of budding entrepreneurs," Maha said. "We felt that was a cool experience for Blake and his team and we wanted to do the same, on a smaller scale, for the students in our class."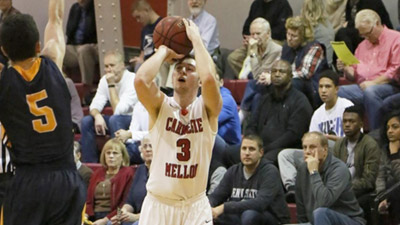 Maha is the Tartans' leading three-point shooter.
Maha said it has been rewarding to see the students learn about customer acquisition, target markets, monetization methods and distribution models.
Brian Aufman, a gifted education teacher at West Mifflin, said Empowering Entrepreneurs fills a gap for students and gives them an opportunity to learn about business concepts at a comfortable pace.
"I think the kids like that the class isn't every single day. Ryan comes once every three weeks and meets with them. They then have the freedom to think about what they just learned before they meet with him again," Aufman said.
"If you have a good idea, they see the possibilities," Aufman added. "Coming up with the idea is the number one thing. And showing them how to make the contacts and what you have to do with a business plan, that's something any kid can do. How to make the contacts and what you have to be prepared to do has been enlightening to them."
Chasen graduated in 2016 from the Tepper School and took a job in New York City, so Maha enlisted the help of teammate Chris Shkil and other friends to continue the program this year. They have continued to teach at West Mifflin and now offer the program to students at Steel Valley High School and Kiski Prep School.
"We just want to make sure we give the largest number of kids the most opportunity to grow into entrepreneurs." — Blake Chasen
"We want this to become a national program and believe we can do it in a few different ways," Chasen said. "We can continue to expand in the way we are now by getting college students on other campuses excited about providing this program at schools in their community, or we could even develop an online program to license to schools that will allow them to create their own 'Shark Tank' programs. We just want to make sure we give the largest number of kids the most opportunity to grow into entrepreneurs."
Maha and Chasen plan to offer summer entrepreneurship camps in June and they have received inquiries from the Allegheny County Jail.
Maha said he is looking forward to helping young people with their rehabilitation.
"It's sad because a mistake shouldn't define you," he said. "If we can help in their rehab process, get them back home in their communities that'd be great. There are currently 22 students [in the Allegheny County Jail] that fit the high school age range."
Maha credits his teaching success to his ability to connect with students.
"We're very interactive and try to create an environment where it's comfortable to speak out and throw ideas against the wall. We try to relate it back to their lives and their community and they are more actively engaged because of it," Maha said.
Aufman said his students look up to Maha.
"They see him as someone who is doing very well for himself and someone they might like to emulate some day," Aufman said.