February 10, 2017
Lunar Gala Has Irresistible Allure
By
Kelly Saavedra
More than 100 Carnegie Mellon University students are tapping into their talents as designers, models, dancers, videographers and technicians to pull off one of Pittsburgh's most anticipated fashion shows.
The Lunar Gala, now in its 21st year, will showcase nearly 150 original designs created and modeled by students across many disciplines and cultures who infuse technology and complex materials into wearable fashions. More than 1,000 tickets have been sold for this year's show at 8 p.m. Saturday, Feb. 18, in the Cohon University Center's Wiegand Gym.
Traditionally themed around the Zodiac animal of the Chinese New Year, this year's production will be reminiscent of the rooster. From mood-sensing Intel chips to zip ties, sheet metal and laser-cut wood, nothing is off limits in the students' quest to reflect culture, technology and reactions to events happening in today's society.
New in 2017 is an alumni line designed by graduates who couldn't resist an opportunity to relive their Lunar Gala experience.
"It was so much fun to strut on the runway to some blasting electronic music at the end of a stressful day of classes," said Aya Demler, one of the featured alumni designers.
Demler, a 2015 College of Fine Arts graduate, was on the Lunar Gala board for two years; modeled in the 2012 and 2015 shows; and designed a line with a friend in 2014.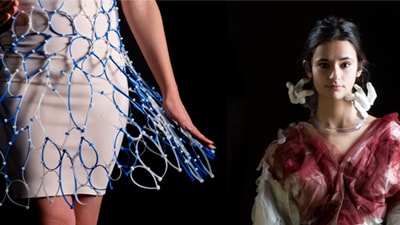 Students model two of this year's Luna Gala fashions during a dress rehearsal.
"It's always fun to tap into a little bit of fantasy and pretend you're a fashion model or designer for a little while," said Demler, now a product designer for Duolingo.
Demler's favorite part of being on the board was coaching the models to walk a certain way.
"They all have to know how to walk in heels, but the next step is making sure they look confident and comfortable doing it," she said.
"When we are being watched or our nerves kick in, some people purse their lips too tight. Some swing their arms too much. Others don't take long enough strides. It's all about the details and perfecting them, so that you look as natural as possible. There's nothing really natural about it."
The look Demler created for the line is inspired by the Japanese Yukata, a casual version of a kimono, and the color red.
"I'm eager to watch it come to life through the beautiful model and through the insanely amazing stage that the AB Tech team puts together each year," she said. "It's a lot easier designing this time around since I don't have the stress of school work looming over me!"
In the throes of that balancing act now are this year's three producers: Michelle Cho, a business major; Catherine Zheng, majoring in communications design; and Lynzky Deleon, who is studying psychology. Deleon modeled in Lunar Gala as a first-year student.
"Honestly, it is so exhilarating, you kind of get dragged back into it the next year because you want to experience that feeling again," Deleon said.
Miriam Buchwald, a communications design graduate who helped produce last year's Lunar Gala, is back as one of the featured alumni designers. She said producing Lunar Gala taught her valuable lessons in leadership and delegation.
"I never would have otherwise had the opportunity to manage such a large organization at such a young age," Buchwald said. "I am extremely grateful for that opportunity."
However, by far the greatest lesson she learned, Buchwald said, was to be adaptable.
"Whether it was one of my hot glue dresses falling apart two minutes before it was supposed to be on stage or dealing with a leak over the runway, I always had to think quickly on my feet and find solutions fast," Buchwald said. "It's those life lessons that help you no matter where you go after college."
Cho's goal is for the audience to be "blown away" by the students' work and to be fully entertained for the entire two hours.
"A lot of the designs are multicultural. One line is influenced by Indian garments but they also applied LED lights to it, so you have a sense of engineering and culture in one amazing look," Cho said.
"I want the audience to see the diversity that's here at CMU and also see what you can do with things that you think aren't related."
Visit the Lunar Gala blog to find out more about the show's participants and how it all comes together.