February 14, 2017
Piper Spotlight: Jack Aul
By
Julianne Mattera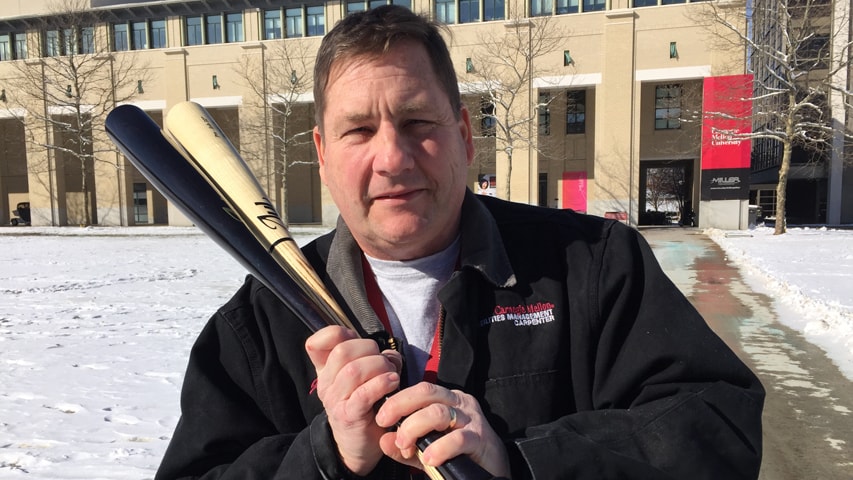 Longtime Carnegie Mellon University carpenter Jack Aul made his first baseball bat when his oldest son was in little league.
Since then he has made more than 75 bats for his six sons, and has passed on the skill to his now–adult son Joseph, who is growing a business making major league-quality bats for little league, high school and college players.
"There are two things that I really have a passion for," Aul said, "carpentry, which is what I do for a living, and baseball."
Aul was born into a family of skilled tradesmen. His grandfather and cousin worked as carpenters and his father was a pipe fitter.
"I've been buying tools since the second grade," he said. "I just love anything mechanical."
Carpentry, in particular, appealed to Aul because he liked the naturalness of working with wood. About 15 years ago, he put his two passions together and began making bats for his young sons.
"All of my boys have played baseball, and they all used wooden bats," Aul said. "I started making baseball bats for them because I felt that using wooden bats would make you a better hitter."
Aul says wooden bat barrels have less hitting surface than their aluminum counterparts, which allows less room for error. The "sweet spot" is less than six inches on a wooden bat, which forces a player's swing to be more accurate, and players have to generate more power to hit the ball a distance with a wooden bat.
Joseph played baseball all the way up through college at Saint Vincent College in Latrobe, Pa., and he used his father's bats while practicing in summer leagues. When Joseph graduated, he started the Aul Bat Company with the help of his father. The company sells wooden bats to baseball players from little league through minor and independent leagues.
Aul said bat companies that supply the major leagues use the best wood only for those players, not for younger, developing players. Thus, he and his son would rather focus on that void, giving little league, high school and college players high quality bats that can help them get to the major leagues.
Have a suggestion for the Piper Spotlight? Send it to piperweekly@andrew.cmu.edu.