February 16, 2017
Fasten Your Seatbelt for the Future of Mass Transit
By
Kelly Saavedra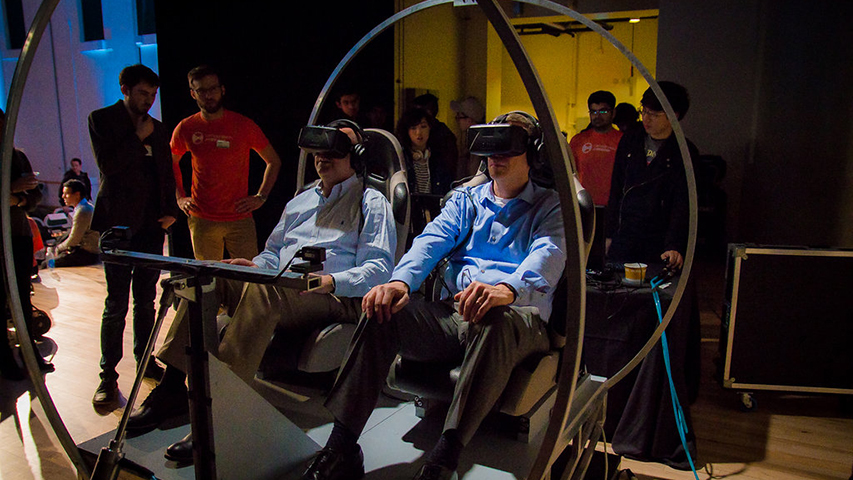 Provost Farnam Jahanian (left) and James Garrett, dean of the College of Engineering, don virtual reality headsets for a glimpse into how ultra-high speed travel would change lives.
The Hyperloop team at Carnegie Mellon University shared its mass transit pod design and vision for ultra-high speed transportation on Feb. 12 during an event that drew more than 300 faculty, staff and students to the Cohon University Center.
Many of the participants waited in line up to an hour for a turn inside the Hyperloop simulator, a virtual reality (VR) experience created by scenic design majors Tom Kelly and John Walker.
"Traveling at the speed of sound via VR at the Hyperloop pod launch demonstrated the necessary nexus between experiential artistry and technological savvy for the future to meet the present," said Peter Cooke, head of the School of Drama, who was among the first guests in the simulator.
Walker said the most difficult aspect of the VR project was making sure all the components fit together to tell a cohesive story.
"It is sometimes hard for people to relate technical specs to real-world impact. We wanted to humanize the technology and give a small glimpse into a world where the Hyperloop defines the way we live our lives," Walker said. "Story was always the most important thing to us, and balancing the technical with the artistic to do that was quite the challenge."
Some guests were hoping to fully experience how fast the Hyperloop goes, but Kelly said that was not the goal of their project.
"We wanted to showcase an honest and touching story that would immerse guests in what Hyperloop would really do for us as humans, how it would make two worlds one," Kelly said. "The idea now that New York is only half an hour away, you can live in Denver and go hiking in the afternoon, and then go meet your parents in New York for some NYC-style pizza."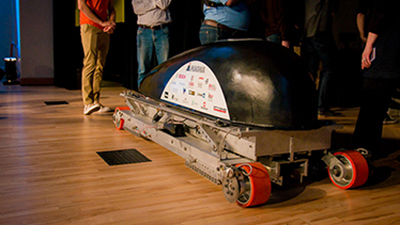 The CMU Hyperloop team's pod design placed eighth in overall design and construction at SpaceX's first Hyperloop competition held in January in Los Angeles.
A carbon fiber shell enables CMU's first Hyperloop pod to maintain extremely high speeds without spending a lot of energy. Its state-of-the-art levitation system supports speeds up to 220 miles per hour with minimal resistance, while a combination of non-contact magnetic braking and friction pads can bring the pod to a screeching halt in under 10 seconds.
Although the ultimate goal is to create a pod that can travel more than 700 miles per hour, the need for speed has not been the driving force behind the CMU team's efforts thus far.
"I think the Hyperloop's real potential lies in its ability to help us build relationships," said Lauren D'Souza, a Tepper School of Business student and the Hyperloop team's marketing lead.
"Imagine getting to spend more time with people you love who live far away, or even getting to meet family members that you've never met before," she said. "There are so many ways that the Hyperloop can help us expand our horizons and our opportunities, and understand our world that much better."
The team placed eighth in overall design and construction at SpaceX's first Hyperloop competition held in January in Los Angeles. The team was one of 30 selected from more than 1,500 that applied to compete.
As SpaceX moves forward this summer with the second installment of the competition, the CMU team will make maximum speed their top priority, because the pods will be judged only on this single criterion. The competition is open to new student teams interested in competing on the test track and existing student teams that want to further refine their designs.
The CMU team is hoping to recruit at least 20 new engineers and designers to help in the next phase.
"We will take everything we learned at SpaceX to design an entirely new pod to make it even lighter, safer and more efficient," said Karthik Chandrashekaraiah, the lead design engineer who earned a master's degree in mechanical engineering in 2016. "We will modify our subsystems to further drive down the magnetic drag forces on the pod. Our in-house testing facility is playing a major role in extracting physical data for the new subsystems."
The 50-member CMU Hyperloop team includes students from the College of Engineering, College of Fine Arts, Dietrich College of Humanities and Social Sciences, School of Computer Science and Tepper School of Business.
Related Link: In It To Win It