February 02, 2017
News Briefs
$3 Million Gift To Support Transfer of CMU Inventions to the Marketplace
Professor Aleksandar Kavčić and his wife, Dr. Sofija Kavčić, have donated $3 million to create a new, endowed fund to support inventors at CMU. Specifically, the Mary Jo Howard Dively Fund for Technology Transfer and Enterprise Creation will facilitate the smooth transfer of inventions and other intellectual property developed at CMU into the marketplace.

Kavčić, a signal-processing researcher and an adjunct professor in CMU's Department of Electrical and Computer Engineering, asked that the fund be named for Mary Jo Dively, CMU's vice president and general counsel, in recognition of her support for faculty and researchers across the university, as well as her protection of the groundbreaking discovery Kavčić and CMU Professor José Moura made in data storage technology, which had an impact across the computer industry in the early 2000s.

Proceeds from the new fund will be used to educate creators at CMU about relevant aspects of intellectual property law and practice, so they can make informed decisions; improve connections with industry in order to speed up the transfer of technology; and assist with the patenting and copyrighting process in cases where the inventors cannot afford to do so through their departments, research centers or grants. Find out more.
Division of Operations Has Been Restructured
Vice President of Operations Rodney McClendon has announced a restructuring of the Division of Operations to foster good stewardship, and better, and more efficiently, meet the needs of the university.
On Feb. 1, the Real Estate Department was dissolved as an organizational entity, and the responsibilities for those services transferred to the Campus Design and Facilities Development (CDFD) Department. Associate Vice President for CDFD Ralph Horgan will provide executive leadership for real estate and space initiatives.
Additionally, Campus Services (Parking and Transportation, University Stores, Copy Centers, Postal Services, Printing and Mailing Services,  University Receiving and Shipping and Card Services) merged into Facilities Management Services (FMS). FMS will be renamed Facilities Management and Campus Services (FMCS) to appropriately reflect combined responsibilities and mission. FMS Associate Vice President Don Coffelt will provide executive leadership for the newly organized unit.
"These changes should be largely invisible to most of you. If anything, I hope you will see an even higher level of service as we continue to work on improving our systems and practices, while remaining good stewards of the university's resources," McClendon said.
Mind, Body and Spirit Summit Set for Feb. 5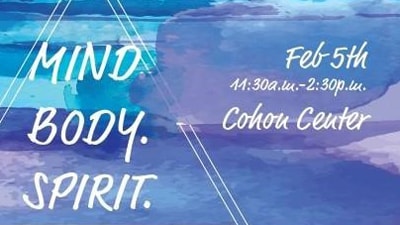 In partnership with CMU Fit, the College of Fine Arts, Counseling and Psychological Services, Dining Services and Health Promotions, Student Affairs is offering its first Mind, Body, and Spirit Summit from 11:30 a.m. – 2:30 p.m. Sunday, Feb. 5 in the Cohon University Center.
Choose your own wellness adventure by selecting from the concurrent sessions offered and participate in the Mindful Eating Food Festival. Register for the event by Friday, Feb. 3.
This event is free for all CMU students, faculty and staff. For more information, please visit the Student Affairs wellness webpage or contact Angie Lusk at alusk@andrew.cmu.edu.
Seeking Student Employee Award Nominations
Student Employee of the Year Award nominations are now open and will and be due Friday, February 17. This award program, sponsored by the National Student Employment Association, recognizes the outstanding contributions of students who work while attending college. All undergraduate student employees are eligible for nomination.
 
Nominated students will be recognized and honored at the Student Employee Appreciation Lunch held during National Student Employment Week on April 12, 2017.
For more information, visit Student Employee Nomination Process or contact Pati Kravetz at pk13@andrew.cmu.edu.
Engineering Names Staff Award Winners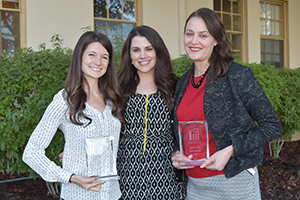 The College of Engineering held its annual staff awards ceremony on Jan. 24. And the winners are:
 
Innovation Award — Matthew Moneck, Electrical and Computer Engineering
Continuous Excellence Award — Elisabeth Bass Udyawar, Engineering and Public Policy
Inspiration Leadership Award — Christopher Hertz, Mechanical Engineering
Rookie Award — Sari Smith, Silicon Valley Campus
Spirit Award — G. Ronald Ripper, Civil and Environmental Engineering
Burritt Education Award — Stephanie Scott, Silicon Valley Campus
 
Several staff members also were honored for their years of service. The service recipients are:
 
30 years — Deborah Scappatura and Victoria Finney, Engineering and Public Policy
25 years — William Pingitore, Materials Science and Engineering
20 years — Kurt Larson, Dean's Office; Lou Anschuetz, Andrew Gamble and James McKinney, Electrical and Computer Engineering
15 years — Justin Dawber and Cynthia Vicker, Chemical Engineering; Tara Haslam-Moe, Electrical and Computer Engineering; Linda Whipkey, Information Networking Institute; Edward Wojciechowski, Mechanical Engineering; Charles Matous, Engineering Research Accelerator
10 years — Cornelia Moore and Ronald Ripper, Civil and Environmental Engineering; Tim Kelly, Dean's Office; John Alacce and Leah Pileggi, Electrical and Computer Engineering; Nancy Doyle, Information Networking Institute
5 years — Kristin Kropf, Biomedical Engineering; Elizabeth Gillard, Shirley Pavlischak and Julie Tilton, Chemical Engineering; Megan Kearns and Khoa Luu, CyLab; Tara Moore, Dean's Office; Robert Smith and Regis Will, Electrical and Computer Engineering
Pictured above from Silicon Valley are Burritt Education Award winner Stephanie Scott (left), Rookie Award winner Sari Smith (right) and last year's Rookie Award winner Lauren Schachar.
University Libraries Circulation Updates
Responding to requests from the CMU community, University Libraries have increased the loan period for books to 120 days for faculty, staff and graduate students and 90 days for undergraduate students. In addition to these changes, all borrowers now have unlimited renewals, and faculty and staff will now be charged overdue fines. CMU's partnership with the University Library System and the Health Sciences Library System at the University of Pittsburgh has expanded to extend the same borrowing rights to CMU employees and students that their counterpart in the Pitt community enjoys (i.e., a CMU faculty member will be able to borrow as if they were a Pitt faculty member; a CMU undergraduate may borrow as a Pitt undergraduate).
Register Your Child for the Children's School
The Children's School at CMU offers developmentally appropriate pre-school and kindergarten programs in a research university context. Applications for the 2017-18 school year are now being accepted. The Children's School is accredited by the National Academy of Early Childhood Programs, a division of the National Association for the Education of Young Children. For more information and to schedule a tour, send email to rosenblu@andrew.cmu.edu or call 412-268-2199.