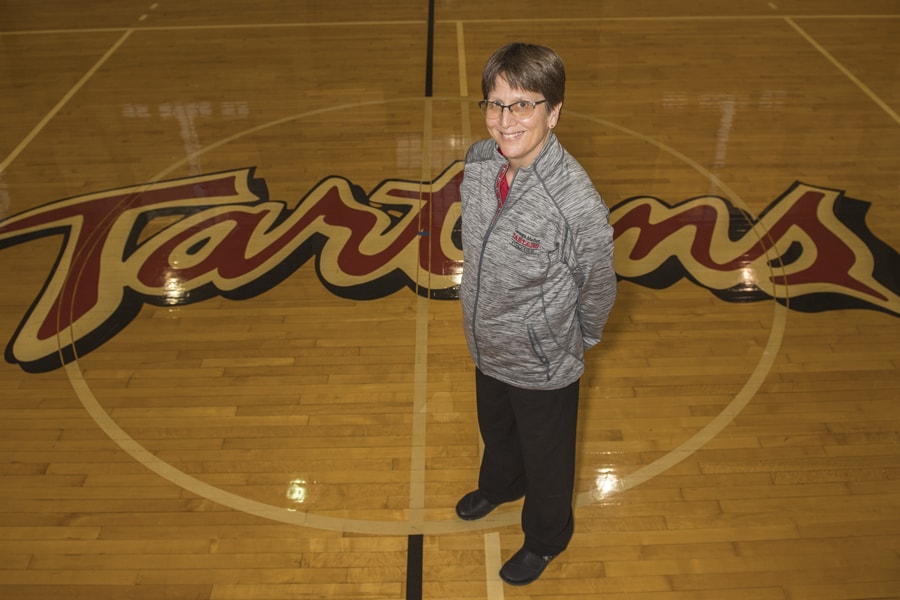 December 05, 2017
Maser Puts CMU Athletics on the Road
By Bruce Gerson bgerson(through)cmu.edu
Joan Maser leads the Tartans in assists. She helps all the teams get to their games on time.
As coordinator of athletics support services, Maser is responsible for scheduling and coordinating travel arrangements for Carnegie Mellon University's 18 intercollegiate sports teams. She books airline flights, ground transportation, hotel rooms and meals. Travel parties can range from 10 players and coaches on a golf or tennis team to a football traveling party of 75.
Maser has been making travel plans for the Tartans since 1986, when Carnegie Mellon joined the University Athletic Association (UAA), a NCAA Division III intercollegiate athletic conference that has CMU teams traveling west to St. Louis and Chicago; south to Atlanta; northwest to Cleveland; northeast to Rochester, New York, and Boston; and east to New York City.
"Our men's and women's athletic program took off when we joined the UAA," Maser said. "It was the beginning of a tremendous growth period for our intercollegiate sports programs, especially our women's teams."
Maser said getting acquainted with the UAA cities has made making travel arrangements a little less hectic.
"It's a lot easier now that we've been going to these places year in and year out," she said. "I know the bus companies and hotels, but the flights are always a moving target. Fares go up and down, so as soon as the flights get posted I work with CMU's preferred travel agent to get pricing for the ones we want.
"It's a lot of detail work, but I like it. It's like working on a puzzle — you have to put all the pieces together," she said.
Maser also handles purchasing and is involved in the planning and execution of special events for the Department of Athletics, Physical Education and Recreation. Since joining CMU 36 years ago, she has played many roles, from head field hockey coach, physical education instructor and assistant athletic trainer to associate director of athletics.
Maser helped to build CMU's athletic facilities by serving on planning committees for Gesling Stadium, the Cohon Center and the Skibo Gym renovation project.
"It's nice to see those enhancements and to have been a part of it," she said.
When she is not working, Maser enjoys yoga, biking, walking and being outside in her yard and garden. She has taken bicycle excursions from Pittsburgh to Washington, D.C.; Buffalo to Albany, New York, along the Erie Canal; and from Albany to New York City, through the Hudson Valley. During lunchtime, she often walks around Schenley Park and Phipps Conservatory.
"It's been a fun job," Maser said of her tenure at CMU. "I've had the opportunity to do so many different things. I've even donned the Scotty mascot outfit on occasion," she said.
Have a suggestion for Staff Spotlight? Send it to piperweekly@andrew.cmu.edu.