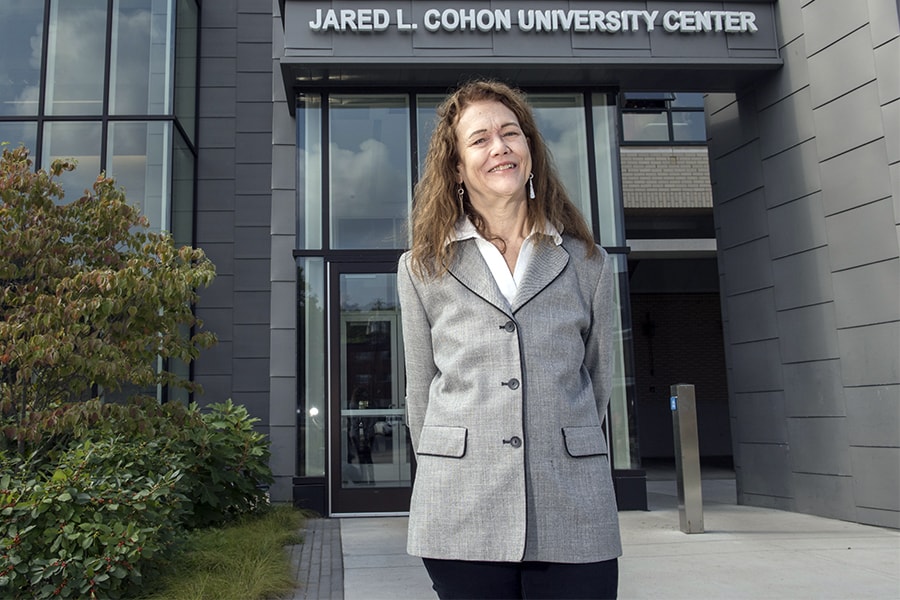 August 29, 2017
Gerwig Manages Most Popular Venue on Campus
By Bruce Gerson bgerson(through)cmu.edu
Marcia Gerwig plays a central role in Carnegie Mellon University's campus life.
Gerwig has been director of the Jared L. Cohon University Center since the building opened in 1996. A nexus for the CMU community in Pittsburgh, the Cohon Center is the most popular venue on campus for meetings, student performances, concerts, movies and guest speakers. It also hosts conferences, commencement activities and large student events like the Lunar Gala, Meeting of the Minds and the technical and business career fairs.
"Every major university event touches this building in some way," Gerwig said.
Gerwig oversees the building's operations, including the information desk. She also sets policies, helps with logistics for each event and "keeps the trains running on time."
"It's different every day. I like putting the pieces of the puzzle together," she said. "We do amazing things. We can get anything done with a lot of collaboration and partners on campus. The students are incredible, creative, challenging, enjoyable, smart and helpful. They're just a pleasure to work with and so is the staff."
Gerwig works with four staff members and 32 student workers. The team works with the Athletics Department and Dining Services, which operate the building's physical fitness facilities and eating locations, respectively. They also work with Facilities Management and Campus Services and Custodial Services, which Gerwig said are vital to the center's success.
"We really could not get through the day without their help. They take ownership of the building. They understand the big picture and what needs to be done to make a good experience for everyone," she said.
One of her most memorable events in the Cohon Center was the 2016 White House Frontiers Conference, in which national thought-leaders, including President Barack Obama, discussed building America's capacity in science, technology and innovation.
"That type of an event is on a whole new level," she said. "It was amazing. They transformed the entire building overnight. Our existing furniture went on the road for a day and the next day it was back to normal. It was like nothing ever happened. It was unbelievable."
Gerwig usually arrives at work around 6:30 a.m. and often meets with student groups after 4:30 p.m. to help plan events in the Cohon Center. On most days she makes the five-mile commute to and from work on her bicycle.
"It's a good way to wake up in the morning," she said.
In addition to cycling, Gerwig enjoys watching late night comedy and police drama shows. She also likes to do yoga, cook and bake.
"Cookies, cakes and pies are my specialty," she said.
Have a suggestion for the Staff Spotlight? Send it to piperweekly@andrew.cmu.edu.