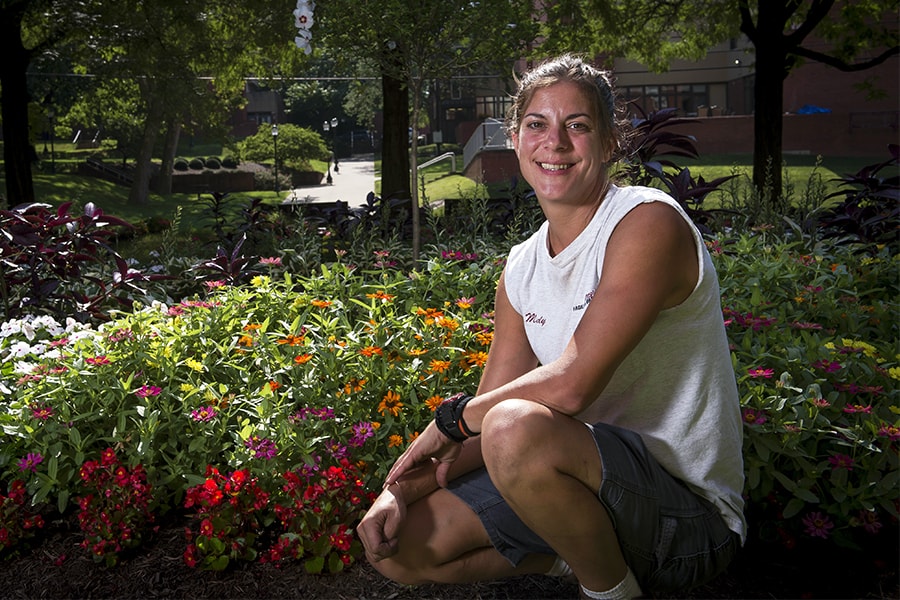 August 15, 2017
Rothmeyer Brings Beauty to CMU's Landscape
By Bruce Gerson bgerson(through)cmu.edu
Mandy Rothmeyer has traded in her computer screen for a more natural canvas.
Rothmeyer, a gardener at Carnegie Mellon University, is using her educational background in graphic design and her landscaping know-how to help beautify the Morewood Avenue grounds around Mudge House, Stever House, Morewood Gardens and the Cyert Center for Early Education.
She cuts the grass, trims the bushes, and plants and takes care of the colorful garden beds.
"I still have that artist in me," said Rothmeyer, who earned a bachelor's degree in graphic design at LaRoche College before earning a master gardening certification at Phipps Conservatory and Botanical Gardens. "I like to put colors together. I like to be creative, neat and orderly.
"We have a lot of parents and prospective students visiting campus now, and I want them to say 'this is a nice place, this is a neat place,'" she said.
Rothmeyer begins mapping out her flower gardens during the winter and presents her ideas to her supervisor, David Wessell.
"I'll come to him with a binder full of notes and designs with what I want to do and what it's going to cost. That's the graphic designer in me," she said.
Next year, Rothmeyer said she is thinking about using different colors — orange and salmon — in the circular flowerbed at Morewood Gardens. "That's what's fun about this job — coming up with new ideas."
She also enjoys the presence of children at the Cyert Center, where she recently designed a butterfly garden for the children to raise caterpillars and butterflies.
"I love the kids there, they are so interested in everything," said Rothmeyer, who has a 6-year-old son.
Rothmeyer often brings plants to her home garden to nurse them back to health.
"That's where I learn. My home is my test bed," she said.
Have a suggestion for the Piper Spotlight? Send it to piperweekly@andrew.cmu.edu.