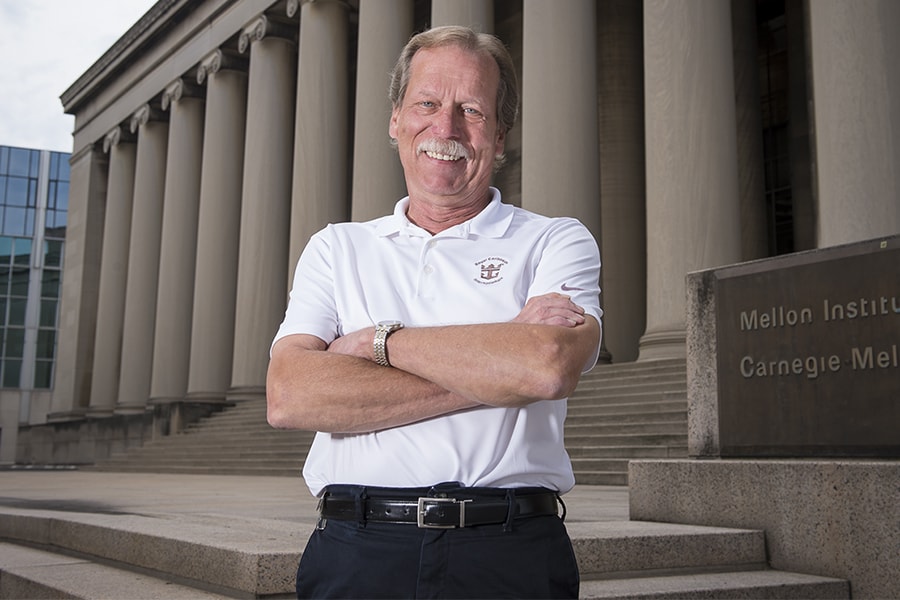 August 23, 2017
Papuga Is One Key Operator
By Kelly Saavedra ksaavedra(through)cmu.edu
George Papuga carries what is probably the biggest key ring on Carnegie Mellon University's Pittsburgh campus.
As operations manager for Facilities Management and Campus Services, Papuga oversees the maintenance of university buildings and gives people access to the Mellon College of Science building and CMU facilities from Second Avenue to East Liberty, Lawrenceville and along the Craig Street corridor.
"I get calls, and I dispatch the appropriate personnel. It makes the day go fast," he said.
Occasionally, those calls come from Hollywood film crews. Papuga has worked with production personnel for several movies that have filmed scenes on campus, including "The Dark Knight Rises," "Mothman Prophecies," "Wonder Boys" and "Hoffa."
Earlier this month in the Gates Center, crews filmed scenes for "Where'd You Go, Bernadette" starring Cate Blanchett, Laurence Fishburne and Billy Crudup..
"Film crews mostly want to know: 'Can we change this? Can we paint this? Can we tear this apart? Can we take these doors off?'" Papuga said. "It's a matter of doing our best to help them get the scene they want."
"Preparing for high-profile events during the academic year can be a challenge, but my job is to make sure they have everything they need without disrupting other operations," Papuga said.
For the White House Frontiers Conference last October, SpaceX brought a space capsule to put on display.
"We had to get the space capsule from the street onto the campus. So, it's a matter of logistics a lot of the time," he said.
When he is not at work, Papuga likes to golf and spend time with his family and grandchildren. In his 35 years at Carnegie Mellon, Papuga said he has seen tremendous growth at the university.
"I'm proud to be part of an institution that is recognized worldwide," he said.